Yep, that's a Direct Message!
While your insta may have DMs that make you want to (eye-roll) cringe, the direct messages you receive from PathForward are ones you'll look forward to – nothing but inspiration here! We know, PathForward is already the coolest psychic service ever, but to add another cherry to the cupcake of features, you can receive Reading Follow-Ups in your account from your trusted Psychic, special promos and bonus offers from PathForward, or even get a psychic reading directly through DMs.
You'll need to be signed in to access your Direct Messages. Locate your Direct Messages on the left-hand side of your account navigation or the top right-hand corner of the home page. Here's the deets and some common questions on each type of Direct Message you may receive...
Send a DM via Text or Audio
With DMs, you can ask a Psychic any question you like and get a response via direct message in your PathForward account. You can also send a DM via Audio Message. Simply click on the "Send a DM" button on a Psychic's profile page to send them a short message or question or hit the microphone icon instead to record an audio message. The Psychic will have 72 hours to respond. Otherwise, there is no charge.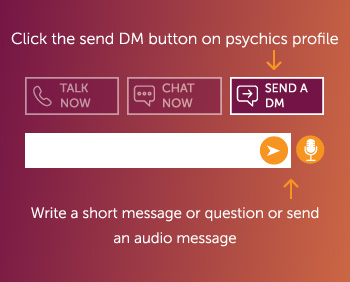 ---
You will be charged by the character when sending and receiving DMs, with each message in an exchange limited to 280 characters, for a total of 560 characters per exchange. For each DM exchange initiated, a hold equal to two minutes of talk time with that Psychic at their standard rate will be placed on your account. When you send a message and get a response, the final charge is calculated based on the Advisor's rate per minute and the total number of characters in the exchange. For example, if you send a DM to a PathForward Psychic at their standard rate of $5.00 per minute, we will place a hold for the equivalent of two minutes of time, or $10.00. Once the Psychic responds, we calculate the total number of characters in both messages. If the total number of characters sent and received equals 560 characters, you will be charged the full two minutes ($10.00 in the example above). If the total characters add up to fewer than 560 characters, you will be charged a pro-rata amount based on the number of characters in the messages. For example, if in the example above you send and receive a total of only 500 characters, you would be charged $8.93 for the exchange and $1.07 would be left on your account.
---
Yes, provided you have enough New Customer Welcome Dollars in your account to cover the two-minute hold. If you do not have enough New Customer Welcome Dollars on your account, you will be asked to add dollars to cover the two-minute hold at regular rate per minute.
---
Your Psychic will have 72 hours to respond to your DM – if they exceed this timeframe, the funds released back to your account.
---
The full two-minute hold amount will be put back on your account.
---
If you have a live reading with the Psychic you sent a DM to before they respond to your DM, we will automatically expire the sent DM and return the two-minute hold amount to your account for use on your next reading or DM.
---
Yes, you can re-send a DM, but bear in mind that there is no guarantee your Psychic will respond.
---
Provided the Psychic hasn't responded to your message yet, yes! Simply go to the Direct Messages section of your PathForward account, locate the message in question, and then click "Recall" – this will unsend the message and release the two-minute hold on your account.
---
Each time you send or respond to a message from a Psychic, the payment process will begin anew - starting with the two-minute hold on your account.
Reading Follow-Up
After your reading, your Psychic may send you a follow-up message that includes afterthoughts, advice, and additional steps you can take to overcome challenges. And sometimes, your Psychic may wish to simply check in to see how you are progressing on your PathForward. Any Psychic you've had a reading with in the past 90 days can send these direct, personal messages.
---
We encourage Psychics to follow up with clients when they have additional guidance or encouragement to offer – but we don't want them to fake it. If you didn't receive a Reading Follow-Up from your Psychic, it is likely just because they feel you already have everything you need to set your path!
---
For messages from Psychics, you will see the Psychic's photo next to their message. For direct messages from PathForward, you'll see the "PF" square logo next to the message.
---
Paperclips are the best! When you see a paperclip in a message, that means your Psychic or PathForward attached something to it. What that something is...well that's a fun little mystery you'll have to open to solve.
---
Absolutely! You can reply one time to your Psychic's Reading Follow-Up message by clicking on the reply button. Simply type your message and hit send. Please note that your Psychic may or may not reply to your message.
---
Yes! You can attach up to three files of up to 1MB each.
PathForward Messages
PathForward will occasionally hit you up about sales and promos, new web features, service news, and inspiring content suggestions. How cool is that!?!
---
Direct messages from your Psychic will feature their bio image next to the message. Direct Messages from PathForward will vary from special offers to must-read blog posts on The Tea and service updates. Plus, you'll also receive special messages from your PathForward Blogger Samantha!
---
While there is no way to stop DMs from coming through to your account, you can delete or simply ignore them.
PATH TIP:
---
Check your DMs daily! Never miss out on exclusive content from PathForward and personal DMs from your Psychics! You'd be surprised to find that one piece of advice you didn't know you needed to hear may be waiting for you.