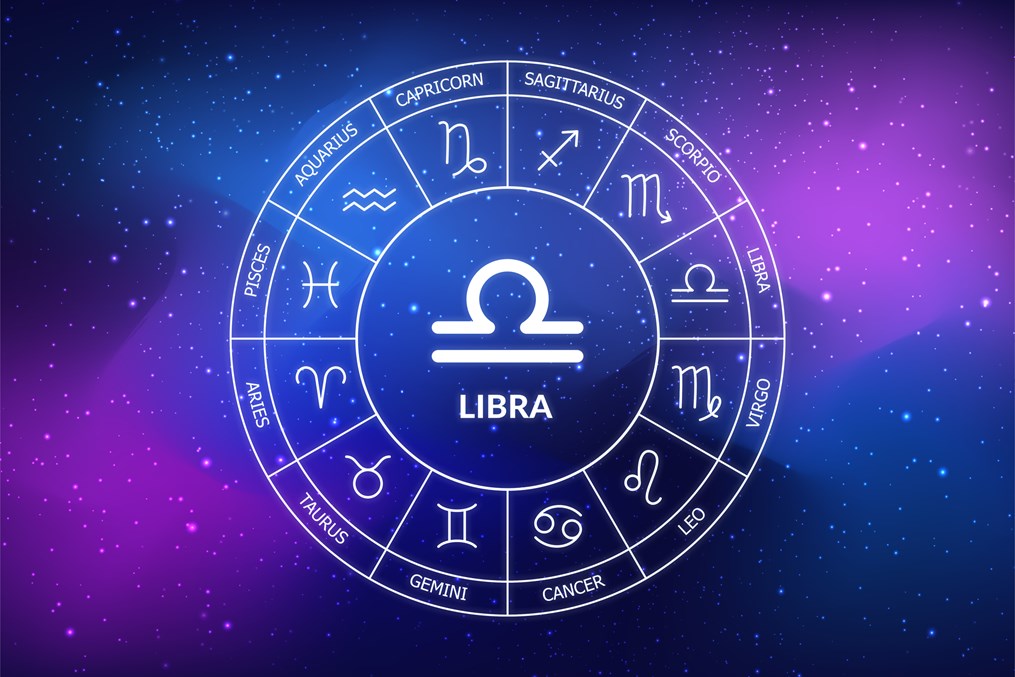 Born under a full moon with a Libra sun and an Aries moon, Cardi B is the perfect balance of charm and intensity.
Cardi B, a Grammy Award-winning rapper, and queen of the smack talk, never shies away from saying exactly what she thinks. Whether expressing herself in hits like "I Like It" or sharing her views on social media, Cardi B is a full-on girl boss. Considering her zodiac sign, it's clear why this brilliant rap diva shines so brightly. Let's look closer at Cardi B's zodiac sign to find out what it tells us about her fiery personality.
What Zodiac Sign Is Cardi B?
Belcalis Marlenis Almánzar, better known as Cardi B, was born on Oct. 11, 1992. Her birth date makes her an outgoing Libra sun with an Aries moon. But there's more: Cardi was born on a full moon, giving her intense Arian traits. With her alignment, it's clear Cardi takes a headstrong approach to life, choosing to live big rather than make herself small. Those born on a full moon often find their way into the spotlight because they know that's where they're meant to be. It's no wonder Cardi B has become the hip-hop and rap queen she is today.
Extroverted
As the life of the party, Cardi draws others to her outgoing personality like moths to a flame. That's unsurprising since her Libra sun makes her likable and popular. Like other Libras, Cardi B's sun sign makes her a great friend, as she loves to help others. Being an extrovert, she may prefer being around others rather than spending time alone. Cardi's extroverted nature makes her feel comfortable sharing details about her life on social media, whether posting pictures of her adorable family or speaking out on women's rights and other issues.
Charming
In addition to their extroverted natures, Libras make friends wherever they go because of their charm and sweetness. While Cardi may be known for her no-filter attitude and aggressive rap style, she also charms people with her authenticity. Cardi B is unapologetically herself 24/7, and her sincere nature makes others want to be around her. She's also warm and nurturing, traits that make her a great mom to her two little ones, Kulture and Wave.
Blunt
Cardi B's birth chart shows two extremes, and this chaos manifests itself in the opposing parts of her personality. While Cardi is charming and likable, she's also not afraid to speak out and say exactly what's on her mind. She initially rose to fame for her rants and one-liners on social media videos she posted while working as a stripper. Later, she became a fan favorite on "Love & Hip Hop: New York" for her blunt, no-holds-barred personality, even throwing a shoe at another cast member (this was before Nicki Minaj also felt the wrath of one of Cardi's heels).
Cardi's Aries moon contributes to her high emotions, which makes her fight for what's important to her. Sometimes, this astrological placement causes her to act now and think later. However, her feisty zingers and blunt comebacks are part of the reason her fans adore her so much.
Mars rules the warrior Aries, which explains why Cardi has such a bold personality. It also makes her a great champion of the causes she supports. Whether she's discussing police brutality, women's rights, or the importance of voting, she voices her opinions in a raw, unfiltered way. And when someone disagrees with her? Cardi doesn't let the haters get her down, choosing instead to continue using her voice for what she believes.
Resilient
Cardi B is a role model to many because she's worked hard for everything in her life. No matter what hardships have come her way, she's persevered. Using her strength and power, she's fought to be where she is today as one of the top female artists in the country. Her birth chart and opposing planetary alignments give her the resilient nature that allows her to experience life to the fullest.
Cardi B's Astrology Compatibility
Though she's had her share of relationship ups and downs, Cardi B seems to have found true love with her husband, Offset. The couple married in 2017, and while they've had some will-they won't-they moments, they're still going strong today. But how compatible are the two musicians?
Cardi's Libra sun means she prioritizes the relationships in her life. Offset is a Sagittarius, meaning his sense of adventure and sensitivity makes him a perfect match for Cardi's bold personality. He craves adventure and spontaneity, and Cardi can offer those qualities and then some. At the same time, Offset's Pisces moon makes him a sensitive soul who can help calm Cardi down when her emotions run high.
Cardi B's Star Sign: A Force To Be Reckoned With
Born under the full moon with a Libra sun and an Aries moon, Cardi embodies a balance between charm and intensity, sweetness and savagery. She's extroverted and outgoing, and she places immense value on the relationships in her life. At the same time, she's deeply passionate and speaks her mind with no apologies. Her fierce passion sometimes leads to destructive tendencies, but she usually finds her way back to what matters most. All in all, Cardi B is a true queen who will likely continue to find success in her personal and professional life.
Cardi B firmly believes in astrology and the star signs, exemplifying classic Libra traits while finding a balance with her fiery Aries moon. Do you know how your sun sign influences your personality and life choices? If not, get a Psychic Astrologer Reading to learn how to use your zodiac sign and birth chart to understand your tendencies and channel your energies for success. At PathForward, our intuitive Psychics can help you become the version of yourself you were always meant to be — just like the rap queen Cardi B.
Share
Your

Thoughts

Drop a line, share your insight, and keep the convo going! Sign in or create an account to leave a comment on this content and more.
Comments