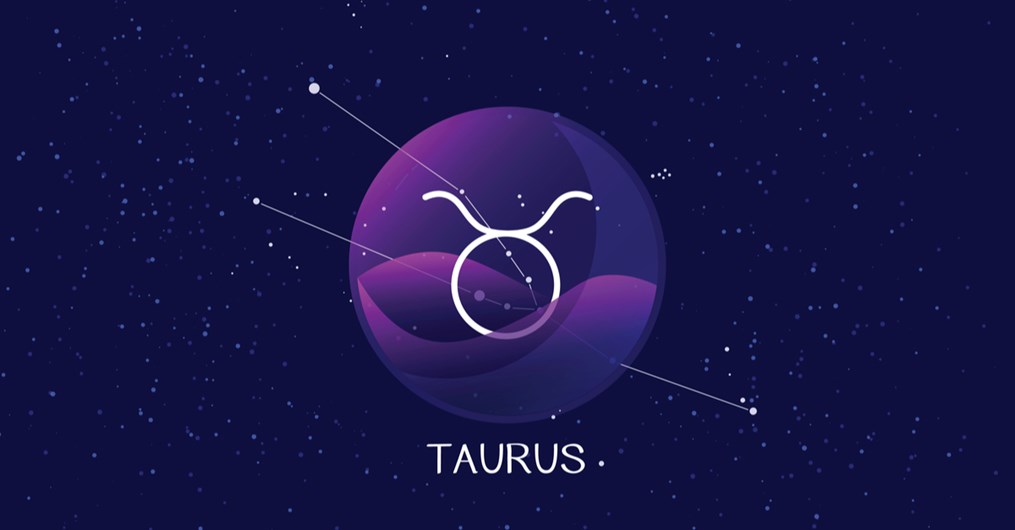 Strength and focus define those born under the Taurus zodiac sign.
Let's start this blog post off the right way with a resounding Happy Birthday to you, Taurus! If you were born between April 20th and May 21st, you are part of the collective that is symbolized by the Bull, and though you are known to be bullheaded, you are also the embodiment of physical warmth and comfort. Are you blushing yet? Brace yourself because I'm just getting started! I'm going to do a deep dive into the zodiac sign Taurus by detailing their personality traits and compatibility, plus a yearly Taurus horoscope from April 2022 to April 2023. 
What it means to be a Taurus
Taurus is more than a stubborn go-getter with a killer sex drive. To better explain their personality, let's break down the Taurus symbol, element, quality, and ruling planet. 
As the Bull: Being strong with laser-like focus, Taurus is born to lead, but their short temper and desire to control often gets in the way. The no-nonsense type, they go for what they want, and if anything gets in their way, they'll run it over.
As an Earth Sign: Taurus can be as hard as stone or as beautiful as the flawless diamond made under the tremendous heat and pressure they put themselves under. Taurus will appear rude or arrogant to disguise their underlying insecurities. They're extremely self-aware, and though they work hard, they know what their flaws are.
As a Fixed Sign: The bullheadedness and solidness Taurus is well-known for gets amplified as a Fixed quality sign. Fixed signs are stable and dependable, but they're also rigid and unmoving.
As ruled by Venus: Taureans are affectionate pleasure-seekers. They love to satisfy their senses and generously give the warmth and security they want for themselves in hopes of getting it back.
Taurus Compatible Signs
Because Taurus is an intriguing combination of the beauty and the beast, here's how each sign can thrive with one...
Taurus and Pisces Aries Cusp: Give ample attention and trust. 
Taurus and Aries: Respect Aries's courage and Taurus's strength.
Taurus and Aries Taurus Cusp: Play nice and be fair.
Taurus and Taurus: Know when to indulge and/or deny each other. 
Taurus and Taurus Gemini: Be open-minded to learn the art of balance.
Taurus and Gemini: Compromise often.
Taurus and Gemini Cancer Cusp: Negotiating is a strength, not a weakness.
Taurus and Cancer: Don't selfishly manipulate each other.
Taurus and Cancer Leo Cusp: Focus on support, not control.
Taurus and Leo: Put egos aside.  
Taurus and Leo Virgo Cusp: Remember your similarities to minimize arguments. 
Taurus and Virgo: Loving encouragement is effortless; open communication is harder.
Taurus and Virgo Libra Cusp: Enjoy beauty instead of fixating on flaws. 
Taurus and Libra: Taurus needs Libra to try while Libra needs Taurus to relax.
Taurus and Libra Scorpio: Intense chemistry is great; honest communication is better.
Taurus and Scorpio: Don't abuse exposed weaknesses, or dangerous wars will ensue.
Taurus and Scorpio Sagittarius Cusp: Sex and love are easy; time and patience are necessary. 
Taurus and Sagittarius: Committed but flirty? Establish trustworthy boundaries.
Taurus and Sagittarius Capricorn Cusp: Notice parallels to go beyond the surface level.
Taurus and Capricorn: Focus on what you build together.
Taurus and Capricorn Aquarius Cusp: Practice self-acceptance and flattery.
Taurus and Aquarius: Understand and trust your different approaches to life.
Taurus and Aquarius Pisces Cusp: Be considerate of your internal battles. 
Taurus and Pisces: Keep dramatics and outside flirtation to a minimum for peace.
Taurus Horoscope from April 2022 – April 2023
Taurus Horoscope April 2022: You know who you are, who you want to be, and you're not letting anyone stop you.
Taurus Horoscope May 2022: Who you've decided to make sense now. Your growth is obvious as you walk in your truth and expose untruths.
Taurus Horoscope June 2022: No more holding back. Whatever you were worried about doesn't matter anymore. 
Taurus Horoscope July 2022: Your destination is clear, and you're ready to start something new.
Taurus Horoscope August 2022: You're on fire, bringing out the tricks you've had up your sleeve. You may be impossible to miss, but you won't be available for nonsense.
Taurus Horoscope September 2022: You're shining, standing tall and proud like a tree in the sunlight. 
Taurus Horoscope October 2022: You'll make someone proud and feel a surge of power that you're grateful for.
Taurus Horoscope November 2022: Someone's love keeps lifting you higher, but there's a catch: You must push your desires to the backburner for home. Is that going to work for you?
Taurus Horoscope December 2022: With a stronger awareness of how you want to lead and whom you want to lead with, your positive expression brings you favor. The lesson you've learned about love and hate will push you into a new position personally and/or professionally.
Taurus Horoscope January 2023: Your appreciation for beauty, pleasure, love, relationship and value of all kinds will not be taken lightly or misunderstood. In fact, you'll find comfort in it.
Taurus Horoscope February 2023: You don't have to compromise who you are or what you want. It's yours!
Taurus Horoscope March 2023: Your stubbornness is beneficial rather than damaging.
Taurus Horoscope April 2023: You can be your whole self, the truest version of yourself that you've spent the entire year becoming. And guess what? It's more than okay; it's welcomed.
Now that you know a little more about the zodiac Taurus, allow this information to help you better understand yourself (if you are a Taurus Sun Sign, Aries Taurus Cusp, Taurus Gemini Cusp, or have Taurus elsewhere in your birth chart). Also, whether you are a Taurus or in a relationship with a Taurus, leave a comment below and share your thoughts. If you would like me to explain further how Taurus plays into your birth chart or give you insight into your relationship with a Taurus, contact me or another Expert Astrologer here at PathFoward.

Psychic Dominique is a published writer and an Astrological and Spiritual Advisor who taps into her gifts to assist people on their personal journeys. She delivers insightful and motivating advice that is detailed, honest, and thoughtful.  -
Psychic Dominique x4278
Share
Your

Thoughts

Drop a line, share your insight, and keep the convo going! Sign in or create an account to leave a comment on this content and more.
Comments