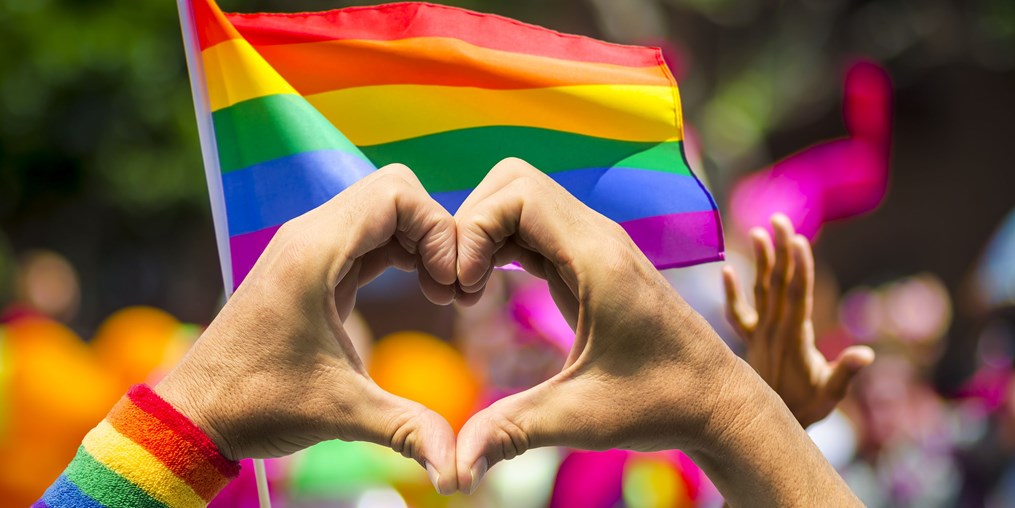 Love is love. Full stop.
With all the strides made by the LGBTQIA+ community in the last few years, it might be easy to think that the fight for equality is pretty much over. Gay marriage is the law of the land. We have a more positive representation of LGBTQIA+ folks in books, movies, and television shows than ever before. There are plenty of reasons, to borrow a bit from Lin Manuel Miranda, to "look around, look around and see how lucky we are to be alive right now."  
But while we are living in one of the high points of LGBTQIA+ history, history has also shown us how easy it is for society to regress. Despite all the strides that have been made, so many members of the community are still fighting for their basic human dignity to be respected on the daily. There are also those actively working to turn back the clock on all the advances too. While everyone should revel in the fun that comes around during Pride month, we should also take time to remember that the fight for equality isn't over by a long shot. And we should ask ourselves what we can do during the other eleven months of the year to make sure each Pride month is a time of celebration.  
We Have Always Been Here
History is probably gayer than you think it is. While yeah, ancient Greece didn't have Elliot Page and the Roaring Twenties didn't have Janelle Monáe, both were times where there was at least a passive acceptance of LGBTQIA+ people and/or a thriving queer subculture. Maybe you've already heard of an elite group of Greek gay male warriors in Thebes. The Sacred Band of Thebes were recognized as stone cold bad asses in their day. And they weren't the only group who not only welcomed, but encouraged, queer love. The samurai of Japan and the Celts also had gay warriors in their ranks. 
While the American Old West isn't one of the first things that would come to mind when thinking of queer culture, it also isn't surprising that a fair amount of LGBTQIA+ folk found their freedom on the frontier. After all, it's easier to shake loose of societal pressures when you are farther away geographically from mainstream society. 'Bachelor marriages' were a recognized thing out west for the gents. 'Boston marriage' was the term used for the ladies. And of course, many transgender folks picked up and changed residences in the hopes of leaving behind their old identities and living their truth. 
The Roaring Twenties was a particularly off the hook time for gay culture. This was when an icon of modern gay life was born: the drag queen. Drag Kings and Queens reigned supreme in Harlem speakeasies. But large cities all had their fair share of the "Pansy Craze" and the "Sapphic Craze." Drag balls were so popular that straight folks wanted in on the fun, often frequenting gay night spots and parties.  
The First Pride was a Riot
 (Literally)
All those times of flourishing queer culture have something else in common—a backlash. One of the most thriving centers of gay culture was 1920's Berlin Germany. And yeah, it ended for exactly the reason you think it ended. The first large Nazi book burning on May 6th, 1933, targeted LGBTQIA+ books. The pink triangle you'll see sometimes used in modern queer pride images was reclaimed from the patch that Nazis used to mark gay prisoners in concentration camps.  
The Holocaust is one of the bleakest moments in human history, but even then, there was resistance. William Arondeus, a gay man and Dutch resistance fighter helped forged thousands of identity cards and helped blow up a Nazi registry building. When he was captured, he wanted his last message to the world to be "Let it be known homosexuals are not cowards." 
In our modern era the most well-known act of resistance is what birthed Pride celebrations and the modern gay rights movement, the Stonewall Uprising. There were other uprisings before this one, but the newly formed activist group, the Gay Liberation Front, chose to commemorate the one-year anniversary of the Stonewall Uprising with a demonstration, the first Pride parade. Since then, the gay rights movement has taken off, leading to all the advances we see today. 
Allyship is Action
While right now, things are so much better for the LGBTQIA+ community than they have been in the past, it's important to remember people thought life was pretty great back in 1920's Berlin. It's so easy to get lost in the fun that is Pride month that you can lose sight of the clear peril the community faces now. Absolutely, enjoy the parades and the drag shows. Don your gayest apparel. But we would like to humbly suggest that if you really want to support your LGBTQIA+ friends and family, there are some other things you can try doing in June and all year round. 
Donate – There are some great LGBTQ+ organizations out there doing their best to serve the community, usually on a shoe-string budget. A quick Google search can turn up a few that are local to you. But the Trevor Project and the Human Rights Campaign are definitely worthy national charities who could use a little extra green to fight the good fight.

 

Volunteer – Like we said above, there may already be some terrific LGBTQIA+ organizations near you looking for a helping hand. If Google can't help you find them, consider volunteering with GLSEN and Gay for Good.

 

Vote – Yeah, this is the boring one and the one we all take for granted. But even local elections have some pretty big impact on the LGBTQIA+ community. The biggest example of that is what's going on with schoolboards and libraries. Don't sit these elections out. Make a plan to vote in person or by mail (and hey, treat yourself to a latte or an awesome dinner after doing your civic duty—you earned it!) and follow through. Not sure which candidates will support the community? GLAAD and the ACLU often put out voter guides. 

 
If you know our company, you know we're all about positive vibes and fun. But sometime, it's worth getting serious about something. We care about the welfare of our LGBTQIA+ employees and customers and hope that they continue to thrive for more than just a month. When you use your energy to help make the world a better place, you can take pride in your ability to be part of the solution. 
Now that's some seriously high vibe stuff!!
Share
Your

Thoughts

Drop a line, share your insight, and keep the convo going! Sign in or create an account to leave a comment on this content and more.
Comments