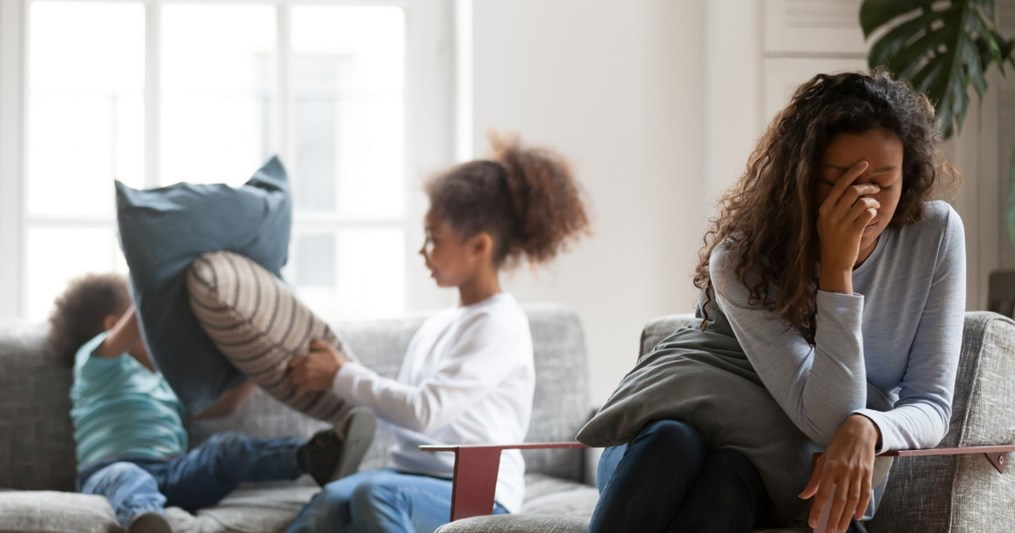 Pillow fight during a big work call? Looks like it's time to whip out your meditation app.
COVID-19 has been hard on all of us, but for mothers and caregivers, those challenges are on a whole other level. You're now employee, teacher, and activities director all in one. Oh, and you're also dealing with that very important task of keeping another human alive. Yeah, it's totally okay to feel overstretched right now.
Holistic parenting means becoming aware of all aspects of your kiddos' development. And you know what plays a big role in a child's spiritual and emotional health? A mom who gets the time and space they need to operate from a place of spiritual and emotional wellness, too. So, here are four tips for building mindfulness into your day even when the world seems out of control around you.
Lean in to Breathing
Multitasking mamas, rejoice: Here's one thing you don't have to reserve a ton of extra time to achieve. Sure, breathing sounds basic, but it offers an array of benefits. It's also something you're already doing while you're knee-deep in other stuff. Controlled breathing can reduce your blood pressure and heart rate and get you in a state of overall relaxation. Wake up a few minutes early for some deep breathing, or even do exercises during nap time or while making lunch. Just a few minutes with your eyes closed while you're breathing deeply can do a whole lot of good.
Use the World Around You
You can practice mindfulness just by focusing on details of the surrounding world. Hone in on how the water feels while showering, noting the temperature and sensation of water on your skin. When you get outside, take a few seconds to focus on the sound the birds make, trying to identify three different types of bird song. Even if you can't treat yourself to hours of alone time, you can still carve out some much-needed time and space to be present in the moment.
Speak to a Psychic Advisor
If you're struggling to juggle all your responsibilities, figuring out a way to build mindfulness into your daily schedule can feel, well, challenging. Get a Psychic reading via phone or chat to speak with an intuitive Advisor who can help you determine a roadmap for everyday mindfulness that works for you. And if you have to chat while you're taking on that pile of dishes or filing the report you need for tomorrow morning's meeting? A phone reading is a great option. Just the act of speaking with an insightful Psychic can make you more mindful in that moment.
Download (And Really Use) A Meditation App
Even if the constant stream of texts from stressed-out friends, emails from your kid's teacher, and phone calls from work make you want to literally throw your devices out the window, you can leverage technology to your advantage. A meditation app can be a great way to get started if you're new to meditation, and you'll find meditations as short (or long) as you need. To get you started, check out The Mindful Path, PathForward's tranquil psychic guided meditations designed to relax your mind, body, and soul.
We could all use a little support as we take those next steps forward. Connect with a PathForward Psychic Advisor for help transforming the very real challenges you're facing into opportunities for mindfulness.
Share
Your

Thoughts

Drop a line, share your insight, and keep the convo going! Sign in or create an account to leave a comment on this content and more.
Comments