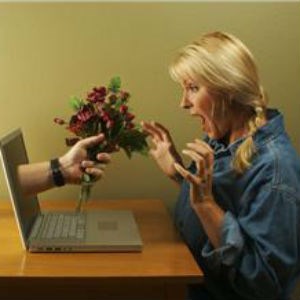 You never know who's on the other side of the screen!
Finding a great guy is hard; luckily, the online world opens the doors to countless available men. The only problem is that you can't always tell if the person is legitimate or not.

The NY Daily News says that 1 in 10 online profiles are fake and that every year, daters lose $50 million in dating scams. Be sure to stay safe online and to avoid fake dating profiles by watching for these red flags.

1. Age Doesn't Match Picture
Yes, some people are stupid enough to lie about their age and then post a picture that doesn't seem to represent that age. If they look like they're 25 in their picture, but their information says they're 42, they're probably using a photo that isn't of them. Be sure to compare their age with their picture before you start messaging them. If you need some advice on online dating, talk to an
online love psychic
.

2. Sounds Too Good to Be True
If it sounds too good to be true, then it probably is. Yes, cute, educated men can sign up for online dating sites, too, but did you know that, according to Business Insider, over half of fake profiles say that the person holds a Ph.D.? If he's got the entire package, then it's probably the fake profile of someone who wants a lot of attention. If you're still unsure about him, visit an online
psychic cha
t to get a third-party opinion on the situation.

3. They Don't Agree to a Skype Date
Scheduling a Skype date is one of the best ways to test that the person you're talking to is really the person they portray. With this method, you can easily see what they really look like and know that they are who they say they are.

Fake people won't agree to this. They'll make up excuses like that they don't have a webcam or they can't download Skype. Really? What computer doesn't come with a built-in webcam these days? And Skype is completely free, so they shouldn't have a problem video chatting with you.

4. They Have Limited Photos
Another indication of a fake profile is the person doesn't have very many photos. You should also be on the lookout for people who only have pictures of themselves and aren't tagged in friends' photos. If you're suspicious that they're using someone else's photos, you can perform a reverse image search. Here's how to do it:
•
Right click on the photo and copy the image location.
•
Go to Google Images and click on the camera icon at the right of the search bar.
•
Paste the link into the search bar.
•
Search the image and find where else it's been used online.
Before you start chatting with people online, make sure to confirm their profile by looking out for these things.
Reference: http://wafflesatnoon.com/2013/01/29/spotting-fake-online-profiles/
Share
Your

Thoughts

Drop a line, share your insight, and keep the convo going! Sign in or create an account to leave a comment on this content and more.
Comments