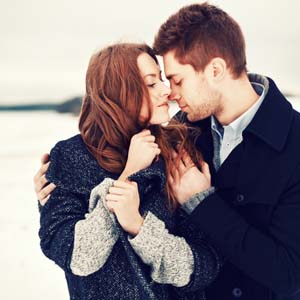 Love is in the air
Love is a touchy subject between two people who haven't said those three words to each other yet. And ladies, it's difficult to say it when you're not sure he'll say it back. But if you notice these seven signs, he's likely in love with you even if he hasn't said it yet.
1. You're a Part of His Future
Do you two ever talk about your future? Has he ever hinted that you're a part of his? That's a huge indicator that he's in it for the long haul. If he doesn't explicitly say that he wants you to be a part of his future, pay attention to his language. If he dreams about his future in "we" terms, it means he loves and cares enough to want you in his life for a long time, even if he doesn't realize it yet.
2. He Actually Listens to You
A guy who's in it for the fun of it won't usually care so much about what you say. A guy who loves you, however, will listen to your concerns and complaints. Even more than that, he'll remember what you said. This is a sign that he takes you seriously and cares about how you feel.
3. Other People Say He Is
If his friends call him "whipped" and your friends talk about how in love you two seem, then that's a great indicator of his feelings for you. Talk to your love psychic to see if he or she sees it as well, so you can be sure it's safe to tell him how you feel without him running for the nearest exit.
4. He Cares About Your Needs
A man who is really in love will put his woman above himself. Does he let you have the last piece of pie even when it's his favorite? Is he willing to drop his responsibilities and go to the store when you're having a female emergency? Does he do it without complaining? These are huge signs that he loves you.
5. He's Interested in Your Life
A guy who just wants a fling will easily get annoyed when you talk about the little things in life. But a guy who really loves you wants to hear more. He'll be genuinely interested in learning what your favorite flower or color is.
6. He'll Swallow His Pride
Swallowing his pride is perhaps one of the hardest things a man has to do. But if he does it to make up with you after a fight, even when the fight wasn't his fault, he really loves you.
7. He Stands Up for You
No matter where you are or what you've done, a guy who truly loves you will stand up for you, even if you're in the wrong. And if you've done something bad, a guy who loves you will listen to your side of the story before blowing you off.
Do you need a second opinion on the situation? Consider getting in touch with an online psychic to discuss your relationship. Still need reassurance?
Share
Your

Thoughts

Drop a line, share your insight, and keep the convo going! Sign in or create an account to leave a comment on this content and more.
Comments