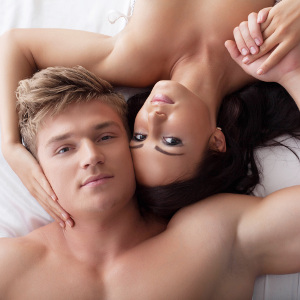 Being shy doesn't mean you aren't sexy.
Being shy can keep you from meeting new people, trying new things, and asserting yourself in unfamiliar situations. Although being demure is sometimes sexy, your bashful behavior might make your romantic life a little blah. Maybe it's time to step out of your comfort zone, think about what you like, and take the necessary steps to show your lover what's hiding under that shy exterior!
Exude Confidence
Sexiness isn't about what you wear, your makeup, or your hair. Even if the thought of talking dirty makes you blush, you can still ooze sex appeal. Confidence is the key to sexiness. If you're confident, you'll turn on your honey no matter what you do, but you might not feel super confident if you're shy. That's okay, there are lots of ways to increase your self-confidence.
You could exercise, learn something new, or indulge in a habit about which you're passionate. Daily meditation is helpful, but a series of psychic readings by phone will really help. Your psychic can pinpoint the areas of your life where you need more confidence and can even help you find the cause of your shyness.
Think about What You Like
If you're bashful in the bedroom, it's possibly because you've never stopped to consider what you like. Even before you take your seduction techniques to bed, sit down and have a conversation with yourself. What drives you wild? Do you love long, lingering kisses? Do back massages make you melt? Get in touch with what pleases you so that you can better please your partner.
Now Let Him Know
Being open and honest is difficult when you're shy, especially when you're talking about something intimate, romantic, or sexual. However, this is your partner. He adores you. Even if you have to go slow, tell him what you've learned. Simply hearing you talk about the things you like will turn him on and create a spark.
Play Show and Tell
Even if you're not into role-playing, there are still fun games to play in the bedroom. A literal game of show and tell is just what you need. For example, lead him to your sweet spots. Take his hand or lead him by the lips to your most sensitive erogenous zones, such as the back of your neck, the inside of your elbow, or even the well-known hotspots. Naturally, you should invite your lover to do the same.
Have One Adventure at a Time
As you get more comfortable and less shy, you'll have more adventures in the bedroom – and perhaps out of it. Try something simple at first, like using a blindfold. Even if things never get especially crazy, you can still add some spice to your love life. In this instance talking to a love psychic can give you some ideas, as well as techniques that will make it easier to step out of your comfort zone.
Shyness is sexy too, but only if it doesn't impede your passion. How do you keep the fires burning in bed?
Share
Your

Thoughts

Drop a line, share your insight, and keep the convo going! Sign in or create an account to leave a comment on this content and more.
Comments