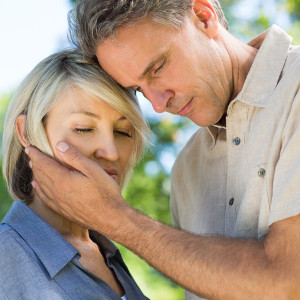 You can rebuild trust after he's cheated
Cheating can rock even the strongest relationship and leave trust completely shattered. Unfortunately, while it only takes an instant for the trust to be broken, it can take a lot longer to rebuild it. If you caught him cheating, these four milestones must be met to re-establish trust in the relationship.
No Contact With the Other Party
First and foremost, your partner must completely end all contact with the other person. This starts with something as simple as deleting the contact information for the other person to something more complicated like making sure he stays away from places where he might run into the other person. If your partner met the other person at work, it might even require changing jobs. While this seems extreme, showing this type of commitment to making the relationship work again goes a long way towards rebuilding trust.
Open Communication About Everything
Communication is key to restoring trust in a relationship. At first, you may only want to talk about the cheating as you try to get a better understanding of what happened and why. Your partner must be willing to discuss all the details with you no matter how uncomfortable it makes him feel. If you want to make sure your partner is being completely honest, a love tarot reading can show anything he might be hiding. Eventually, you'll want to move on to everyday conversations so your relationship starts to feel normal again.
New Rules Are Kept
Next, you and your partner need to sit down and come up with new rules for the relationship. One new rule might be that you're allowed to have the passwords to his phone and email so you can periodically be reassured that he isn't keeping anything from you.
Another possible new rule is that anytime your partner is running late, you must be contacted so you know exactly where he is and when to expect him home. While it may seem like an invasion of privacy, these new rules don't have to last forever. As the trust continues to grow, you'll find the need check up on these activities starts to diminish.
Listen to Your Intuition Again
Finally, you must learn to trust yourself and your intuition again. While your partner was cheating, you may have suspected something but didn't want to admit it or you may have been completely in the dark. Either way, the trust you had in your own intuition is now damaged and you need to rebuild that.
Also, know there's a difference between your inner voice and fear. Fear will always look for the worst while your inner voice knows when someone is lying to you. If you're still struggling to trust your intuition, you can also meet with a psychic medium who can help guide you back.
As you reach each of these milestones, you'll begin to notice your trust in your partner will come back. Eventually, you'll be able to move past the cheating and focus on having a happy and healthy relationship again.
Share
Your

Thoughts

Drop a line, share your insight, and keep the convo going! Sign in or create an account to leave a comment on this content and more.
Comments