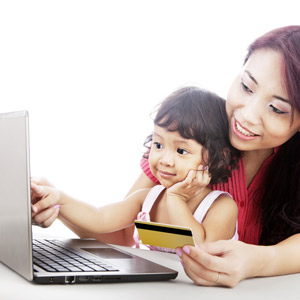 Mother and Child shopping online
Signing up for free stuff online may seem like a great way to test out new products, or to get the products you already love, but there are dangers that come with your free stuff that can take a lot more that your money.
Create an Alternative Email
When you do decide to shop online, use a dedicated email address that is used for nothing else except shopping online. That way if you get spammed or hacked, it does not affect your everyday life. This email account should also be held at a separate domain. For instance, if your work email is through Hotmail, and your personal email through MSN, have your spam email set up at Yahoo. Never use your work email for online giveaways or freebies. It's a great way to get in trouble with your employer and cause nightmares for your coworkers if a computer virus is contracted.
Get a PO Box
This is for serious online shoppers and freebie hunters. It is a step up for both protection and anonymity. Sometimes freebie websites will ask for your address to ship your prize, but the scammers on the other end can find your house and either break in, or use it to further their identity theft plans. They like to wait until you're out of the house, then they will sneak in and steal big things such as TVs and stereos, or little things like credit card information. Most people don't make the connections between their online dealings and what happens at home. A PO box is a great form of protection.
Read Privacy Policies
No one likes to read the fine print, but taking the time to do so can save you a lot of stress and hassle. Scamming sites like to sell your contact information to spammers. The more a site claims to be "not a scam" the better the chances are it is. Read all the policies when dealing with an unknown site. Contact an online psychic if you aren't sure about a website's policies.
Keep Away from Giveaways
Most online giveaways are rarely, if ever, approved by a product's company, and almost never give out the things they are advertising. Signing up for these giveaways is a great way for scammers and hackers to steal your personal information like your credit card numbers for shipping and handling, or your telephone number for spam calls. Only sign up if the giveaway is hosted by the company's site such as Apple giving away an iPod. Be wary of online businesses too, like Zappos. Chat with a psychic online about giveaways for advice.
Not all online deals are bogus, and you can find some really great things that have no monetary cost. Just be careful that the price you do pay isn't with your career, credit, or personal life. Stay away from things that sound too good to be true, more often than not, they are.
Share
Your

Thoughts

Drop a line, share your insight, and keep the convo going! Sign in or create an account to leave a comment on this content and more.
Comments