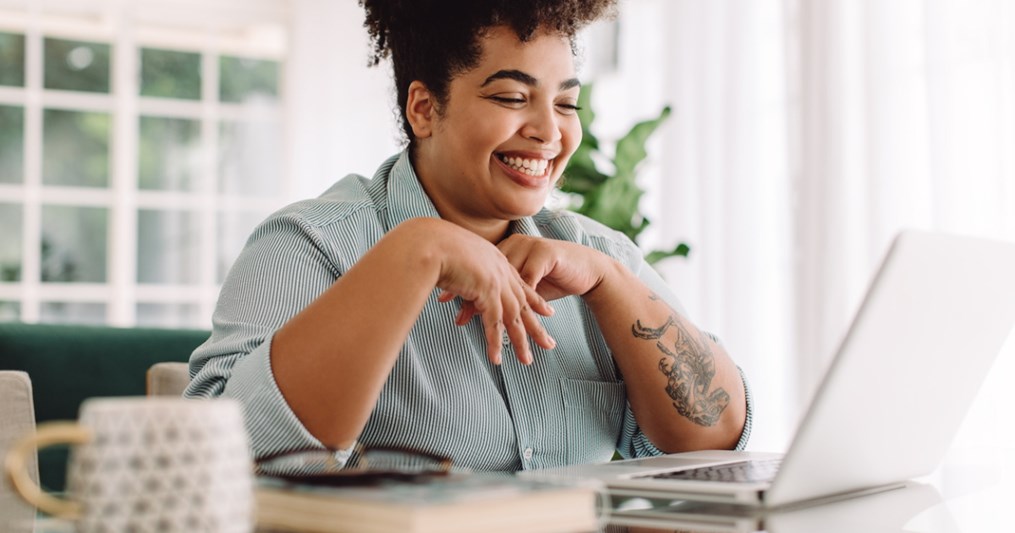 Actually looking forward to meetings? It's possible when you're working a job that jives with your vibe.
How can you tell what job is right for you? It all starts with understanding your morals and spirituality. Even if a field seems interesting on paper, you won't find real happiness unless the workplace passes the vibe check. Try out these tips to find your perfect job and career.
Take a Career Test
Taking a test that gives you insight into your own vibe can really help when you're on the hunt for a great job but don't know where to start. You'll find a range of personality tests that point you in the direction of jobs that might align with your personality and overall vibe. Especially when you're just learning and discovering what might interest you for the long haul, personality career tests can work as a guide toward exploring industries.
If you're googling "how to find the right career for me" on a daily (or, OK, hourly) basis, personality tests can play a key role in your job-search toolbox. For example, the Meyers-Briggs personality test offers precise information about your personality type — and what industries vibe with that vibe. Just keep in mind: Personality tests aren't the ONLY tool you should use. These tests don't replace the experience you'll get in the real world. You'll get important insight into yourself, but you'll still need daily experience working in a field to see how the job fits you.
Intern or Volunteer To Test the Waters
Real-world experience can go a long way in taking a good job from the hypothetical realm into something tangible you can assess. Consider doing an internship or volunteering if you don't know where to start discovering your career path. If you have the time and financial means to support yourself, interning or volunteering can work as a trial run into a potential career while giving you something to put on your resume when it's time to apply for that dream gig.
Volunteering is great if you can't make a serious commitment, either because you need to simultaneously support yourself while looking for your ultimate career path or if you don't know where to begin. Because volunteering isn't required, you can get real-life experience in different industries without the pressure to produce. You can change how and where you volunteer and work within your schedule. You'll get valuable experience, knowledge, and even networking opportunities in your chosen field.
Bonus points? Volunteering often brings joy as you learn from and help others. That's a great way to cut down on any anxiety and depression (which, let's face it, might come with the territory of a grueling job hunt). You get to contribute to society and help others and may find a field that fits your vibe along the way.
Get To Know Yourself ...
Taking the time to know yourself — really know yourself — is essential to discovering the right career path. Knowing your morals and spirituality will help you find a job you love. Think about your values and how you stand out from the crowd, considering what you might bring to the table compared to other potential candidates. Then, take those unique traits with you while looking for your career.
Experiment with new experiences. You can do that by interning, volunteering, shadowing professionals in different industries, and finally signing up for that class you've always wanted to take. Giving yourself time for self-reflection before diving head-first into job applications lets you better understand the kind of work culture that will fit your values and vibe.
...Then, Get an Outside Opinion
Self-reflection is essential, but it's also super helpful to look to outside opinions and advice. After all, sometimes we just can't see aspects of our personalities that are evident to everyone else around us! A mentor or trusted friend can help you define your brand.
Getting different opinions and learning as much as possible while pursuing your next career step is critical, so speak to a career counselor or look for a mentor on LinkedIn. Depending on your own network, your current or former college or an independent career coach can offer guidance as you work through your choices.
Speak to a Psychic Advisor
A Psychic Advisor is a perfect person to give an outside objective opinion. Think of an insightful Psychic like your trusted BFF and a career coach in one package, plus with extra insight into your personality and life path.
A Psychic can help you transform life's uncertainties into opportunities for personal growth, giving you a better understanding of your morals and spirituality and helping you figure out how your vibe determines the best job for you. Whether you come away from the conversation with confirmation that your chosen career path really is right or you discover an entirely new path you might not otherwise have considered, chatting with a Psychic Advisor will go a long way in defining the best job for your vibe.
Try Out New Hobbies
Searching for a job can feel incredibly stressful. Still, it's important not to let the process entirely consume you. Think about the predicted job market so you can make decisions using your head and heart, combining your interests with strategic moves. For example, if art and technology excite you, a web development or graphic design career might be a good fit.
Then, try to find time to work on hobbies you love and take classes to explore your interests. You're more likely to learn new skills and meet people in interesting fields that way, and the right person may just come into your life when you least expect it if you're open.
Get a Psychic Reading today at PathForward for personalized advice as you look for your dream job. Our intuitive Psychics will provide career advice and insight into your personality, setting you on the right path to a fulfilling career.
References:
Share
Your

Thoughts

Drop a line, share your insight, and keep the convo going! Sign in or create an account to leave a comment on this content and more.
Comments