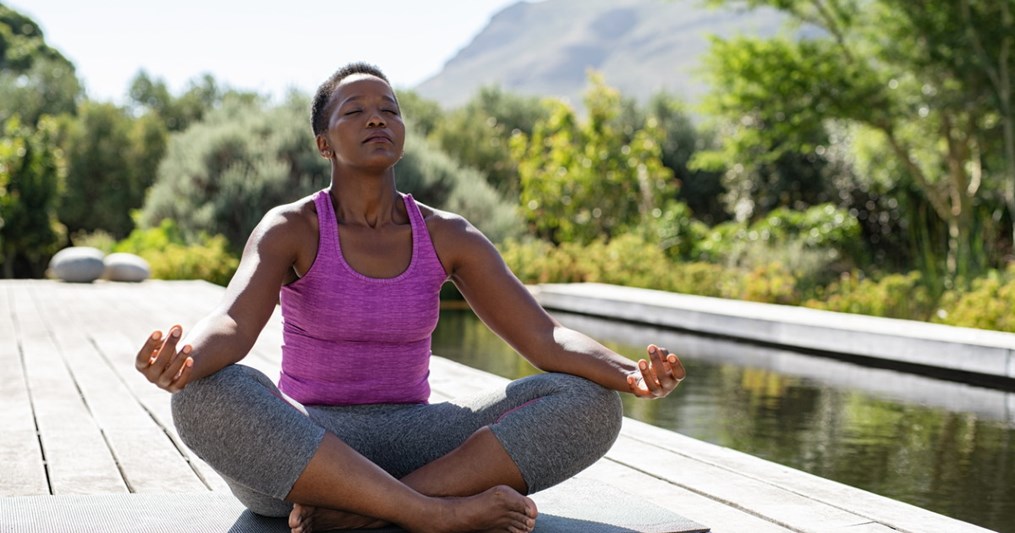 Take a spiritual getaway with a retreat complete with yoga and nature.
You're not alone if you've spent the past months scrolling through travel sites and daydreaming about a much-needed vacation. Now that the world has largely opened up again, you can finally plan that trip. Whether you're looking for upscale luxury or quiet introspection — and no matter if you want to travel across the globe or stay close to home — a Psychic Advisor can point you in the right direction. Here are seven vacation spots to get you started when you want to enrich your spirituality as much as your tan.
Varanasi, India
If you're looking to plan an international spiritual getaway, chances are that India already tops your list of potential destinations. You can't go wrong with a visit to this spiritual hub when you're seeking inner peace. Look no further than Varanasi, a standout spot in the center of North India's Ganges Valley, for the ultimate vacation. One of the oldest cities in the world, Varanasi is considered holy in the Hindu religion.
The destination certainly delivers in terms of culture and spiritual richness. Visit sacred temples and palaces, and take some time to bathe in the water here. That's right: Both the city's inhabitants and plenty of visitors come to Varanasi just for a chance to bathe in the water. When you're not bathing, you can get your meditation on, indulge in vegetarian meals, and meet with spiritual advisors.
Kyoto and Shikoku, Japan
Japan offers another can't-miss destination if your spiritual leanings are pulling you overseas. The unique mix of ancient traditions and cutting-edge modernity makes this country a top choice for travelers of all types, but there's so much more to Japan than just shopping and sightseeing. In fact, Japan offers an amazing choice for a spiritual retreat. Why not combine Kyoto and Shikoku, two great spiritual destinations, when you're planning your spiritually enriching getaway?
You'll find Kyoto in the Kansai region. Home to 400 Shinto shrines, 1,660 Buddhist temples, and 90 Christian churches, it's no wonder Kyoto used to be called Heian-kyo — "Capital of Peace and Tranquility." After touring Kyoto, go for Japan's Temple Circuit. This loop around the island of Shikoku takes you on a pilgrim-approved journey to 88 Buddhist temples across four provinces. The path to enlightenment features temples representing awakening, austerity and discipline, attaining enlightenment, and entering Nirvana.
Rishikesh, India
Think yoga is synonymous with spirituality and peace? Book a trip to the ultimate relaxing spiritual retreat and head to Rishikesh, one of the biggest yoga destinations in the world. This holy city has it all when it comes to spiritual enrichment, from yoga classes to meditation services and beyond.
Retreats here, known as ashrams, can be as simple or as luxurious as you'd like. You'll have time to deepen your spirituality through yoga, but when you're not in lotus pose, check out some traditional ceremonies to get to know the Hindu religion better. Trail hiking and temple visits round out the package.
McMinnville, Tennessee
If you're in the mood for an Indian-retreat experience without traveling quite so far from home, you're in luck. McMinnville, in rural Tennessee, has exactly what you seek by way of the Isha Institute of Inner Sciences. Isha delivers both organized yoga and meditation programs as well as personal wellness retreats, all inside their huge golden dome.
Isha also offers an oasis in nature thanks to the gorgeous trails and seven waterfalls on the premises. Take your spiritual getaway to the next level by bringing your mountain bike, or at least some hiking shoes, so you can take in all this destination has to offer.
Ladder Ranch and Santa Fe, New Mexico
Road trip: New Mexico! If your dream vacay translates to road tripping, you'll want to plan a getaway to New Mexico. Two great destinations in this state include Ladder Ranch and Santa Fe for the perfect mix of nature and healing. In Ladder Ranch, four tributaries of the Rio Grande River support wildlife like Chiricahua leopard frogs, elk, mountain lions, and bears. Pine forest and desert grassland ecosystems mix to create a unique natural environment ideal for some spiritual introspection.
Continue your road trip with a stop in Santa Fe, making sure to book some time at the Ojo Santa Fe Spa Resort. Here, the desert meets the Sangre de Cristo Mountain foothills, providing the perfect backdrop for yoga, a fitness studio, and even some playtime with adoptable puppies. Spa treatments incorporating local botanicals and products that draw on the healing properties of plants and minerals make time spent here restorative for the body and spirit.
Lake Titicaca, Peru, and Bolivia
Prefer to tap into your spiritual side by abandoning cars entirely? Pay a visit to Lake Titicaca. The heart of Inca civilization, the lake was an important religious center that pilgrims from across the Incan empire visited regularly. According to legend, the founder and king Manco Capac sprung to life from a rock at the lake's Isla del Sol.
Today, this "Island of the Sun" draws in travelers who yearn for a serene location for spiritual awakening. The huge lake sprawls at an altitude of over 3,000 meters, and the island has no cars. Instead, you'll travel by foot along the paths when you visit the temple ruins.
Galgorm Resort and Spa, Northern Ireland
Galgorm Resort and Spa, located in Northern Ireland, is the place to go if you're searching for a spiritual spa experience. You'll find this super luxurious retreat only 30 minutes from Belfast. The Thermal Spa Village is just the start.
Bring together physical activity and spiritual engagement thanks to yoga classes and Celtic sauna rituals. Choose from an extensive array of hot tubs by the river, indoor and outdoor heated pools, saunas, steam rooms, and more, then explore the North Antrim Coast's stunning scenery nearby. No matter how you define spirituality, you're sure to find a vacation complete with spiritual growth and awakening here.
A Psychic can help you pick the best vacation spot for your personal spiritual journey. Get a Psychic Reading at PathForward today!
References:
Share
Your

Thoughts

Drop a line, share your insight, and keep the convo going! Sign in or create an account to leave a comment on this content and more.
Comments