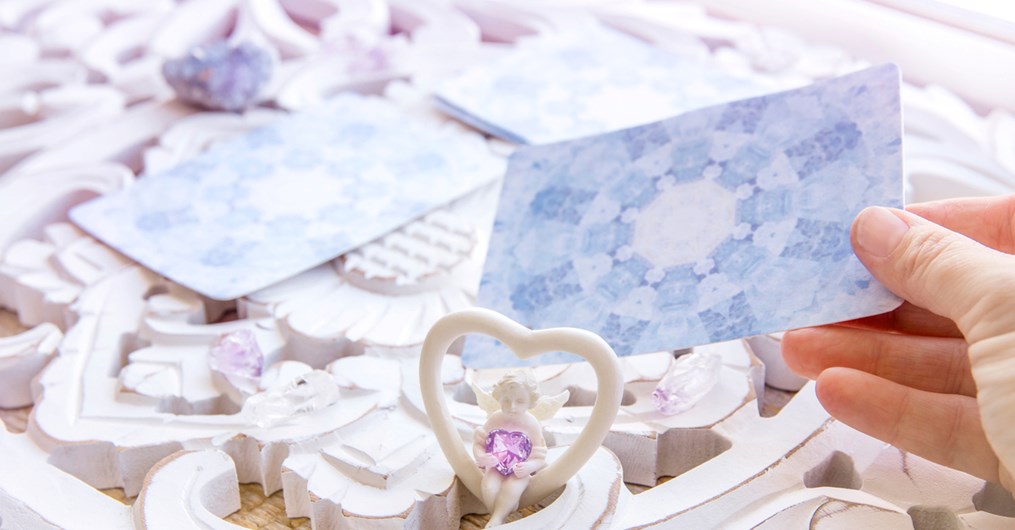 Learn the difference between Angel Cards and Oracle Cards!
I love being a Certified Angel Card Reader. I use angel cards and oracle cards to provide smooth, gentle guidance and support in life. While there are similarities between tarot, angel, and oracle cards, there are also significant differences. They can all be used for information from a metaphysical perspective, but the information is presented and interpreted uniquely. Tarot decks consistently contain 78 cards divided into major and minor arcana. Each unique tarot card has a predictable meaning, yet groups of cards can have multiple meanings when combined. Oracle and angel cards are not controlled or defined by any set pattern and have more freedom and flow. Angel cards are connected to divinity, and oracle cards are deeply seated in the art of following your intuitive senses.
What are Oracle Cards?
Oracle cards are an intuitive divination tool for personal exploration, increased awareness, aha's, and even rituals. Oracle cards support your spiritual and emotional growth and awareness. They are equally effective as tarot but historically are not as common in popular culture. Tarot has a vibrant and lengthy history. In recent years, oracle decks have been a growing field that explores every topic under the sun. The' light energy' that they impart reduces fear and anxious thoughts, allowing you to tap into the answers that are already within you. There is an extensive range of decks that cover many bases and can be chosen specially for you and where you are in life - powerful! Angel and oracle cards are used to encourage and guide us as well as bring new insights. Find an oracle deck that you connect with or reach out to a Psychic who will pull cards that will support you, your questions, and challenges in life. Give oracle cards a try if you want to tune into the inner knowing you have disconnected over time.
What are Angel Cards?
Sweet and delicate angel cards are meant to uplift and revitalize your perspective in daily life through a reliable and trusted resource and connection. Angel cards are increasingly popular as our lives twist and turn to a higher degree of perceived complexity and confusion. These cards can present gentle guidance from our spiritual entities, especially our Angels. This source of benevolent counsel is uplifting, comforting, and inspiring. Although these cards are not limited to Angels, they can also include Ascended Masters, Goddesses, Fairies, etc. Many of us are looking upward toward the heavens for additional perspectives and opportunities for moving forward with more clarity and less struggle. Let's be honest. Life has been insane over the last couple of years, with uncertainty and fear running rampant. Angel cards can help you connect to the true you that is hidden deep within. I get inspired by Angel Expert Kyle Gray. He often says, "Thank you angels for revealing to me, what I need to know." These angel card decks can be packaged as an oracle deck or an angel tarot deck. I have worked with both and use them according to what fits the situation.
Angel Cards Present Insights and Awareness Over Predictions
Angel cards are used to provide gentle heavenly guidance and support in the situations you are currently living. Whereas some can see tarot as a blunt prediction of your future. While the underlying energy may overlap, readers on PathForward use both systems, and the approach is quite different. 
Angel cards can change your life if you are willing to give them a try. The benefit of angel cards is multifaceted. Depending on your chosen deck, here are some of the popular and powerful benefits of Angel Cards:
Connect to the Divine. Through angel cards, you can more easily connect with Spirits, Ancestors, or Angels. The cards can channel information that you might need to hear right now.
Choices. Angel cards can help guide you when facing important decisions or challenges in your life, providing answers when overwhelmed and the path ahead feels unclear or non-existent.
Self-Love & Self-Aware. These cards can motivate and encourage you to look within, trust your inner wisdom, and take mindful action. This is a great way to build self-awareness and get to know yourself on a deeper level.
Topic Specific; Angel cards and oracle cards come in a wide variety of options depending on what appeals to you: Power of Love, Animal Spirit Guides, Angels, Moon and Astrology, Crystals, Colors, Power of Surrender, Star Seed, Life Purpose, Archetypes, Yogic, and more…
Improve intuition. The more you practice and pull angel cards, the more you'll delve into your intuition. As you pull a card, your subconscious focus' on the surface to interpret the card's meaning for you. What a wonderful tool to train your intuition, which of course, will apply to other areas of your life.
Get a Card Reading
With angel and oracle cards, the information you need to know is brought to the forefront without being perceived as being too "scary." Love oracle cards can assist with your romantic life and hitting bumps in the road. Sometimes you will get the answer you need, but it is not the answer to the question you ask? Did you catch that? Spirit knows what you need to hear and shares that information with you. Sit deeply with all insights, and do not dismiss insights too quickly with angel and oracle decks. Want to try new things and experiment with angel and oracle cards? Get connected to a Card Reader today and find the support guidance you need most.

"Need additional clarity? I'll show you the bigger picture. Need healing? You'll love my Reiki and energy healing sessions."
- Psychic Christine x4063
Share
Your

Thoughts

Drop a line, share your insight, and keep the convo going! Sign in or create an account to leave a comment on this content and more.
Comments