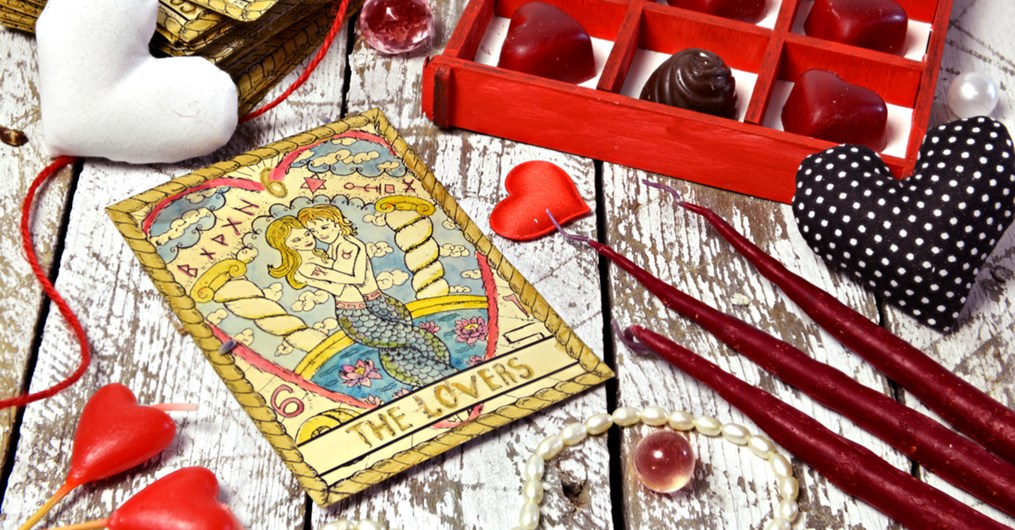 A Love Tarot Reading can be a powerful tool for keeping a relationship strong!
Of the many reading types available in the psychic world is the option of having a love tarot spread made specifically to help the individual gain self-satisfaction with clarity.
But what is a love tarot spread, you may ask? What can a love tarot spread reading do for me and my situation? How does one interpret the love tarot card reading? And how can a love tarot spread help in assessing a different angle, approach, or perspective within your unique situation? Read on to find out!
What is a Love Tarot Spread?
A love tarot spread touches base on the attraction that brought the two of you together, the union between you and the people involved, your spiritual magnetism, where this will lead to, and the chemistry between those involved.  A love tarot spread helps to understand oneself, your integrity, your sets of values, and the most important underlying root regarding what brought you and keeps you together with your partner. Relationships are mirrors of ourselves, and understanding these circumstances about ourselves gives an understanding of happiness in relationships.
Love is a set of emotions and behaviors characterized by intimacy, passion, and commitment. Expressing care, closeness, protectiveness, affection, and trust towards our companion. A love tarot reading provides insight into this range of emotions, exploring happiness, excitement, life satisfaction, and euphoria - but it can also see objectively through emotions such as jealousy, pressure, and stress.
Most of the time, what we all want is to be heard by our partners, which requires clear communication. Having a professional love Tarot Reader provide you with a love tarot spread reading helps reveal the unspoken, preventing the big misinterpretations or misunderstandings that most couples experience from time to time. I have personally found that many loving couples who do end up separating do so because of differences in communicating or not effectively expressing their needs. Family obligations and expectations, financial gains or losses also play a big part. Though it does help to clear the air when mentioning that outside circumstances can bring two people together and keep them together, it all depends on the inward and outward demands from yourself and your lover. 
How to Get the Most out of a Love Tarot Spread
Remember, no two readings are alike, though similar cards can come up with each person's situation. Having a love tarot spread reading, looking through intricate details, and working within your own intuition helps you accept that there is no single way to practice love. Every person brings their own history into a relationship. Do you want to show the people you love how much you care? Below are some qualities you can work on to improve your relationships:
Allow yourself to be vulnerable
Be willing to forgive
Do your best and be accountable 
Apologize when making errors or mistakes
Effectively communicate your needs
Let them know that you care
Listen to what your lover has to say
Prioritize spending time with the other person
Reciprocate loving gestures and acts of kindness
Recognize and acknowledge your lover's good qualities
Express affection
What do Certain Cards mean in a Love Tarot Reading?
Many tarot readers look for The Lovers tarot card in a love tarot reading. Although The Lovers card does symbolize two lovers coming together as soulmates, it is only in the modern deck of tarot cards where The Lovers tarot actually represents a love that may further lead to marriage. In the original Rider-Waite tarot deck, The Lovers tarot card was actually a sign of a third person, a possible outside influence enhancing, enabling, or disabling the relationship - even potentially showing signs of a cheating spouse situation. Again, the factors would weigh on the other cards revealing more information and the intuition of both the reader and the client having the love tarot spread reading done.
The Two of Cups is also a soulmate card that symbolizes union as its pure spiritual self, bringing together two people in harmony and happiness.
The Knight of Cups is of a young youthful lover offering his sense of life and joy to the client.
Ten of Cups symbolizes a happy home with family and a serene environment, while the Four of Wands may or may not indicate marriage, particularly if surrounded by cards such as the Ten of Cups or the Two of Cups in a love tarot reading. 
Stack the Deck in Your Favor...
Each love tarot reading is unique with every scenario on each account. The love tarot spread is something a Clairvoyant reader like myself and many others enjoy reading for clients. If you find yourself in a situation that calls for personal clarity and need help finding solutions for your dynamic and unique relationship, consider a love tarot reading with me or any of the talented Tarot Readers on PathForward!

Lucine is a Clairvoyant specializing in Reiki transformation and healing who uses her gifts of intuition to help her clients in complex or difficult matters. She is certified as a Master Reiki teacher and is an Ordained Minister in Metaphysics with over 20 years of experience in spiritual psychic readings.
Psychic Lucine x4266