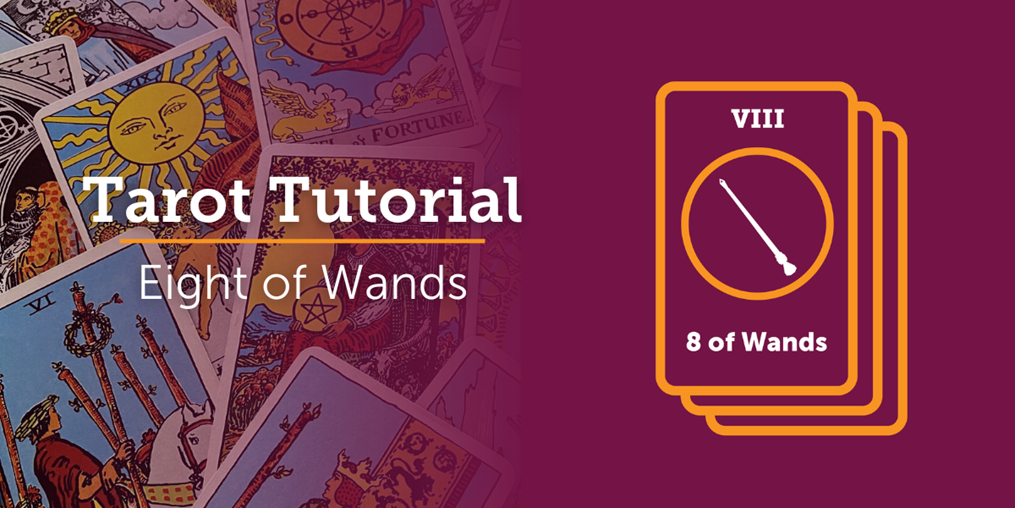 Read on the learn the meaning of the 8 of Wands tarot card.
They say good things come to those who wait but seeing the Eight of Wands show up in a reading says no waiting is needed to get where you want to go! If you only remember one keyword for this card, it should be "speed." This card has the same vibe as a runner's high. You've already put in the work, so you've got the power of momentum behind you, making your next moves look effortless. 
The Eight of Wands in a Love Reading 
If you were asking about when you'll be meeting a new love, the Eight of Wands in a love reading is saying right… about… now! The chemistry between the two of you is likely to be intense. Don't be surprised when the initial spark of your connection goes straight to fiery passion. This new love will be around for a good time…but will it be there for a long time? You'll definitely need to check the surrounding cards for more deets. 
Already in a relationship? The Eight of Wands could be pointing towards a reigniting of passion, especially if things have been blah between the two of you. Seeing the Eight of Wands in a position representing you might mean you'll need to take the initiative to steer the relationship in the direction you want it to go. But once you do, expect a quick escalation of the intensity of your connection. 
If the Eight of Wands shows up reversed in a love reading, it's telling you to stop and think a minute. You don't have to say yes to the next Tom, Dick, or Harriet that asks you out. Yeah, it might not feel fun to be flying solo right now, but trust us, being single beats being with the wrong person. Don't let worries about being alone make you rush into something that doesn't serve you. The right person is worth waiting for. And more importantly, you're worthy of a love that's right for you.  
The Eight of Wands in a Future Reading 
The universe is about to manifest some amazing opportunities when the Eight of Wands shows up in a future reading. You're about to blast through any blockages you've been experiencing. Sometimes this can take the form of a new person entering the mix, and their presence can change the dynamic of a situation from stalled to full steam ahead. It can also mean getting a message that it's time to move on a project you thought wasn't going anywhere. 
If the Eight of Wands comes up in a position representing you, it could signal that you're about to enter an active era of your life. Keep your eyes open for adventure. You'll get plenty of opportunities to broaden your horizons or break out of your comfort zone. Doing something you haven't done before will be a positive experience, so go for it! You may also want to use this energy boost to kick off an exercise program. 
A reversed Eight of Wands in a future reading is like hitting a speed bump on your plans. Trying to force things to move is just not going to fly right now. This is an excellent time to cultivate patience because it may take a little time to get things unstuck. You might be feeling panicked and overwhelmed if the reversed Eight of Wands came up in a position representing you. If life feels like it's moving too fast, you need to slow down, at least to catch your breath. Hit the pause button on any unnecessary tasks until you feel ready to take them on in a focused and prepared way. Otherwise, you're just going to end up frazzled and burned out. 
The Eight of Wands in a Career Reading
Got your kicks on, sis? Seeing the Eight of Wands in a career reading lets you know that not only are things moving in a positive direction, but they're also moving there fast. The vibe in your workspace is high energy and optimistic about the future. Stalled projects might suddenly take on a new life. It can also mean reinforcements are coming in to help take a project to the finish line. Collaboration with other teams or help from a new team member is possible. 
If you were asking about the odds of getting a new job, expect an offer to come quickly. This is one of those cards associated with travel, so expect business trips in the future or even a relocation. If the eight of wands came up in a position repping you, it could signal moving up through the ranks of your organization. 
Did Eight of Wands show up reversed in a career reading? It might be letting you know that your team is going nowhere fast. It's time to put the breaks on and figure out a better way to approach taking on a task because whatever you're doing just isn't it. Everyone needs to chill and go from being reactive to proactive. If the reversed Eight of Wands showed up in a position representing you, do what you can to take a step out from the center of the action so you can get a better big-picture idea of what is going on. Pushing a situation without stopping for a reality check will just make it worse, bestie. Better to take an hour to assess now than hours later trying to clean up a mess.  
Get a Tarot Reading 
Still wondering how the Eight of Wands will zoom through your life? We gotchu! Our Tarot Readers have the skills to go deep when you need answers about love, career, or anything else weighing your mind. See how their insight can have you moving in the right direction to manifest the life of your dreams.  
Share
Your

Thoughts

Drop a line, share your insight, and keep the convo going! Sign in or create an account to leave a comment on this content and more.
Comments