The Queen of Wands is a full-on extrovert at home in both actual and metaphorical spotlights. People can't help but notice her, and she loves basking in every bit of attention. Can she be a bit of a diva? Yep, but this queen bee is ride or die for anyone she considers part of her hive. The Queen of Wands is linked to Fire signs, so she can represent any adult born under Aries, Leo, or Sagittarius.
Remember, court cards don't always refer to a specific gender or even to a specific person. Sometimes they show up as a nudge from the Universe when it's time to embody aspects of the royal in question. All the Queens represent a mature and inward focus, and the suit of wands is tied strongly to high energy and optimism. Sometimes this queen's pocketful of sunshine is just what you need to kickstart your life.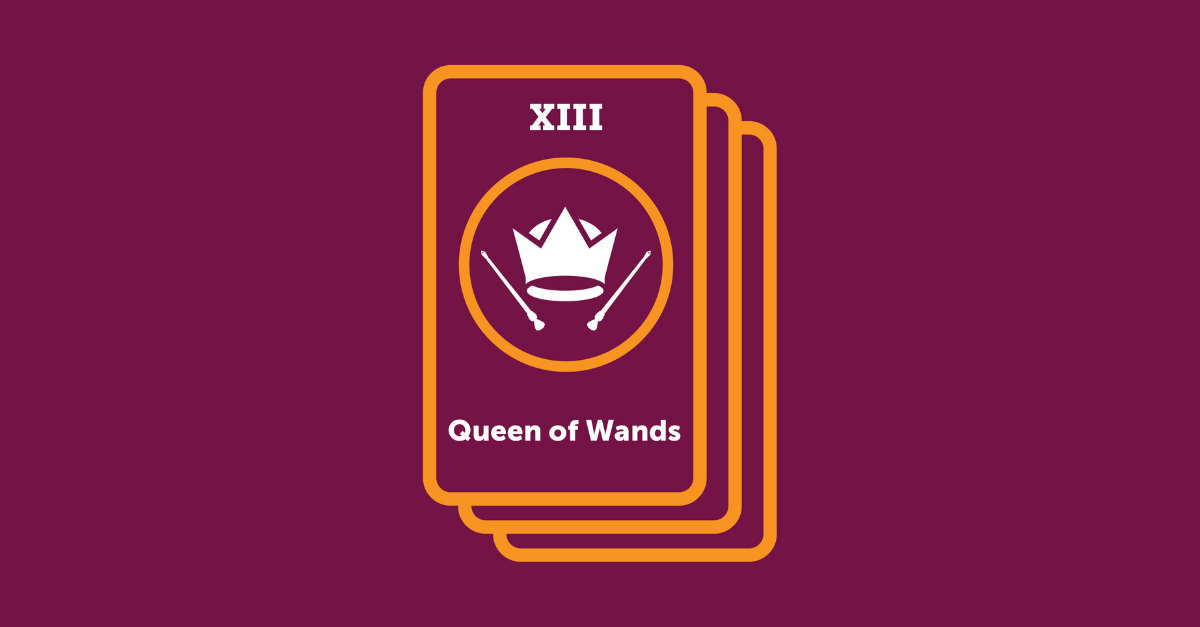 The Queen of Wands in a Love Reading
Oh, hells yes! Chances are good for meeting a new love who is fine af when the Queen of Wands comes up in a love reading. There will be something about them that feels super irresistible. Maybe it's the aura of confidence coming from them. Maybe it's the way they know exactly how to flirt with you to get your knees melting. You just know that you can't take your eyes off your new boo… and your hands are ready to get to know them better too. The Queen of Wands confidence def extends to the bedroom, and this tarot royal loves to keep things hot. If you are already in an established relationship, expect an upturn in the heat between you, starting with innuendo-laden flirting, and leading to the bedroom.
If the Queen of Wands comes up in a position representing you, it means it's time to raise your confidence levels regarding love. Splurge on a makeover. Indulge in a playlist filled with Lizzo and Beyonce tracks. Just connect with your inner glam and see the rise in your confidence become a magnetic charm that draws that special someone to you.
The Queen of Wands reversed in a love reading still brings intensity, but maybe not the kind you'd want. You may have noticed that you aren't the only one who feels thirsty whenever your lover walks into a room. Nothing might be going on, but you will want to check the surrounding cards to see if someone outside your relationship is trying to interfere—or if your partner has moved past friendly flirting with someone else. First, take a deep breath before you do anything rash. Telenovelas are fun to watch but not so much to live through. If you find the boundaries of your relationship have been crossed, it's time to get real with yourself and your partner about what you expect in a relationship and what the dealbreakers are.  
The Queen of Wands in a Future Reading
Confidence is the middle name of this tarot queen. When the Queen of Wands comes up in a future reading, someone born under the sign of Aries, Leo, or Sagittarius might be taking up more attention in your life. It can also point towards someone coming into your life (or taking a bigger role) who shares this queen's 'tude and ability to captivate their intended audience. There is just something very attractive about this person pulling you into their orbit.
You might also find more opportunities to be social coming up. Remember, there's always some inner focus going on with the tarot queens, even in this extroverted royal. The time you spend peopling could teach you something about yourself—possibly something that may improve your confidence in the long term. This could also be a good time for you to cultivate some of her majesty's confidence, even if you have to do the "fake it until you make it" dance before you really start feeling it. Love and romance are always on the table for the Queen of Wands, but her energy can also manifest as more attention in your work and/or social life in general.
The Queen of Wands reversed in a future reading is the OG mean girl. There could be some serious Regina George energy showing itself soon. Pettiness, vindictiveness, lies… yeah, it could feel like you are stuck at ground zero of a reality TV show. Check the surrounding cards to get a better idea of where it's coming from and how to dodge stepping into the worst of it. Wait! Are you the drama? While we totally get how good it can feel to get loud—and yeah, even a little mean—in the moment, make sure you aren't burning any bridges you'll miss when the yelling's done.
The Queen of Wands in a Career Reading
The suit of wands is sometimes associated with career or job performance, so if you see the Queen of Wands turn up in a career reading, things look good! You might notice that you are getting a lot of recognition for being very capable at what you do or that your reputation is opening doors for other opportunities. If you want to make a move in your career, it's def time to be loud and proud about what you bring to the organization.
The Queen of Wands can also indicate a co-worker or boss born under the sign of Aries, Leo, or Sagittarius or someone who embodies the energy and confidence of this tarot royal. Spending time with this person can do wonders for your self-esteem. They often can be some of your biggest cheerleaders, inspiring you to dream big when it comes to your career and backing you up when you are ready to make your move.
If the Queen of Wands comes up reversed in a career reading, jealousy may be making your work environment miserable. You could be the object of other people's envy, or you might be the one letting envy throw you off your groove at work. Insecurity is likely at the root of this jealousy. You can't do much if others are envying you other than keep working hard and shining the way you do. But if you know the envy is coming from you, you may need to do some deep work on understanding what makes you feel insecure or less confident. We get it—that's not always easy. But letting envy eat you up and potentially sabotage your job isn't good either.
Get a Tarot Reading
Still wondering what the presence of this powerful royal points to in a tarot reading? We gotchu! Our Tarot Experts have the skills to go deep when you need answers about love, career, or anything else weighing on your mind. See how their insight can have you moving in the right direction to manifest the life of your dreams.
Share
Your

Thoughts

Drop a line, share your insight, and keep the convo going! Sign in or create an account to leave a comment on this content and more.
Comments