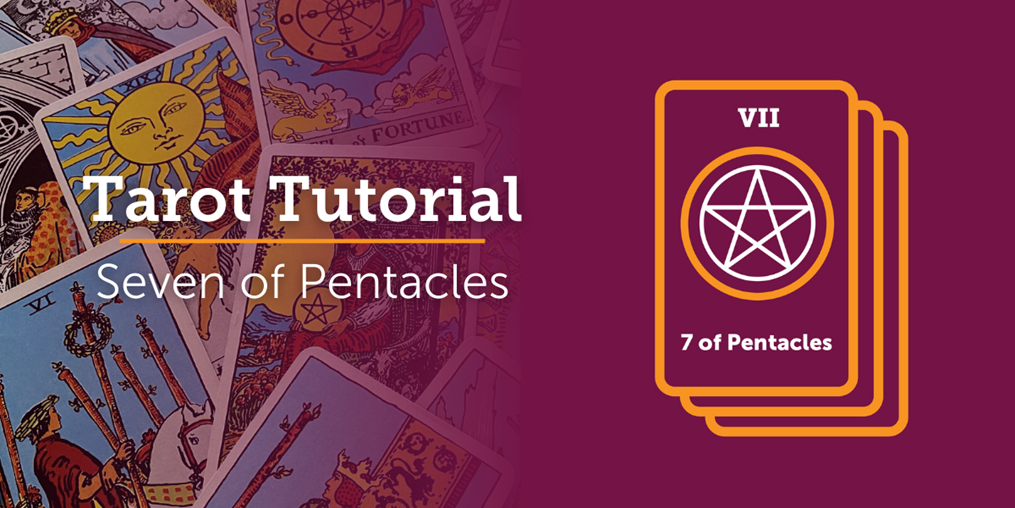 What does the Nine of Pentacles mean when it shows up in a tarot spread? Read on to find out.
In every journey to the top, you'll inevitably hit at least one plateau. So not fun. You know you've been hustling hard, so why aren't you further along? The Seven of Pentacles is likely to turn up when you're in this space. But it's also a reminder, in the words of Journey, to don't stop believing. Good things sometimes take time and a big dollop of faith to manifest themselves.
What is the Meaning of The Seven of Pentacles in a Love Reading?
You and your boo might have hit a rough spot a bit ago and have been doing your best to rebuild your connection. Right now, you may not be feeling the magic, but don't give up on this relationship. There's a strong foundation for lasting love between the two of you. See what the surrounding cards have to say about any lingering sore spots in your relationship and do your best to address them. You'll find that once you deal with them, you'll be rewarded with a really wonderfully nurturing new stage of your relationship.
If you are single, seeing the Seven of Pentacles lets you know that you are on track for finding a strong and lasting relationship. You don't need to change your approach or add something new. You just have to stay the course. Yeah, that's super frustrating, but hang in there. A new love is right around the corner. Continue working on yourself and living your best life. Your vibe will pull in the lover you deserve.
When the Seven of Pentacles shows up reversed in a love reading, it could be a sign that you've already invested too much in this relationship. There isn't any more that you can give that will change things. Accepting that can be hard, but staying stuck in a relationship that's going nowhere isn't healthy either. Alternatively, this could also mean that you have given up on something too soon. Check on the surrounding cards to see where you've shut down your expectations prematurely. These are the areas where your relationship has the most potential for real growth.
What is the Meaning of The Seven of Pentacles in a Future Reading?
A project that feels like it's zipping along on autopilot might hit a speed bump when the Seven of Pentacles comes up in a future reading. Yeah, it's super irritating when life presses the pause button on your goals, but this is also a really good time to take stock of all your wins too. Besides being a morale booster, it can also help you figure out if you are actually on the right track. If you find that you've been drifting away from your goal, now is a great time to refocus or pivot back towards where you want to be.
If the Seven of Pentacles turns up in a position representing you, you may feel like your spirit animal is a hamster, frantically running on a wheel and getting nowhere. The temptation to quit whatever it is you are working on might be really strong right now too. Don't. If you look carefully enough, you'll not only see how far you've come, you'll also see the beginnings of the success yet to come. The surrounding cards can have some hints about when that win you've been chasing will actually show up. Until then, stay the course.
When the Seven of Pentacles is reversed in a future reading, it's time to take a realistic view on a project that has been a time suck for you. Girl, just because you've already spent time, energy, or tears on something doesn't mean you need to keep doing it. Remember, the definition of insanity is doing the same thing over and over again while expecting different results. Something has GOT to change. Maybe it'll be a simple fix but prepare yourself to go back to the beginning or find something completely new to occupy your time instead. It might not feel great to quit something, but that doesn't mean you are quitting on yourself. You're just making room for something that's more in alignment with who you are.
What is the Meaning of the Seven of Pentacles in a Career Reading?
You've been patient. You've been good. But you still have to wait juuuust a bit longer to see results when the Seven of Pentacles turns up in a career reading. The good news is that it's not a matter of if you will see the rewards for your hard work—it's a matter of when. This is a good time to circle back with yourself (or your team) and make sure you haven't overlooked anything that could be slowing down your progress. It's also a good time to see if there are resources you haven't tapped for their fullest potential.
When the Seven of Pentacles comes up in a position representing you, it's time to look at all of your work accomplishments and decide where you want to go from here. There's a lot of potential to move up to a higher position, but you are going to need to be proactive about asking for it. All the successes you've gathered along the way are proof you are ready for the next level. Don't be afraid to lean into your strengths and plan your next step.
If the Seven of Pentacles shows up reversed in a career reading, it could be the sign that you've gone as far as you can go in this current position. Don't expect a raise or a promotion any time soon, if ever. Maybe you're okay with that. But if you aren't, it's time to find someplace else where there's a chance to grow your skillset and your bank account. This card could also be a sign to cut loose a failing project or any other bad investment of time or money. It's time to pivot to a project that will give you more reliable results.
Try a Professional Tarot Reading Today!
Still wondering where the Seven of Pentacles is pointing out your potential for growth? We gotchu! Our tarot experts have got the skills to go deep when you need answers about love, career, or any thing else that's been weighing on your mind. See how their insight can have you moving in the right direction to manifest the life of your dreams.
Share
Your

Thoughts

Drop a line, share your insight, and keep the convo going! Sign in or create an account to leave a comment on this content and more.
Comments