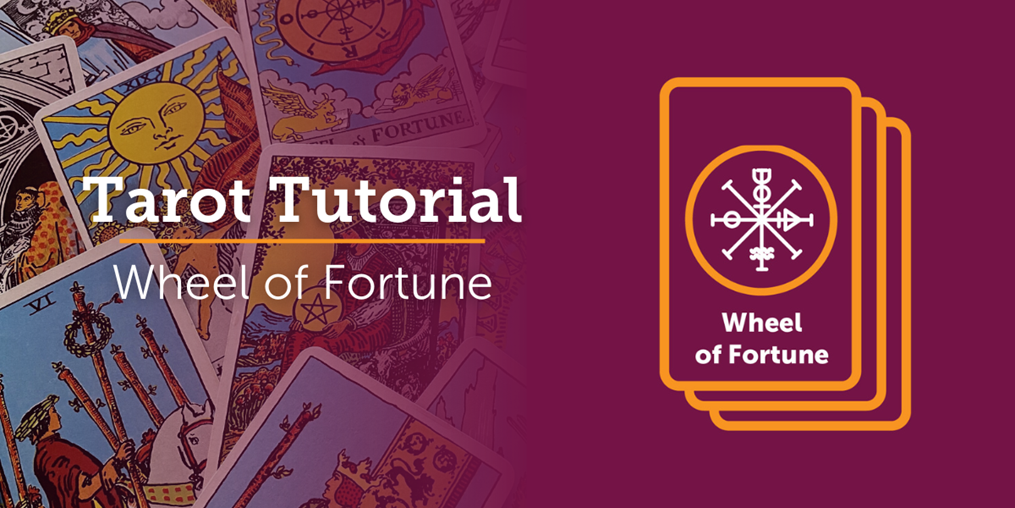 Learn the meaning of the Wheel of Fortune tarot card.
If one thing is for sure, life will always bring changes. The Wheel of Fortune card is a reminder that nothing stays the same. Sometimes that's great news, like unexpectedly bumping into a hottie you have an instant connection with. Sometimes, it's not so great, like finding out your department is getting downsized. The Wheel of Fortune usually turns up to point out shifts of fate that feel like they come from forces far out of your control. But once you know these shifts are coming, you're better able to handle things, even if the wheel isn't spinning in your favor at the moment.  
Wheel of Fortune in a Love Reading
If the Wheel of Fortune came up in a love reading, expect to be gushing to your squad about a cutie you met who feels straight out of a movie. That new boo will seemingly come out of nowhere when you least expect it. But once you connect, the chemistry will be too strong to ignore. You might repeatedly bump into each other accidentally until one of you makes the first move. Why shouldn't it be you, bestie? YOLO, so don't be afraid to ask for digits and take the next step. 
If you are already in an established relationship, expect to be shaken hard out of a rut by some random event. Some larger happening or situation has you spending more time with each other. And chances are, one or both of you will feel out of your comfort zone because of this. However, this is the time for you two to lean on each other even though things around you feel unsettled. You could find hidden strengths in your partner or yourself that make your relationship stronger in the end. 
Expect chaos if the Wheel of Fortune is reversed in a love reading. Dropped calls, missed texts, misunderstandings… all of that and more is on the table – yay. NOT! Trying to connect with the cutie you had your eye on is going to feel like trying to score front-row tickets to a Beyonce concert. When it feels like fate is against you, will all the extra work to connect be worth it? You'll def want to look at the surrounding cards to get a feel for that, but don't expect this love to come easy—if it ever comes at all. 
Wheel of Fortune in a Future Reading
Who doesn't want a boost of extra luck in their future? The Wheel of Fortune in a future reading lets you know luck is on your side, and things will run extra smoothly. Chance meetings with people might lead to bigger and better things in the future. Putting yourself out there and reaching a little higher for your dreams is not a bad idea. That can help draw the allies you need to get you further along. Keep your mindset on staying open to blessings coming into your life. Nothing shuts down the flow of good luck faster than a shutdown mind.  
The Wheel is also strongly linked with the idea of Fate with a capital F, and bigger, unstoppable forces at play in your life. You may literally be at a turning point now or the beginning of a new phase of life. Maybe you have a couple of choices in front of you, but the one choice you absolutely don't have is to stop or go back in time. There's only forward. And it's up to you to make the most of it.  
Did the Wheel of Fortune show up reversed in a future reading? Expect all sorts of blockages keeping you from moving on with plans. Oh, and don't expect much in the way of lucky breaks to help you get out of it. It's def not unheard of to get this card reversed during Mercury Retrograde because pretty much EVERYTHING that goes along with Merc Rx can be applied to the reversed Wheel of Fortune. Deep breaths, bestie. Remember that the wheel is always turning, and this too shall pass. Use your time to double-check things, so you'll be ready to run when the wheel starts turning in your favor. 
The Wheel of Fortune in a Career Reading
The Wheel of Fortune in a Career Reading means things are about to get very interesting. If you were applying for a new job, this could point to having much luck behind you to get the position you were going for OR bumping into an even better opportunity than you expected. If you were asking about your current job, there might be a surprise new project or another sort of shakeup, but following through with it could be the beginning of bigger and better things for your long-term career goals. 
If the Wheel of Fortune came up in a position representing you, this is a nudge from the universe to be ready to roll with the unexpected. Luck may be on your side, but the thing about luck is that it has to have something to work with to make it better. Def start networking more and take a few more risks at work. Calculated risks are perfectly fine—you don't have to go all Wolf of Wall Street! But be open to opportunities that come across your path, and don't be afraid to go for them! 
Did the Wheel of Fortune come up reversed in a career reading? Ick. Stalled progress and delays will delay the projects you've been working on. You may have to be more proactive about championing your projects, but that's no guarantee that things will go any faster. The Wheel could also be asking you to look at where you are getting in your own way. Are you so stuck in "this is how I've always done things" that you are turning your nose up at changes that will make your work life or career trajectory better? Change is coming, and if you don't make some attempt to accept it, you might find that you and your job security get left behind.  
Still wondering if the odds will be in your favor when the Wheel spins into your reading? We gotchu! Our Tarot Readers have the skills to go deep when you need answers about love, career, or anything else weighing your mind. See how their insight can have you moving in the right direction to manifest the life of your dreams.  
Share
Your

Thoughts

Drop a line, share your insight, and keep the convo going! Sign in or create an account to leave a comment on this content and more.
Comments