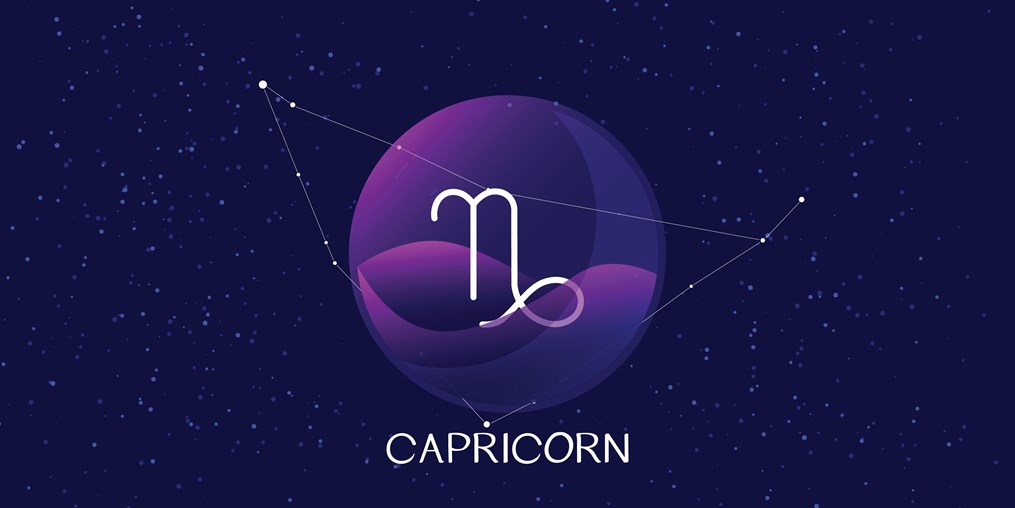 Cue The Real's theme song because this is our time! Whose time? Capricorn's time! When you can call yourself Mr. Worldwide like Capricorn rapper/businessman Pitbull or set the literary/film world on fire like Sagittarius Capricorn Cusp Twilight author Stephenie Meyer or be a living legend like Capricorn Aquarius Cusp Dolly Parton, it's no wonder why anyone born under the zodiac sign Capricorn is seen as a boss! But where does a Cappy get their motivation from? What zodiac sign is Capricorn compatible with? More importantly, what does the year ahead hold for the zodiac sign Capricorn? Let's get into it.
What Makes Capricorns So Captivating?
Otherworldly wisdom. Ferocious fight. Inspiring innovation. Enigmatic energy. Passionate principles and popularity. But how?
As an Earth Sign:

Like Taurus and Virgo, Capricorn is as dependable as they come. The truest of friends, the most loyal of partners, and the first person you call when in need.

Associated with the 10th House:

This house represents career, social status, reputation, ambition, success, and high values … just like Capricorn.

As a Cardinal Sign:

Cardinal signs are initiators, the kings and queens of I Hit It First, as Capricorn Aquarius Cusp singer Ray J sang. Aries are the first to act; Cancers, the first to express emotions; Libras, the first to bring people together; and Capricorn, the first to build. More importantly than their ability to build from the ground up, they will create an opportunity regardless of any obstacle.

Ruled by Saturn:

This amplifies Capricorn's earthy responsibility, sense of duty, and self-discipline. Because they tend to take everything too seriously, Capricorn Jared Leto so perfectly delivered his Joker's sinister yet sarcastic quote: Why so serious?

As the Goat:

Capricorns are symbols of sacrifice, sustainability, and stubbornness for the sake of success.
Am I Capricorn Compatible?
Capricorns are sensitive, loyal, and deeply invested in family and relationships. Is it too much or just enough for you?
Pisces Aries Cusp and Capricorn:

Always pushing each other to be your best.

Aries and Capricorn:

Bumping heads until you let each other live.

Aries Taurus Cusp and Capricorn:

Energetic with a huge impact.

Taurus and Capricorn:

A strong team of sensual providers.

Taurus Gemini Cusp and Capricorn:

Understanding makes you feel so appreciated.

Gemini and Capricorn:

Movers and shakers who refuse to quit.

Gemini Cancer Cusp and Capricorn:

You're safe, so bend a little.

Cancer and Capricorn:

You fulfill each other in a way that most can't.

Cancer Leo Cusp and Capricorn:

Confident and inspiring.

Leo and Capricorn:

Successful stars who are unstoppable.

Leo Virgo Cusp and Capricorn:

Shared values and inspire each other.

Virgo and Capricorn:

Bringing people together in more ways than one.

Virgo Libra Cusp and Capricorn:

Dependable, driven, and helpful.

Libra and Capricorn:

Uniting people and making the most of it.

Libra Scorpio Cusp and Capricorn:

Spirited pioneers and a successful team.

Scorpio and Capricorn:

Your relentless drive makes anything grow.

Scorpio Sagittarius Cusp and Capricorn:

Determined to make it work.

Sagittarius and Capricorn:

You find yourself in each other.

Sagittarius Capricorn Cusp and Capricorn:

Love balanced with work and faith.

Capricorn and Capricorn:

You get things done but include fun on the to-do list.

Capricorn Aquarius Cusp and Capricorn:

You thrive together. You hypnotize together.

Aquarius and Capricorn:

Beware rough waters, but hold faith for safe harbors.

Aquarius Pisces Cusp and Capricorn:

You're committed until you aren't.

Pisces and Capricorn:

When the dreamer meets the doer, nothing is impossible.
What's The Capricorn Horoscope For The Year?
You waste no time going for what you want, but is the year set up for you to receive what you want? Here's your horoscope from now until December 2023.
December 2022:

You are GOOFY happy, which is rare, but it encourages you to make the right moves.

January 2023:

You believe in your heart, more than your mind, that you've made your presence felt. You have.

February 2023:

Nothing is stopping you. You are UNSTOPPABLE.

March 2023:

This is your quarterly check-in. You see the wisdom and confidence you've gained from your experiences over the past 3 months. Share it.

April 2023:

You are so much more aware of your value this month.

May 2023:

You are building beyond your perspective, and it's beautiful. Shoot for the stars!

June 2023:

You're grinding as usual but remember to maintain a good work/life balance, or your loves (people and possessions) will feel neglected.

July 2023:

People are discovering a different side of you, and it is inspiring change.

August 2023:

You feel so unburdened and free to be your truest self, and it's delicious.

September 2023:

You feel a new level of consideration that is pushing you to be more considerate, and it's giving your life new meaning and perspective.

October 2023:

You are a new you, and it means everything to you. You are refusing to let it go or change for anyone.

November 2023:

You are so grateful and proud to be this free, this blessed, this wise, and this comfortable being you.

December 2023:

From now on, you will only hold on to what makes you happy and only give energy to what makes you happy.

 
Fasten your seatbelt, Capricorn, because it looks like you're about to have some memorable moments ahead for the next year! Are you excited about the Capricorn horoscope? Share what month you're most excited about in the comment section, or better yet, ask what you can expect specifically for yourself for free in PathForward's new monthly advice column, The Lowkey Q&A. Do you have more than one question about this Capricorn blog post? No worries! Contact me or another expert Astrologer here on PathForward to discover what you want to know about being a Captivating Capricorn!
Share
Your

Thoughts

Drop a line, share your insight, and keep the convo going! Sign in or create an account to leave a comment on this content and more.
Comments