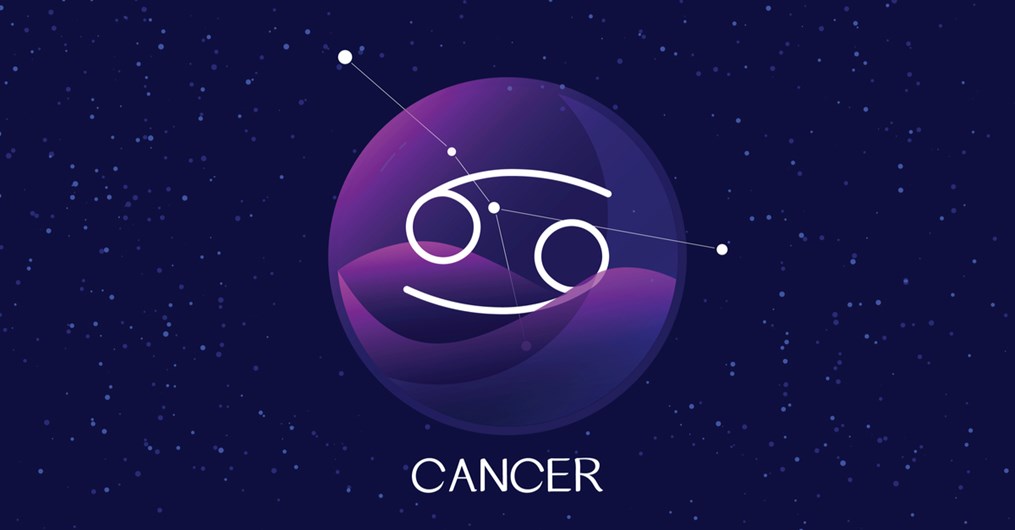 Patient, loving, but often guarded; meet the the hard-shelled June Zodiac sign, Cancer.
As this month ends, it's time to celebrate the second June zodiac sign: Cancer! Happy birthday to all Cancer signs, including traditional Cancerians (June 21st-July 22nd), Gemini Cancer Cusp (June 17th-June 23rd), and Cancer Leo Cusp (July 19th-July 25th). Symbolized by a crab, Cancers can make people feel immediately welcomed and protected or immediately regretful. Going from one extreme to the next is second nature to anyone born under the zodiac sign Cancer. Here, we will explore the complexities of Cancer's intense personality, which signs are Cancer compatible, and what's to come for the zodiac's first water sign.
To Be Completely Cancer
Love them or hate them, Cancers are known as sweetie pies, loving caretakers, and/or moody manipulators. Through their zodiac symbol, element, quality, ruling planet, and the house they're associated with, here's a detailed analysis of the zodiac sign Cancer.
As the Crab: Cancers internalize their deep-rooted emotions and need to feel safe before coming out of their shell. They are not shy but on guard, ready to defend whatever gives them security. If threatened, they will retreat, snap or pinch someone.
As a Water Sign: Cancers are emotional and intuitively sense the emotional temperature of others. If they're uncomfortable, they'll shift emotional focus to someone or something else.
As a Cardinal Sign: Cancer's immediate openness and undeniable intensity can be a friendly icebreaker or feel highly suspicious.
As ruled by the Moon: Along with Cancer's maternal instincts, their everchanging moods are a result of the moon which goes through eight lunar phases and all twelve zodiac signs every month.
In Association to the 4th House: Cancerians cater to home and family in a manner where they either appear homely, make you feel at home, and/or create a haven for loved ones.
Cancer Compatible Signs
Though Leo and Cancer can keep each other warm, and Aries and Cancer can make each other feel safe and sound, here's some advice to help every sign have a successful relationship with someone born under the zodiac sign Cancer.
Pisces Aries Cusp and Cancer: Be candid, compassionate, and secure within yourself.
Aries and Cancer: Learn self-love to avoid emotional manipulation.
Aries Taurus Cusp and Cancer: Take care of each other.
Taurus and Cancer: Appreciate the comfort. Don't abuse it.
Taurus Gemini Cusp and Cancer: Teach each other how to let go and trust.
Gemini and Cancer: Be open and honest.
Gemini Cancer Cusp and Cancer: Keep each other positive.
Cancer and Cancer:  Be the change you want to see.
Cancer Leo Cusp and Cancer: Learn to see past your own point of view.
Leo and Cancer: Be supportive.
Leo Virgo Cusp and Cancer: Grow together or apart.
Virgo and Cancer: Care; don't obsess.
Virgo Libra Cusp and Cancer: Release past hurts. Ask before assuming.
Libra and Cancer: Choose to be the perfect welcome wagon or the perfect storm.
Libra Scorpio Cusp and Cancer: Be accepting, not controlling.
Scorpio and Cancer: Protect each other instead of exposing each other.
Scorpio Sagittarius Cusp and Cancer: Think outside the box.
Sagittarius and Cancer: Be kind and direct.
Sagittarius Capricorn Cusp and Cancer: Remember your mutual passion.
Capricorn and Cancer: Teamwork makes the dream work. Seriously.
Capricorn Aquarius Cusp and Cancer: Be each other's true support system.
Aquarius and Cancer: Be friends first.
Aquarius Pisces Cusp and Cancer: Balance traditional with untraditional.
Pisces and Cancer: Don't let your feelings sabotage the bigger picture of your union.
Cancer Horoscope
What does the future look like for the second June zodiac sign? Here's the Cancer horoscope from now until June 2023.
June 2022: You know you can have and handle what you want but be humble.
July 2022: You'll be grateful for many opportunities but remember why you have them. Understand how important it is for you to move like you.
August 2022: You'll feel recharged and appreciated for being true to yourself.
September 2022: You've finally found your way! Home has always been important to you. Now, you see why.
October 2022: You're coming along and/or you've come a long way. As you continue to grow, watch the magic happen.
November 2022: Something seductive, powerful, intense, and/or sexy will cover you. This will be a feeling you hope never leaves.
December 2022: You'll be glowing! Hold on tight to the source.
January 2023: To be or not to be healthy. Don't be so defensive that you freeze people out. Create or find a safe space that allows you to protect yourself and heal at the same time.
February 2023: You'll be challenged to grow from your past instead of harping on it.
March 2023: Don't project negativity. Focus on the positives or the low vibrational energy you put out will ricochet back to you and cause a delay in the progress you've made.
April 2023: If you made the right choices last month, you'll feel secure and provided for this month. If you made questionable choices last month, you'll feel helpless this month.
May 2023: Self-care is important, and you will feel a desire and/or need to seek comfort.
June 2023: You don't feel as paranoid as you usually do. How amazing is that?
Now that you know a little more about the zodiac sign Cancer, use this information to better understand yourself and your relationship with the Cancerians in your life. Please rate this article and leave a comment letting us know how you enjoyed this deep dive into the Cancer personality, Cancer compatibility, and the Cancer horoscope for the year! If you would like a personal reading about how the zodiac sign Cancer plays a role in your birth chart or if you would like insight into your relationship with a Cancer get connected with an astrologer, or contact me here on PathFoward.

Psychic Dominique is a published writer and an Astrological and Spiritual Advisor who taps into her gifts to assist people on their personal journeys. She delivers insightful and motivating advice that is detailed, honest, and thoughtful.  -
Psychic Dominique x4278
Share
Your

Thoughts

Drop a line, share your insight, and keep the convo going! Sign in or create an account to leave a comment on this content and more.
Comments