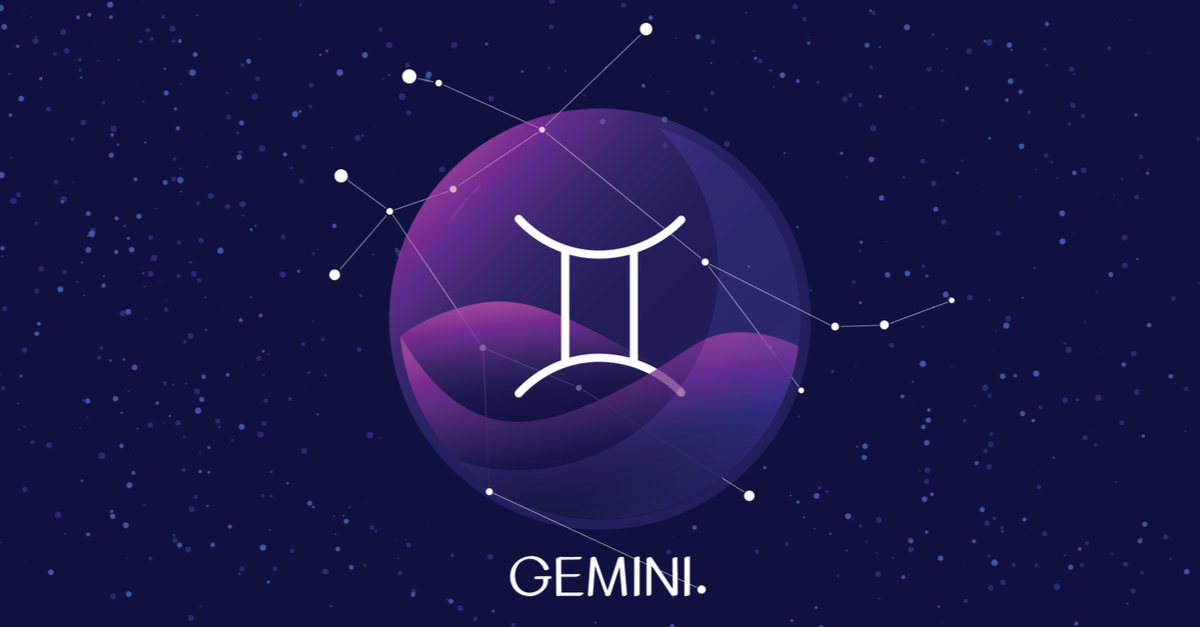 It's Gemini season! Happy Birthday to everyone born between May 21st - June 21st under the zodiac sign Gemini! You've got amazing company. Think Angelina Jolie, Kanye West, Nicole Kidman, Morgan Freeman, Venus Williams, Tom Holland, Courtney Cox, Ice Cube, Idina Menzel, Kendrick Lamar, Blake Shelton, Lionel Richie, and the list goes on. Symbolized by the Twins and known to have two sides or two faces, you blend into every crowd and shine in every role. In this article, I will analyze Gemini's personality traits, sign compatibility, and gift you with a yearly Gemini horoscope as a birthday present.
To Be Genuinely Gemini
Gemini is more than a nonjudgmental friend or two-faced blabbermouth people can't trust. You're an underrated but appreciated human chameleon! Let's explore Gemini's symbol, element, quality, and ruling planet.
As the Twins: Are you two-sided or two sides of the same coin? You passionately see both sides of the fence as you sit atop for the best view, and even when pressed to pick a side, you won't. Gemini is unbiased, understanding, and hopeful that everyone will see the bigger picture with better communication.
As an Air Sign: Geminis love community and are expert communicators! Constantly listening to absorb information, you speak intelligently about any subject. Geminis look like a cool breeze or a volatile tornado. If the wind is still, Gemini rushes to move because you hate being stagnant (unless you have Cancer or a fixed sign like Taurus, Leo, Scorpio, and/or Aquarius in your chart).
As a Mutable Sign: Gemini's adaptability is intensified. You can be scattered and indecisive, but you're also limitless because you're always evolving.
As ruled by Mercury: Mercury is the fast-moving planet of communication which amplifies Gemini's expressiveness, quick wit, hyperactive mind, and body.
Gemini Compatible Signs
What sign is the best match for Gemini's natural duality? Below, read my advice for how every sun sign and cusp sign can get along with a Gemini.
Gemini and Pisces Aries Cusp: Unpredictable but never boring. Control your impulses.
Gemini and Aries: Positive influence is good; negative influence is not.
Gemini and Aries Taurus Cusp: Bend, or you'll become volatile.
Gemini and Taurus: Compromise often.
Gemini and Taurus Gemini: Focus, or you'll make conflicting commitments.
Gemini and Gemini: Maintain honesty, fun, support, and mutual respect.
Gemini and Gemini Cancer Cusp: Be aware, open, and respectful.
Gemini and Cancer: Be patient with each other.
Gemini and Cancer Leo Cusp: Focus on the positive to learn from the conflicts.
Gemini and Leo: Put egos aside.
Gemini and Leo Virgo Cusp: Mutual respect and trust to do your thing are vital.
Gemini and Virgo: Despite different approaches, trust your shared goals.
Gemini and Virgo Libra Cusp: Stay calm, present, and courteous.
Gemini and Libra: Have fun but don't get carried away.
Gemini and Libra Scorpio Cusp: Establish and respect healthy boundaries.
Gemini and Scorpio: Honest communication and respect are key.
Gemini and Scorpio Sagittarius Cusp: Share with each other; withhold from others.
Gemini and Sagittarius: Life is a highway but drive safe.
Gemini and Sagittarius Capricorn Cusp: Focus and move with purpose.
Gemini and Capricorn: Work together and believe in each other's expertise.
Gemini and Capricorn Aquarius Cusp: Don't just talk about it; be about it.
Gemini and Aquarius: Game changers, but don't lose yourself.
Gemini and Aquarius Pisces Cusp: Be open and honest with your feelings.
Gemini and Pisces: Stay focused, so you don't get lost.
Gemini Horoscope from May 2022 – May 2023
May 2022: Walking in your truth will expose untruths around you. Once it's revealed what is outside your control, you can figure out what to do with that information.
June 2022: You're unblocked. Everything is flowing. You can swim, float, play or drown.
July 2022: It's all on you. Stay true to your intentions to set yourself up.
August 2022: Expressing truth gets the ball rolling. You're started up, but you also see that whatever you started can end just as quickly. Don't let that scare you. Stand firm and stand your ground.
September 2022: There's so much buzz, and you're attracting so many bees with your honey.
October 2022: You put your dreams into the universe, and you're grateful for an opportunity you always wanted. Focus, make moves, put in work, and be productive toward whatever you want to do.
November 2022: How you feel is linked to how you think. So think and act positively. The key to doing so is discovering what motivates you.
December 2022: Visualize what you want to get what you want, and then keep it.
January 2023: Your overactive mind and body are applauded. Being you, all of you is a breath of fresh air. You are encouraged rather than silenced.
February 2023: There are so many opportunities, but don't get lost. Hone in and focus so that when you go with the flow, you're flowing in the right direction.
March 2023: You're tapping into your divine gifts, being a bridge, and building strong connections.
April 2023: You're feeling stable, settled, free, and active.
May 2023: You'll feel like you have a great sense of focus and direction without feeling restricted by it.
Wrapping Up Gemini
Now that you know a little more about the zodiac sign Gemini use this information to understand yourself better (if you are a Gemini Sun Sign, Taurus Gemini Cusp, Gemini Cancer Cusp, or have Gemini elsewhere in your birth chart). Please rate this article and leave a comment letting us know how you enjoyed this explorative article on being Genuinely Gemini, including the Gemini horoscope and learning which signs are Gemini compatible!
Want to know how Gemini plays into your birth chart or need some insight into your relationship with a Gemini? Contact me or another expert Astrologer here at PathFoward.

Psychic Dominique is a published writer and an Astrological and Spiritual Advisor who taps into her gifts to assist people on their personal journeys. She delivers insightful and motivating advice that is detailed, honest, and thoughtful.  -
Psychic Dominique x4278
Share
Your

Thoughts

Drop a line, share your insight, and keep the convo going! Sign in or create an account to leave a comment on this content and more.
Comments