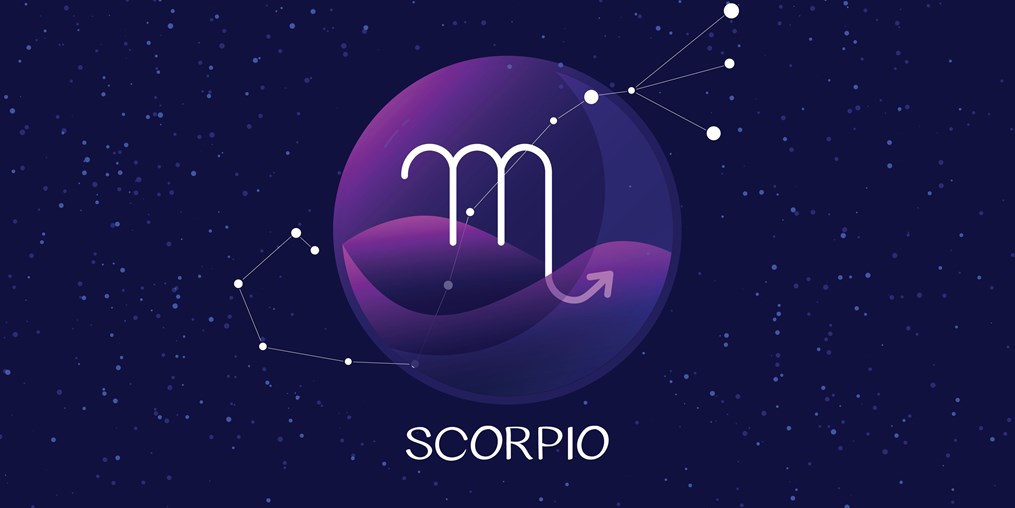 Happy birthday to the most haunting, driven, rock-solid challenge of all signs, the zodiac sign Scorpio! Are you a Libra Scorpio Cusp like Ciara or Ryan Reynolds? Are you a Scorpio Sagittarius Cusp like Joe Biden or Hailey Bieber? Are you a true Scorpio like Diddy or Gabrielle Union? Either way, if you're born between October 23rd and November 21st, you command attention without a sound, are fiercely loyal, can sense a lie from miles away, and leave a lasting impression that makes you unforgettable. What other sign matches Scorpio? What's the Scorpio horoscope? What makes a Scorpio so striking?
Being Simply Scorpio Is Anything But Simple
Leo Bill Clinton describes his Scorpio wife, Hillary, as a constant self-improvement project with a strong sense of right and wrong who's gifted, self-possessed, and a lot of fun. Here's why.
As the Scorpion:

Scorpios own the night, symbolize transformation through death and rebirth, and make a huge impact on anyone they come across.  

In Association with the 8th House:

Sex, romance, relationships, spirituality, and evolution are essential to a Scorpio's lifestyle.

Co-Ruled by Pluto and Mars:

Representing and encouraging transformation is further amplified under Pluto's rule, but like Aries (also ruled by Mars), Scorpios have fiery confidence that burns beneath their cool surface, radiating through their eyes and soul.

As a Fixed Sign:

Scorpios are dedicated to their deep-rooted belief systems, reliable and self-disciplined. They value lifetime friendships, rebel against manmade boundaries like Aquarius, are openly protective over their secret loves like Taurus, and are acutely self-aware and family-oriented like Leos.

As a Water Sign:

Scorpios are intuitive, spiritual, emotionally influential, sensitive, and exude passionate intensity. They crave love and romance like Pisces and Cancer but also love to investigate their interests extensively.
Scorpio Compatible #RelationshipGoals
Are you a Taurus and Scorpio couple like Colin Kaepernick and Nessa, or Aquarius Pisces and Scorpio besties like Katy Perry and Rihanna? What are your Scorpio #relationshipgoals?
Pisces Aries Cusp and Scorpio:

Grease. Hopelessly devoted.

Aries and Scorpio:

Nike. You just do it!

Aries Taurus Cusp and Scorpio:

Down with Love. Battle of the sexes.

Taurus and Scorpio:

Pocahontas. Build privately; share values openly.

Taurus Gemini Cusp and Scorpio:

Aladdin. A whole new world.

Gemini and Scorpio:

The Ugly Truth. An honest, smart-ass couple.

Gemini Cancer Cusp and Scorpio:

Practical Magic. Your words have power.

Cancer and Scorpio:

Rent. You cover each other.

Cancer Leo Cusp and Scorpio:

Lethal Weapon.  A courageous, hard-to-miss duo.

Leo and Scorpio:

Beautiful Creatures. You bring darkness to the light.

Leo Virgo Cusp and Scorpio:

Disclosure.

You expose all.

Virgo and Scorpio:

The Bodyguard.

You're well protected.

Virgo Libra Cusp and Scorpio:

Adjustment Bureau

. You fight for your fate.

Libra and Scorpio:

Batman.

You let each other in.

Libra Scorpio Cusp and Scorpio:

A Simple Favor.

You move with intent.

Scorpio and Scorpio:

Nothing but Trouble

. Period.

Scorpio Sagittarius Cusp and Scorpio:

Jealousy

. It's y'all against the world.

Sagittarius and Scorpio:

Moulin Rouge. Truth, beauty, freedom, and love are your motto.

Sagittarius Capricorn Cusp and Scorpio:

Mr. & Mrs. Smith

. Y'all have killer aim.

Capricorn and Scorpio:

Taken. Y'all are driven and put in work.

Capricorn Aquarius Cusp and Scorpio:

The Lion King

. You look beyond the surface.

Aquarius and Scorpio:

Polaroid

. You live for the moment.

Aquarius Pisces Cusp and Scorpio:

Anastasia

. You discover adventures together.

Pisces and Scorpio:

Moana

. There's no telling how far you'll go.
Scorpio Horoscope
Though they are already naturally psychic like Scorpio Whoopi Goldberg's iconic character in Ghost, here's a sneak peek into what's ahead for the zodiac's gifted seers from now until October 2023.
October 2022:

You are grateful to have a home to come to, so you're making every effort to keep it happy.

November 2022:

Thanks to hidden opportunities revealing themselves, you'll be invited to start something this month.

December 2022:

There's so much to celebrate, including an event you'll plan to show that you're better at love.

January 2023:

You will be laser-focused on making dreams come true this month!

February 2023:

Anyone who doubted or questioned you before will see your devotion this month. Don't be afraid to bare your soul or show your heart.

March 2023:

Finally! You will feel like you're a part of something you can believe and trust in.

April 2023:

You'll be so protective over what's yours that everyone will know not to mess with it.

May 2023:

You will appreciate who and what you value more than ever this month and will do anything to keep it for life.

June 2023:

Use your words. People will be looking to hear what you have to say because your leadership is required, but they can't read your mind, so you will need to communicate.

July 2023:

You are a pillar in your community, and they will celebrate you!

August 2023:

You will feel blessed beyond belief, living the best of both worlds.

September 2023:

You'll be open but won't feel vulnerable because you've learned how to protect yourself.

October 2023:

Strategize and plan this month to stay focused, so you aren't easily distracted or accused of playing games.
Are you excited about the Scorpio horoscope for this year? Did the in-depth breakdown of the Scorpio personality resonate with you? Does your #relationshipgoals with a Scorpio match the Scorpio compatibility section above? Tell us all about it in the comment section below, and don't forget to rate this article while you're at it! If you have more questions about what it means to be Simply Scorpio, or you would like more information about your Scorpio compatibility or want a Scorpio horoscope beyond the near future, feel free to contact me or another expert Astrologer here on PathForward.

Psychic Dominique is a published writer and an Astrological and Spiritual Advisor who taps into her gifts to assist people on their personal journeys. She delivers insightful and motivating advice that is detailed, honest, and thoughtful.  -
Psychic Dominique x4278
Share
Your

Thoughts

Drop a line, share your insight, and keep the convo going! Sign in or create an account to leave a comment on this content and more.
Comments