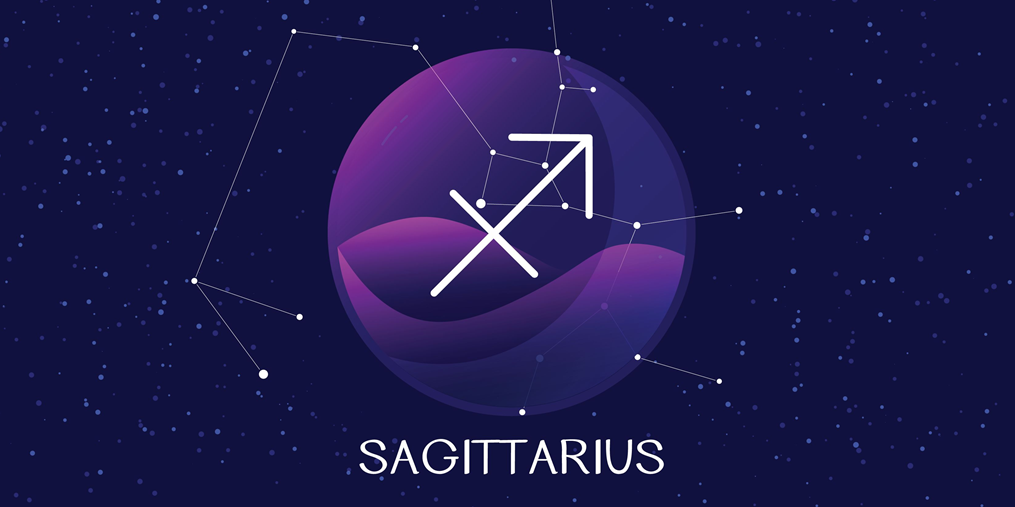 Psychic Dominique is back, this time giving you the deets on Sagittarius personality traits and compatibility.
Three cheers for the adventurous sponges of the zodiac! Happy birthday to everyone born under the Sagittarius umbrella between November 22nd and December 21st! Whether you are a Scorpio Sagittarius Cusp like Calvin Klein, a Sagittarius Capricorn Cusp like Christina Aguilera, or a traditional Sagittarius like Jay-Z, you have an unquenchable thirst for knowledge, and no one can shake your faith in what you believe. When you shoot, you aim for the soul because you want the whole truth and nothing but the truth. What other sign can handle that intensity? What's the yearly Sagittarius horoscope? Read on and see!
A Soulful Sign With a Soulless Reputation?
Though Sagittarians like Jamie Foxx and Miley Cyrus have a reputation as commitment-phobes, the truth is when Sagittarians find what they want, they always come back. Or, as Sagittarius Capricorn Cusp DMX rapped, "I still know that home is home."
As a Fire Sign: Like Aries and Leo, Sagittarius is an undeniable force, but their fire burns wild, unstoppable, and untamable.
Associated with the 9th House: Sagittarius is driven by philosophies like you never stop learning, que sera sera, life is to be lived, and let's have fun. Possessing a child-like wonder, Sagittarius sees the world as a classroom and life as an adventure.
As a Mutable Sign: Mutable signs easily adapt to their environment, which makes them unpredictable. Geminis have unpredictable mouths; Virgos, unpredictable nerves; Pisceans, unpredictable imaginations; and Sagittarius, unpredictable actions. They learn from the chances they take and the mistakes they make.
Ruled by Jupiter: If Blind Faith were a person, it would be Sagittarius. They are blessed with many talents and believe everything works together for our good.
As the Archer: No matter the goal, Sagittarius is a straight shooter with impeccable aim.
Who Is Sagittarius Compatible With?
"Ain't no particular sign I'm more compatible with." This nails Sagittarius's compatibility, but these lyrics give more detail.
Pisces Aries Cusp and Sagittarius: Just Around the Riverbend. "Always changing."
Aries and Sagittarius: Fire. "You're smokin'."
Aries Taurus Cusp and Sagittarius: Sparks Will Fly. "We fly too."
Taurus and Sagittarius: Into You. "I can't really explain it."
Taurus Gemini Cusp and Sagittarius: Girls Need Love. "Honestly."
Gemini and Sagittarius: Kiss. "I just want your extra time."
Gemini Cancer Cusp and Sagittarius: Magic. "A precious jewel."
Cancer and Sagittarius: Under the Influence. "I know you care."
Cancer Leo Cusp and Sagittarius: You'll Be in My Heart. "I will protect you."
Leo and Sagittarius: Put It on Me. "You my only."
Leo Virgo Cusp and Sagittarius: The Truth. "Does he know?"
Virgo and Sagittarius: Freedom. "Have some faith."
Virgo Libra Cusp and Sagittarius: That's The Way It Is. "Love comes to those who believe it."
Libra and Sagittarius: Let It Rock. "Make you come alive."
Libra Scorpio Cusp and Sagittarius: Run This Town. "Addicted to the thrill."
Scorpio and Sagittarius: Sex Shooter. "Kiss the gun."
Scorpio Sagittarius Cusp and Sagittarius: Can't Be Tamed. "Understand."
Sagittarius and Sagittarius: Shooter. "My hands up."
Sagittarius Capricorn Cusp and Sagittarius: Work Hard Play Hard. "Go hard."
Capricorn and Sagittarius: Opportunity. "I find myself here."
Capricorn Aquarius Cusp and Sagittarius: Gifted. "Life is different.
Aquarius and Sagittarius: Heal the World. "Make a better place for you and for me."
Aquarius Pisces Cusp and Sagittarius: Changes. "We can never go nowhere unless we share with each other."
Pisces and Sagittarius: All I Have to Do Is Dream. "Dreaming my life away."
Sagittarius Horoscope
For a sign that suffers from some serious FOMO, here's the Sagittarius horoscope from now until November 2023, so you don't miss a thing.
November 2022: Embrace the new this month as it is a prelude to more blessings to come.
December 2022: You are happier than ever and better at love.
January 2023: Stay focused on yourself, your dreams, and your goals.
February 2023: You understand that you don't have to chase experiences because YOU and the life you're living are the experiences.
March 2023: You're motivated by your natural desire to try anything at least once. Limitless possibilities await you.
April 2023: To your surprise and the shock of everyone around you, you're looking to lock something or someone down.
May 2023: All the small things matter so much more to you. There is so much to be grateful for, so much that you treasure, and you just want to take it all in. Enjoy!
June 2023: You feel extremely blessed and reenergized by your responsibilities instead of burdened or stifled.
July 2023: You'll find true bliss in who/what you've committed to as well as your travels.
August 2023: Living my best life takes on a whole new meaning for you this month because you will feel that you are finally living the life you've always wanted and doing it well.
September 2023: Take in all the positives and exhale all the negatives. You've come too far to lose focus now.
October 2023: Life is too easy for you this month, but it's a good thing. Don't go looking for problems. Enjoy peace.
November 2023: You've found the place or person that makes you want to stay. This is what HOME feels like.
You have a great year ahead, Sagittarius! I hope this article has helped you feel more prepared and excited about what's ahead. If you fall under the Sagittarius umbrella or know someone who was born as the zodiac sign Sagittarius, let us know how this information resonated with you in the comment section and rate it! If you have more questions about what it means to be a Soulful Sagittarius or you would like more information about your Sagittarius compatibility, or you would like a personalized Sagittarius horoscope, feel free to contact me or another expert Astrologer here on PathForward.

Psychic Dominique is a published writer and an Astrological and Spiritual Advisor who taps into her gifts to assist people on their personal journeys. She delivers insightful and motivating advice that is detailed, honest, and thoughtful.  -
Psychic Dominique x4278
Share
Your

Thoughts

Drop a line, share your insight, and keep the convo going! Sign in or create an account to leave a comment on this content and more.
Comments