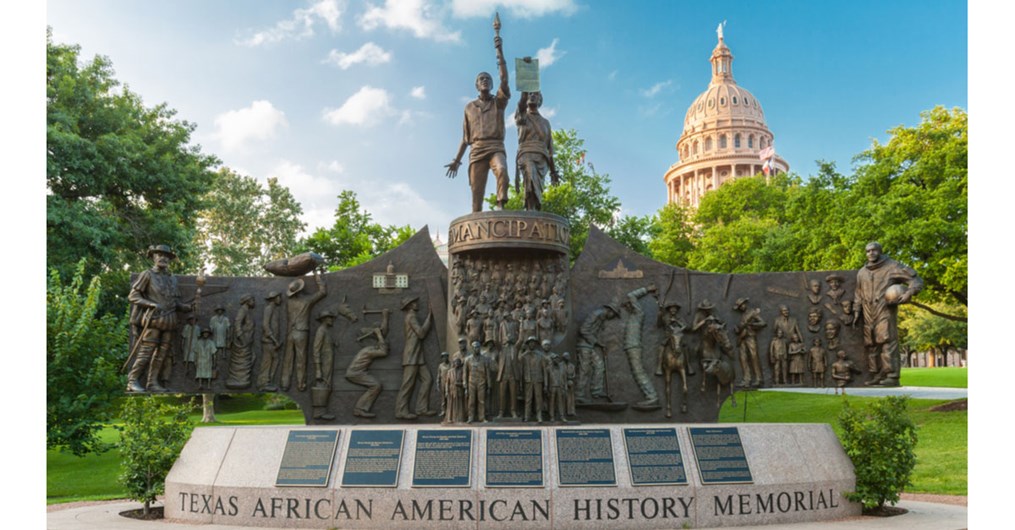 Installed on the Texas State Capitol Grounds, the Texas African American History Memorial ensures the legacy of Juneteenth is never forgotten in the eyes of future generations.
What would you do if you had to wait two and half years to find out that you are legally free from a system that had enslaved you and your ancestors for over two hundred years?  
Hopefully, knowing that fact will help you better understand why Juneteenth has deep cultural meaning and roots in the African American community.  
If you aren't familiar with Juneteenth, that's perfectly fine. This will be an overview for you and an invitation to celebrate it this year. Its history is fascinating just as much as it is significant.  
Let's take a quick deep dive, shall we?  
On June 19th in 1865, Union Army General Gordan Granger rode into Galveston, Texas and shared the news of the Emancipation Proclamation, the decree signed by President Abraham Lincoln that outlawed slavery. Granger's news was met with elation by enslaved Black people but also confusion. Lincoln had actually signed the Emancipation Proclamation two and a half years earlier.  
Sadly, enforcing the Emancipation Proclamation was reliant on the Union Army versus the Confederate Army. Since Texas was the farthest-reaching slaveholding state in the United States, it had a small Union Army presence, especially as the Civil War came to an end.  
Nevertheless, this news ignited a new uncharted course towards navigating freedom for formerly enslaved people of African descent. This was the dawn of celebrating what we now call Juneteenth.  
Juneteenth is also commonly called Freedom Day, Jubilee Day, Liberation Day, and Emancipation Day. The first official celebration took place in 1866, with gatherings held in small churches where community leaders helped register African American men to vote while also commemorating the day's significance.  
Since African Americans were barred from visiting public parks due to Jim Crow segregation, small groups began purchasing land in Texas to hold Juneteenth celebrations. Houston's own Emancipation Park is famous for being the land that African Americans purchased in 1872 to celebrate Juneteenth.  
Juneteenth began to spread to other states in the south during the early 20th century. Considering how much it was celebrated, Texas declared it a state holiday in 1938. By that time, close to 300,000 African Americans were celebrating Juneteenth in the state of Texas alone.  
It wasn't until the Black Pride and Power movement in the 1970's that Juneteenth became more widely celebrated by African Americans in other states outside of the south.  
Fun fact: The Mascogos, who are descendants of Black Seminole Indigenous people that escaped US slavery in 1852 and relocated to Coahuila, Mexico also celebrate Juneteenth.  
For the past few decades, activists have been gaining steam in advocating for making Juneteenth a national holiday in the same spirit as Martin Luther King Jr. Day. The only states that do not recognize Juneteenth in the US are Hawaii, South Dakota, and North Dakota. The small African American population in the Dakotas has been cited as a primary reason, as well as the presence of white supremacist hate groups in the state. 
The good news is that you can find festive Juneteenth celebrations across the US in cities big and small. From New Orleans to Tulsa, to Charlotte, to Seattle, to Biloxi, Mississippi.  
As a native Texan, the spirit of Juneteenth is one full of excitement and long-lasting memories from my childhood.  
I can still remember my pit-master father firing up the grill with premium baby back ribs that he bought just for Juneteenth. The aroma of cedarwood, bay leaves, black peppercorn, and the haze of summer swirling in the air while James Brown, Michael Jackson, and Kool and the Gang pumped through the leaves in our trees is a memory I can never forget.  
Forever etched in my heart is the joy we felt on that day of celebration as Black folks. We would laugh till midnight, have mini dance contests, and eat soul food until we couldn't eat anymore.  
For me, Juneteenth was always a day that we as African Americans would take a collective exhale and celebrate being free, even if it just a symbolic gesture considering the systemic oppression and white supremacy we still continue to be beleaguered with.  
A few years back, I realized that there are many African Americans who are either not aware of Juneteenth or that don't celebrate it. At the time, that shocked me because I naturally assumed that all African Americans celebrated Juneteenth. But, I realize that as a born and bred Texan my proximity to its origin holds tremendous weight in it being a holiday that I celebrate every summer as an African American.  
In the past few years, I feel Juneteenth has taken on new meaning for many African Americans. We are living in a watershed moment that has seen a prolific rise in state-sanctioned violence against African Americans in very short succession. The death of George Floyd, Ahmaud Arbery, Breonna Taylor, and so many more has culminated in a fever pitch of more African Americans needing to unconditionally love ourselves and embrace the freedoms we can claim in a country that consistently places our livelihood last.  
This year can be another year that we make Juneteenth an exciting and widely celebrated holiday. Even our allies can join in on celebrating this significant day in African American history out of respect for our struggles in America.  
Outside of just making a feast, you can also hold oracle circles where the Emancipation Proclamation is read at gatherings. You can sing old negro spirituals such as "Lift Every Voice and Sing" as a collective at gatherings or read poems by our African American literary greats such as Langston Hughes, Gwendolyn Brooks, Maya Angelou, or Nikki Giovanni.  
The idea is to truly sink into celebration and honor our ancestors while holding energetic space for a brighter future on the day that spread the news of freedom over 150 years ago.  
I wish you a Juneteenth full of joy and peace. Let us know how you plan on celebrating this special holiday in 2022. And if you haven't experienced a reading with a Psychic who can connect with your ancestors, I highly suggest giving it a try!
Until next month, take DEEP care!  
With Love,  
CJ Johnson  

"I'm a writer with a fascination for plant medicine and a passion for social justice, spirituality, and holistic wellness. Tarot journaling and chocolate donuts keep me balanced. I'm based in Texas and dream of living near a salty ocean with my ancestors to keep me company."- CJ Johnson
Share
Your

Thoughts

Drop a line, share your insight, and keep the convo going! Sign in or create an account to leave a comment on this content and more.
Comments