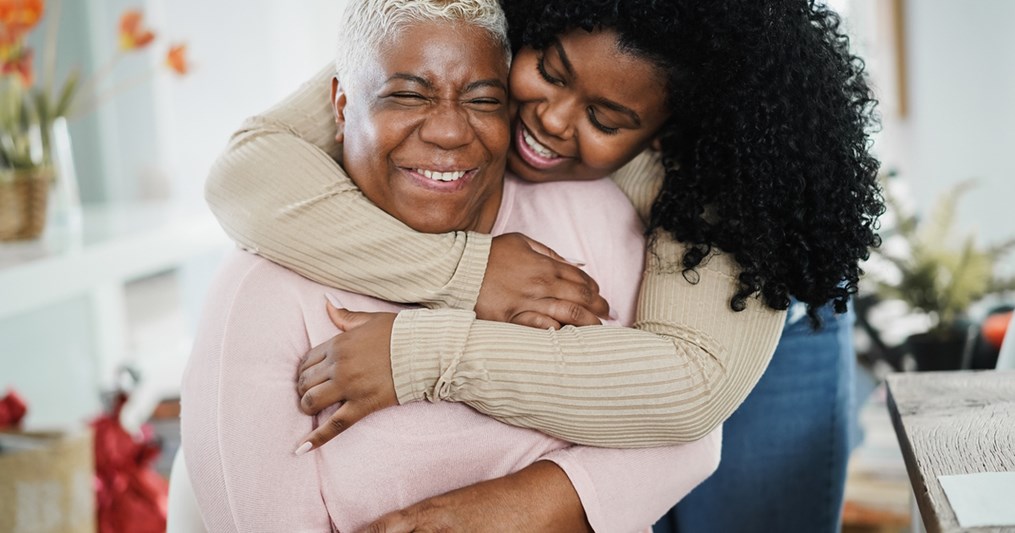 A mother's love never dies, even after she passes on.
If you've lost your mom, Mother's Day can be a strange and difficult day. There's a way to still experience your mother's love while healing from the loss.
Holidays Make You Think of Those You've Lost
Holidays, with all their happy overtones, have a funny way of reminding you of those you've lost. Whether it's a beloved grandparent and a family Thanksgiving tradition, a dear friend and their birthday, or anything else, when you start feeling sad on what is supposed to be a happy day, you can have even more complicated feelings around the whole holiday.
This is especially true on a holiday like Mother's Day if you've lost your mom or a mother figure in your life. You're constantly bombarded with images of happy moms with their happy families. The day can be really, really tough. And that's okay! You should take the time for reflection and self-care on a day that's bound to be difficult if you're coping with the loss of a parent.
You can also find a way to connect with a lost loved one. Whether you lost your mother recently or years ago, it has a big impact. That's often the case whether you had a deep, loving relationship or one that was more tricky. Complicated feelings arise when you lose your mother, and it's completely understandable if they bubble up on a day like Mother's Day.
Wondering how to connect with a lost loved one? That's where a Medium Reading comes in. Getting a reading with an intuitive Psychic can help you bridge the space between life here on Earth and the other side, letting you connect with a special person as you remember them on Mother's Day.
How Can a Medium Reading Connect You With a Lost Loved One?
First things first. What exactly are Mediumship powers? Mediumship is when someone mediates between living people and the spirits of the departed. Psychic Mediums can experience and relay messages they receive from those who are no longer in this realm. A Medium taps into their intuitive senses to communicate with those we've lost. They may use sight, smell, or sound, depending on the person, or even a mix of metaphysical gifts and divination tools to gather that intel from the other side.
Sometimes, Clairvoyant Mediums have visions that allow them to describe how a spirit appears or what they're wearing to demonstrate their presence. Other times, Psychic Mediums use clairaudience to hear voices of lost loved ones. All in all, Mediums use their gifts to connect with those on the other side. If you've experienced a loss, you might speak with a Medium to find closure or to communicate with your beloved one more time. That connection can be incredibly healing.
How Can a Medium Reading Help You Heal?
In any circumstance, death is a painful experience for everyone who cares about the departed. If the death is sudden, it can be even more confusing because you didn't have an opportunity to say your goodbyes. Also painful? Deaths of those in difficult relationships and deaths surrounded by misunderstanding. The truth is, no matter how someone died and no matter how much you know that it was inevitable, facing it is often super hard.
As a result, those left on Earth often don't know what will happen next. You may get caught in wishful thinking or find yourself overwhelmed with grief. Connecting with a loved one through a Medium can have healing power in various ways.
A Medium Can Offer Closure
If you've experienced emotional trauma and need help accepting the loss, a Medium can help. A Medium gives you a chance to communicate with your loved one so you can say what needs to be said and then move on. Speaking with a loved one through a Medium can bring you a sense of relief as you start looking forward to tomorrow with your beloved's blessing.
A Medium Can Offer Peace of Mind
Maybe you want to know that the person you loved is doing okay on the other side. That's a completely valid desire. After all, you want the people you love to be happy and safe, and that doesn't stop in the afterlife.
While this wish can be more intense if the person you loved died suddenly, tragically, or painfully, you can also just want to know that they're doing okay. Hearing that your loved one is in a happier place, a place where they don't have to deal with negativity or pain, can help you feel like a big burden has been lifted.
A Medium Can Help You Deal With Grief
Having closure and knowing your loved one is doing well on the other side can help ease your pain. Grief never completely vanishes, but you can learn how to deal with it in a productive way and be your best self. When you know that the person you loved is at peace, you can heal your own emotional wounds and start living life again.
A Medium can help you get to this place by letting you accept the reality that your loved one has moved on to the other side. By getting messages from the spirit world, you can find an end to your anger, confusion, or guilt.
If you've lost your mom, consider a Mother's Day Medium Reading as a chance to reconnect with her and get closure and reassurance. You can celebrate your mother's life on a holiday that's bound to make you think of her. Get a Reading from a Psychic Medium at PathForward and experience your mom's love this Mother's Day.
Share
Your

Thoughts

Drop a line, share your insight, and keep the convo going! Sign in or create an account to leave a comment on this content and more.
Comments