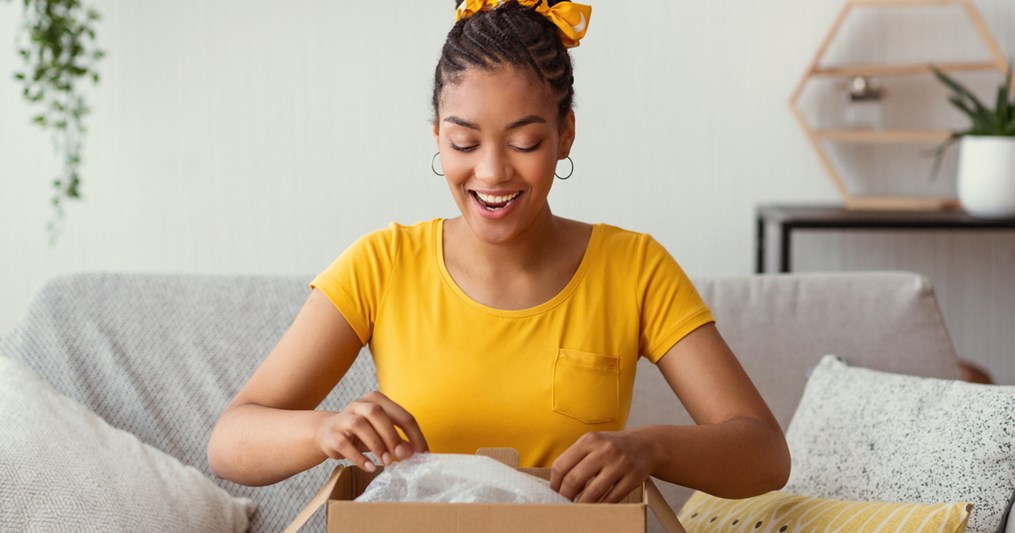 Wow the spiritually inclined person in your life with the perfect gift for their personality.
There's nothing quite like the feeling of watching someone you love open a gift you give them. As their eyes light up when they see what you've gifted them, your own spirit lifts toward the sky. But finding the perfect present for your bestie, bae, or other loved one can sometimes feel like a challenge. Here are some mindful and mystic gift ideas for the spiritually inclined person in your life that are sure to make that special person's day.
Astrology Lovers – Birth Chart
You can't go wrong with a birth chart if you're searching for gifts for astrology lovers. You can get gorgeous, detailed depictions of your spiritually inclined friend's natal chart, making a personalized and meaningful gift for any occasion. Just remember that you'll need your gift recipient's exact date, time, and location of birth. This info is used to create a snapshot of the sky at the specific moment a person arrived in the world.
The circular map lays out all the planets and other celestial objects as well as the zodiac signs these bodies occupy at the precise moment of a person's birth. That's why you need precise information — birth charts are incredibly sensitive diagrams that call for accurate data, as the charts radically shift every four minutes.
A baby book, birth certificate, or chat with your spiritually inclined loved one's parents can help you verify information, so you're not creating an erroneous birth chart that leads to skewed results. Getting an Astrology Psychic Reading can help you better understand the ins and outs of birth charts and the information they provide.
Crystal Lovers – Bead Chakra Bracelet
Give the crystal lover in your life a way to find harmony and energetic balance, no matter where their days take them. Energy-healing jewelry translates to beautiful crystal pieces that combine eye-catching style with powerful healing qualities. You'll recognize chakra gemstone bracelets thanks to their multicolored crystals — and your BFF will appreciate how their new piece of jewelry helps to balance and realign their energy.
The idea of chakras has played a role in Hinduism and Tantric yoga philosophy for thousands of years. The chakras, or "wheels" in Sanskrit, are your body's seven main energy centers. (Of course, most people can't actually see chakras. They're simply flowing energy, spinning and turning like a wheel.) Specific crystals signify each of the primary energy centers of the chakra system, holding the qualities of the chakra they represent.
A chakra bracelet is a gemstone bracelet made up of the healing crystals associated with each of the seven chakras. These chakra crystals come in the corresponding colors of each of the body's chakras. The crystals typically make up about a quarter of the bracelet, with lava or black onyx beads composing the rest of the piece. Wearers of these bracelets believe that the crystals of the bracelets can help with healing and opening their corresponding energy centers, ultimately helping to align and balance all chakras simultaneously.
Tarot Lovers – Tarot Deck Box
What do you get a tarot lover? A tarot deck may seem like the obvious choice, but when your spiritual loved one already has a range of those, it's time to change things up. That's where tarot deck boxes come in. You can give the gift of a box to hold one (or more!) of your favorite person's most beloved tarot decks, giving them something both useful and beautiful that they're sure to cherish for years to come.
You'll find a variety of tarot deck boxes, so you can easily choose a model that fits your person's aesthetic and personality. From simple wooden boxes and leather cases to hand-painted designs, there's something out there for everyone. Let the ideal gift-giving commence.
Meditation Lovers – Sound Bowl
If you don't already have sound bowls on your list of mindfulness gift ideas, check out these unique items right away. Tibetan singing bowls are like bells that vibrate when played, creating a rich, deep tone that promotes relaxation and offers an abundance of powerful healing properties. Buddhist monks have used these bowls in meditation practice for centuries. Today, wellness practitioners like yoga, massage, and music therapists also use the bowls during treatment. You can also find sound bowls made of crystal.
In other words, having a sound bowl at home can really up someone's meditation game. Giving a sound bowl as a gift will surely show your loved one that you care about their health and well-being, all while taking into consideration their spiritual inclinations. You can't go wrong with a present that checks all those boxes.
Yoga Lovers – Himalayan Salt Lamp
When it comes to spiritual gift ideas, Himalayan salt lamps are a real crowd-pleaser. The lamps, known for transforming any space into a calming, uplifting oasis, add a lovely glow to your fave yogi's studio or bedroom. These lamps create their signature warm amber light while also acting as air purifiers and helping people feel energetic and healthy. You can even find lamps with touch dimmers that help the user get the lighting exactly right for their mood and yoga routine.
So, how do these lamps work? The salt takes in moisture and other particles from the air surrounding it, heating up the longer you leave it on. Then, it releases water vapor and negative ions.
Potential benefits include being good for the lungs, lifting the mood, and improving sleep. The light makes any space feel relaxing and cozy, ideal for your spiritual bestie whether they're deep into their yoga practice or just chilling around the house. Their Himalayan salt lamp is sure to create a beautiful ambiance, so it's no wonder these lamps are staples on the list of gifts for spiritual people.
Mindful gifts are ideal for your spiritually inclined loved ones, and there are many personal and practical gifts out there. Still not sure what to get? Talk to a Psychic about it today at PathForward and get personalized advice to help you find the perfect present.
Share
Your

Thoughts

Drop a line, share your insight, and keep the convo going! Sign in or create an account to leave a comment on this content and more.
Comments