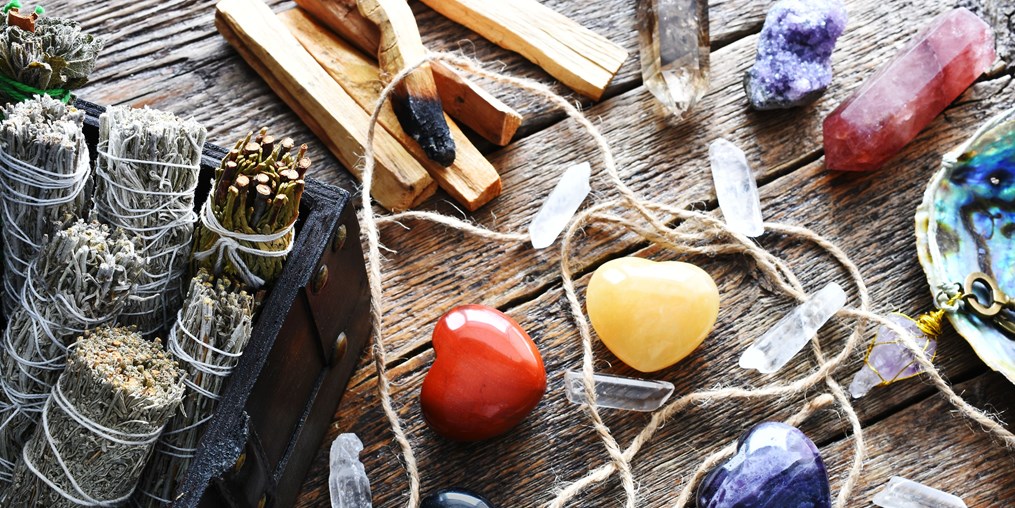 Roll up your sleeves and get to work on some great spiritual DIT gift ideas!
Happy holidays besties! It's the height of gift shopping, and if you're struggling to find the perfect gift for a spiritual loved one who literally already has every single crystal in the book, I have some awesome step-by-step DIY Christmas gift ideas for you – or any holiday you celebrate, of course! You may even want to wrap it with a bow and treat yourself to one of these gifts.  
Spiritual Cleansing Kit 
As we close out 2022 and step into a new year, a spiritual cleansing kit is perfect for clearing out old, stagnant energy to make room for new. This DIY gift is so easy to put together since it doesn't require crafting skills or effort other than purchasing the items and assembling them as you see fit. You can buy a spiritual cleansing kit online or DIY, which is my preference because it's way more personal and feels good too. 
Shopping Guide:  
White Sage: I prefer white sage incense vs. the smudge stick.  White sage is an all-purpose spiritual cleanser that eliminates negative vibes in your mind, body, and home space. It also cleanses crystals which is awesome, especially if your loved one has quite the collection. But if a stick is more your style, see how to make a smudge stick below. 

 

White Candle: Lighting a white candle purifies and protects your space and spiritual center. It's a wonderful add-on to any meditative or psychic practice like reading tarot cards. 

 

Peppermint Oil: Not only does peppermint compliment the season; it's a go-to for improving clarity and clearing out negative thought patterns. Peppermint oil is for grounding and helps balance your throat, third eye, and crown chakra. 

 

Black Obsidian: This crystal heals your physical, emotional, and spiritual body. It absorbs negativity and helps you find a greater sense of introspection. You could purchase black obsidian in its natural stone form or as a piece of jewelry. 

 

Epsom Salt: If you want to add an extra goodie to your spiritual cleansing kit, look for a healing Epsom bath salt blend. A spiritual bath is a wonderful and soothing self-care ritual perfect for melting away stress and emotional blocks. Working moms will really appreciate this one!   

 
Smudge Sticks 
DIY smudge sticks are not only a thoughtful gift but also fun to make too. You can even round up some friends and make it a party. Plus, it's a great gift for when you're on a budget. From banishing negative energy and stress to purifying crystals and boosting your mood, you can never go wrong with smudge sticks – and you can never have too many on hand, either. 
How to Make Smudge Sticks
Step 1 – Choose an easy-to-find herb like sage, cedar, lavender, or rosemary. Gather your herbs in a bundle - size is totally up to you. I like mine a bit bigger, so it lasts longer, about 5" inches long and 3" inches wide. Note: Sage is great for clearing negativity. Lavender is perfect for everyday use as it cultivates feel-good vibes and peace and helps with restful sleep. But depending on your loved one's needs, you might want to consider other options to give it an even more personal touch - a Psychic can give you a recommendation.  
Step 2 – Tie the base of your herb bundle with twine and secure it with a tight knot. Continue to wrap the twine toward the top of the bundle in a crisscross shape before wrapping the twine back down to the base. It's best to wrap tight but not enough that it'll crush your herbs. Cut access twine with scissors. 
Step 3- Hang upside down or place your smudge sticks aside in a cool dark place for 1-2 weeks to allow them to dry and set.  
Spell Jars
Mystical and popular in the Wiccan community, spell jars (aka witch bottles) are so much fun to make. From finding love to boosting your career and money status, spell jars are a tangible representation of a spell that helps people manifest their greatest desires. Think of them as a space where you can literally bottle your thoughts and life dreams. Just like the law of attraction – you get what you put your energy into.  
How to Make a Protection Spell Jar
For the sake of gift giving, a protection spell jar is a perfect go-to that anyone can benefit from. If you have a deep sense of what your loved one wishes to avoid, such as bad energy or a dreaded ex, here's how to make a protection spell jar:  
Shopping Guide:  
Glass jar or mini bottle

 

Crystals: Choose 3-4 small crystals that aid in energy protection, such as black tourmaline, citrine, obsidian, and amethyst. 

 

Herbs: Pick out 2-3 protective herbs - certain herbs can block energy and cultivate protective boundaries. I've used rosemary, mint, and chamomile. 

 

Black Salt: Absorbs negative energy.

 
One at a time, add your items to the jar. As you fill your jar, think about what each item represents and how they will help you. Once filled, take a small piece of white paper (post it size works) and write down your intention. For example, "Banish energy-draining thoughts." Roll the paper up tightly and place it in the bottle. Close your bottle and speak your intention out into the universe. Seal your jar with candle wax.  
Watch Psychic Jewel make a protection spell jar on TikTok.
Mala Bracelet
Also known as a prayer bracelet, a mala is a beautiful gift for a spiritual loved one – I don't leave my house without mine! Aside from being a unique and eye-catching piece of jewelry, malas aid in meditation, prayer, yoga practices, energy healing, and so much more!  The beads represent positive affirmations and are especially beneficial during times of focus. 
How to Make a Mala Bracelet 
If you want to keep it traditional, a full mala has 108 beads. In India and within Dharmic religions, 108 is considered a sacred number. Check out the history for more info!  A full mala can be worn as a necklace or wrapped around your wrist as a bracelet. But if you want to go a bit smaller while maintaining the integrity of the mala's spiritual meaning, you can use as many beads as you'd like as long as they are a multiple of 9.  
Check out this video on YouTube by Psychic Christine for a tutorial.
Happy Holidays! 
I hope you have a peaceful, happy, and fun holiday season! Drop me a line below if you end up making any of these DIY Christmas gifts or if you have other ideas to share. And don't forget, Our Psychics are always here for you! I know the holidays can be a lonely time for some, but when you are part of the PathForward community, you're never alone.  
Cheers! 
Samantha 
Read more articles by Your PathForward Blogger Samantha.

"If you're feeling inspired, I recommend chatting with a Psychic who specializes in this area of expertise. And remember, YOU are smart, strong, and capable of anything you set your mind to!" –
Your PathForward Blogger Samantha
Share
Your

Thoughts

Drop a line, share your insight, and keep the convo going! Sign in or create an account to leave a comment on this content and more.
Comments