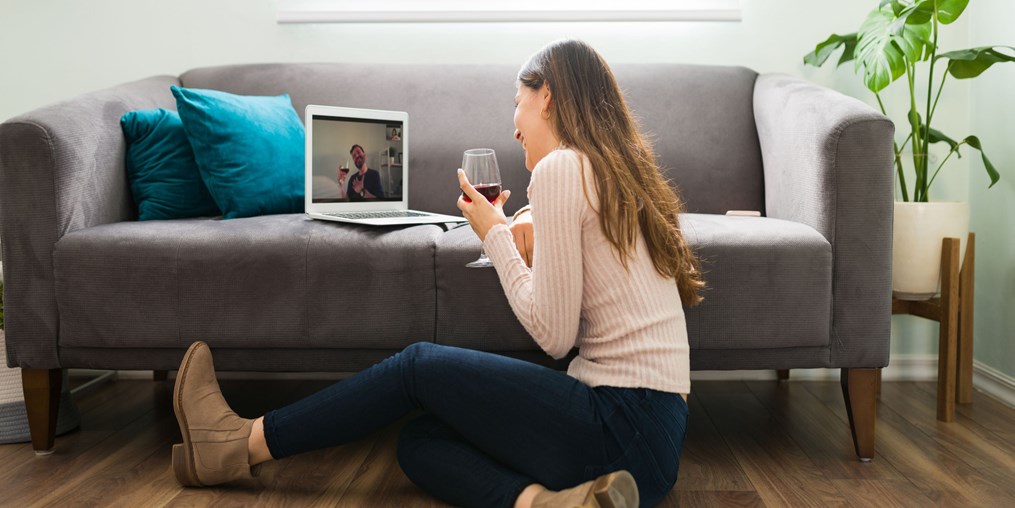 Making it work in a Long Distance Relationship is hard work. Make it easier with these long distance dating tips.
Whether you met someone online from a different country or are dating someone who lives a few hours away, long-distance relationships (LDRs) have become more common nowadays. Much like conventional relationships, dating long distance has pros and cons, but because this intimate bond between two people includes a great divide, onlookers tend to focus more on the challenges of being in a long-distance relationship. From answering questions of family and friends who just don't understand to silencing the doubt in your mind to long-distance date ideas, I'll show you how to have more confidence navigating your long-distance relationship.
Why Are Long-Distance Relationships So Challenging?  
The biggest and most obvious challenge of dating long distance is (say it with me) the distance.
Psychologists identify romantic relationships as an intimate connection based on attachment, interdependence, and a sense of one's needs being met within the union. So, what really makes love in distance a challenge? The concept of dating long distance goes against the standard definition of not just a romantic relationship but what is required to have a successful one by asking the people involved to skip past GO without collecting $200 dollars and buy the most expensive properties on the Monopoly board. The same way a Monopoly opponent would ask how you can buy Park Place without any money is the same reason your loved ones would ask how you can expect to have a successful relationship with someone you barely see. On the surface, it doesn't make sense, but that's another challenge of long-distance relationships: they push you to look beyond the surface.
Long-distance relationships do not depend on the immediate gratification a conventional romantic relationship offers. So, if you can't rely on a basic requirement for successful romantic relationships, how can you have a successful romantic relationship?
Tips to Keep A Long-Distance Relationship Strong 
So, you can't physically be around your person as often as your schedule or temperament allows, and your communicative or intimacy expectations are being pushed to the brink. How do you work around this? Don't worry about what you can't do; do what you can.
Humans are sensory beings, so not being able to please one or more of those senses drives us crazy. Love in distance means …  
You can't touch your person as much as you want to.

You can't smell their cologne or perfume.

You can't taste their kisses on demand.
But do you know what you can do?
Wear their t-shirt because it smells like them.

Plan a virtual date together so you can share intimate experiences at a distance.

Different time zones? Do a wake-up call as you're going to sleep or vice versa.

Use your words to tease each other with sexy text messages or use touch bracelets to tease each other with sensations you can feel.

Plan a physical meet-up.

Send each other flirty pictures.

Ask a psychic to help you tap into your sixth sense.
Long-Distance Relationship Date Ideas
Before I tell you how a Psychic can help you and your partner strengthen your long-distance relationship, here are some tips that can make long-distance dating more appealing:
Have life imitate art and use movies and song lyrics as inspiration for how to spice up your long-distance love life. Per my most recent suggestion, you can schedule a date where you virtually cook or bathe together as inspired by The Truth About Cats & Dogs. Or like Allie and Noah in The Notebook or John and Savannah in Dear John, you can write each other love letters. Not the pen pal type? Channel Dexter and Emma in One Day or Sam and Annie in Sleepless in Seattle by building your relationship on intentional communication as well as a physical meeting that will determine the future of your relationship. Do you resonate more with books and music? Send each other full songs or song lyrics that best describe how you feel. If your long-distance love likes to read, mail them their (or your) favorite book. And while we're discussing gift-giving, never be afraid to send your partner something that lets them know you are thinking of them.
 How a Psychic Can Help
 There are three services a Psychic can provide while you are loving at a distance:
Granting insight.

Helping you and your partner tap into your sixth sense or higher selves.

Be your personal cheerleader.
Though Psychics are expected to see into the future, one thing we can do is grant insight into the now. A downside of long-distance relationships is that you can't see what your partner is doing or thinking, so feel free to contact a PathForward Psychic. We can help you tap into your intuition by first making you aware of how your long-distance partner truly feels or thinks about you. As previously mentioned, long-distance relationships push you to go beyond the surface, so a Psychic can also tell you what your individual and collective strengths and weaknesses are. And finally, when friends and family just don't understand how you can trust a relationship that doesn't follow standard romantic relationship rules, your favorite Psychic can be a cheerleader to encourage you. Though love and dating long-distance may not be for everyone, it may very well be for you, and Psychics are here to help you along your long-distance relationship journey.
Let's Connect
I hope this insightful blog post helped you feel more confident in your long-distance relationship. If you are contemplating the idea of participating in a long-distance love affair, I hope this blog post helped answer your immediate questions. If so, please let me know in the comment section. I would love to hear how this information resonated with you. Also, if you would like more insight on how to keep your long-distance strong, like long-distance date ideas or other questions and concerns that were not covered in this blog post, feel free to contact me or another Psychic Love Expert here at PathForward.

Psychic Dominique is a published writer and an Astrological and Spiritual Advisor who taps into her gifts to assist people on their personal journeys. She delivers insightful and motivating advice that is detailed, honest, and thoughtful.  -
Psychic Dominique x4278
Share
Your

Thoughts

Drop a line, share your insight, and keep the convo going! Sign in or create an account to leave a comment on this content and more.
Comments