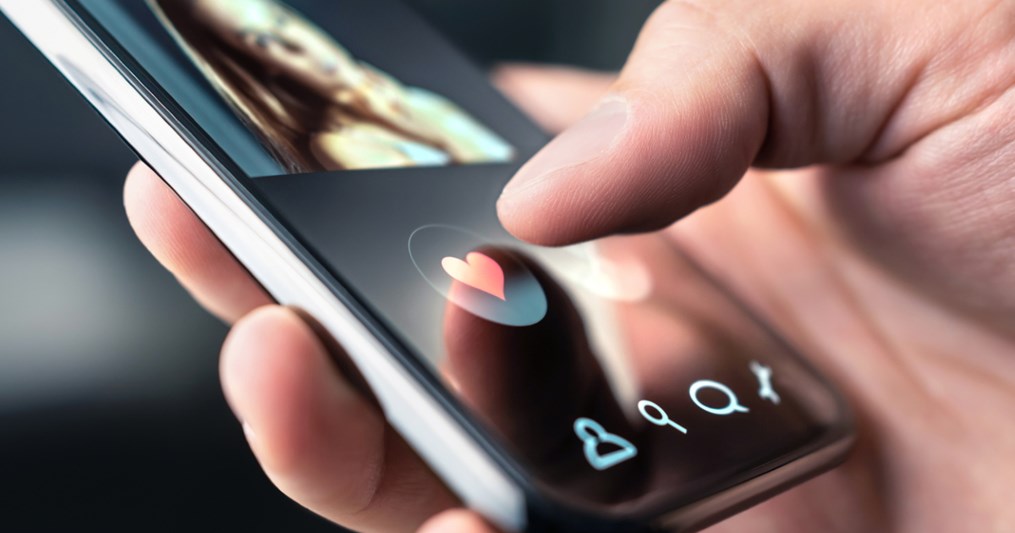 Get your future boo to swipe right with a good Tinder bio and these online dating tips.
Love and relationships ... yeah, it's complicated. Online dating can make things even trickier, even when it makes it easier to connect with many people who might just be the one. Your dating profile is your first impression, so you want to, well, impress — but without sliding into any dubious practices that might be considered catfishing. Try these online dating tips to show the genuinely amazing catch you are.
Be Specific (But Honest)
Think about how you'd feel if you were catfished. As with just about everything in life, honesty truly is the best policy when it comes to online dating. Put your best foot forward, but be true to yourself. Lying won't get you anywhere in the long run. Besides, you have so many awesome qualities to highlight!
Give a full picture of who you are by using specific examples. Love traveling? Talk about your favorite places and why you love 'em. Into movies or museums? Concrete details will bring the real you to life for the person reading your profile. Just make sure to leave out cliches. Instead, include interesting details that you could use as a conversation starter.
Ask Your BFFs for Help
Of course, getting specific about yourself can feel like it's easier said than done. If you're struggling to find the right words, it's time for insight from someone who knows you well. No one knows you better than your besties — sometimes your friends even know you better than you know yourself.
So, turn to someone you trust when you're putting together a good Tinder bio (or bio for your dating app of choice). A friend can help you write your profile to highlight your best and most interesting traits while offering a fresh perspective. You can also check in with an intuitive Psychic Advisor for personalized tips and tricks to help you put together your profile.
Go for Action Photos
Tinder profile tips can vary when it comes to picking the perfect photos, but choosing pictures that speak to your personality is a surefire win. Though you might feel tempted to use some thirst traps or even photos that veer into catfishing territory, go for photos that show you doing things you love. Profile photos that show you running, skiing, cooking, playing piano — whatever it is that you're into — tend to get more messages. Your potential partner wants to see the real you.
Lifestyle shots that capture what you're about communicate who you are without using up the limited space you have for words in your profile. These photos also make for great conversation starters when you find a match.
Find the Photo Sweet Spot
As in, don't overload your profile with tons of photos. Uploading around five to seven photos allows you to diversify your pictures without taking things too far. Try opening with some clear shots of your face, avoiding photos where you're wearing sunglasses or too far away. You want to show what you look like, after all.
You'll also want to include a photo that shows your whole body. You might feel shy about it, but in the end, your match will see you if you meet in person. Sometimes people may think you're trying to hide something if you don't include a full-body picture from the get-go.
Focus on You
Sure, you have some great shots with your friends. You'll want to minimize the pictures with others on your profile, though. Online dating means a tiny window of time to capture someone's attention, so keep the focus in the right place (a.k.a., on you!) while you have their attention.
However, you might want to be selective with selfies. Uploading multiple selfies can skew someone's perception of your lifestyle. If you're all about the selfies, then go for it, but don't take a bunch of selfies only for the purpose of your profile. Selfie or not, make sure the photos you choose communicate something about your personality.
Opt for Positivity
Your online profile is like your dating resume. You wouldn't put yourself down when applying to jobs, so stay away from negative tones and speak about yourself in a positive light when crafting your dating profile. You don't want your potential partner to read anything negative about you. You can show off your sense of humor (which is a great way in and of itself to reel someone in with honesty) without putting yourself down.
It's just as important to stay positive when you're thinking about your potential partner. Don't go into too much detail if the profile prompts you to share what you're looking for in a relationship. The kind of relationship you want and any deal breakers (like, "must love dogs") are fine.
But steer clear of listing details like height or income. Having set criteria can make you look negative and unapproachable, even if you match with someone who theoretically ticks all your boxes. Plus, people often fall for someone they didn't expect. You might be pleasantly surprised if you keep an open mind.
Keep Things Current
This goes for your photos and the written part of your profile. You'll want to make an effort to update your profile regularly as long as you're on the dating market. Renew your profile with any relevant information and keep your deets up-to-date.
As for photos, even if you absolutely love one, you're better off not using it if it's from more than a year ago. Often, the biggest complaint people have about someone else's profile is that the person doesn't look like their photos. Think of it this way: Looking better when you meet up in person is always better than the other way around.
An intuitive Psychic can get put you on the path to reaching your #relationshipgoals, starting with a great online dating profile. Get Psychic Advice on love today at PathForward!
References:
Share
Your

Thoughts

Drop a line, share your insight, and keep the convo going! Sign in or create an account to leave a comment on this content and more.
Comments