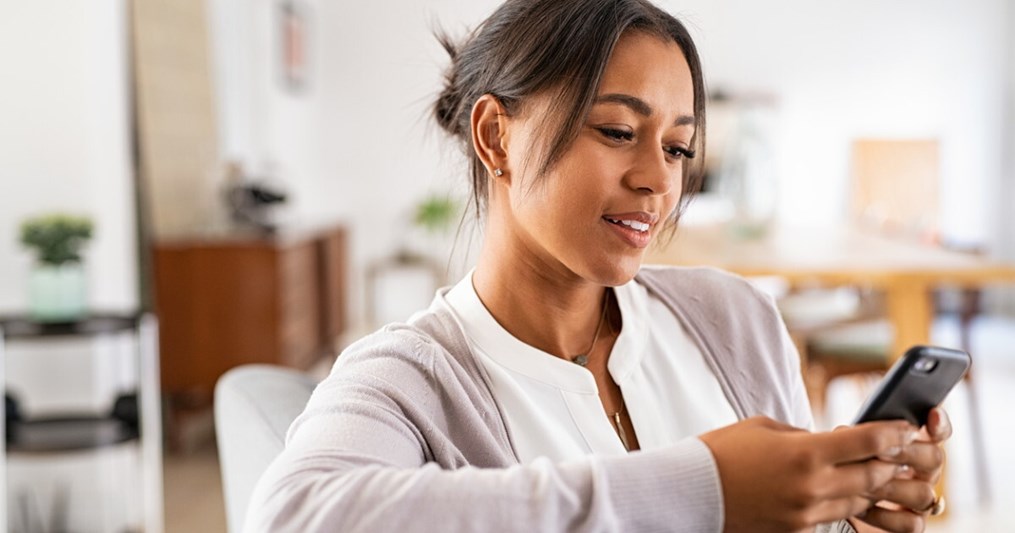 If you're looking for love on a dating app, make sure to protect yourself from online romance scams.
In this day and age, it's only natural to want to give online dating a shot. With everyone and their mother creating a profile, it may seem like the opportunities to meet "the one" are endless. Whether it's a double-tap on your photo or a clever reply to your bio, it's easy to get swept up in the potential of finding love. While internet dating sites and apps are popular with singles looking for a real connection, they're also hot spots for scammers hunting for cash. 
No one wants an empty wallet and a broken heart. Before you take a leap of faith, double-check that everything isn't too good to be true. With internet romance scams continuing to grow, make sure their intentions are pure. Here are some tips to help you steer clear of dating scams and spot them before it's too late:
Watch Out for Someone Who Catches Feelings Immediately 
While you may be a firm believer in love at first sight, scammers are likely to profess their feelings as soon as possible. They may be overly complimentary or even profess their love for you early on in a conversation or relationship. While we know you're a catch, a scammer may use compliments and flattering words to build your trust and access to your personal information. 
Scammers may try to learn the answers to account security questions like your favorite pet's name or your childhood street address. While this might sound like a thoughtful hottie trying to make a deeper emotional connection, it's still wise to proceed with caution. Go with your gut. If it seems too good to be true, it probably is. 
Steer Clear if They're Trying To Mooch Off You
While it may be true that love is blind, don't let your newfound feelings cloud your judgment. Steer clear of someone if they ask you for money, even if their circumstances seem legit or they say they need the money to visit you. Look out for some typical lines they may send you to tug at your heartstrings and your wallet:
"I'm an entrepreneur, and I need money to get my business off the ground."
"My relative is sick. Can you please send me money to support them?"
"I need a short-term loan to buy a plane ticket to visit you. I'll pay you back when I get there."
"I'm planning my loved one's funeral and need financial support to finalize the services."
As compassionate as you may be, someone truly interested in being with you wouldn't use a Tinder scam to seek financial support. Don't get swept up in their stories, and make sure not to send them money or your account info. 
Notice if All Their Plans Fall Through 
A scammer may talk a big game, but when it's time to meet you in person, there's always something else that comes up. While plans can change and people may need to cancel last minute, this shouldn't happen more than once. 
Rescheduling plans isn't totally unheard of, although if they say they need money for a plane ticket or other expense to come see you, that's a major red flag. Someone trying to trap you in a romance scam may cancel last minute and then send you a text that says, "I'm so sorry I couldn't make it, but I couldn't afford a ticket. If you send me the cash, I'll be able to see you this weekend!"
Be Careful if They Want to Get Off the App
When you're flirting with someone online, it may seem only natural that they give you their email or number. You may want to get to know each other more intimately without relying on an app or dating site to connect. Be careful: If someone asks for your information before offering theirs, they may just want to use it to get access to your personal accounts. 
If you're suspicious, you can protect yourself by creating a separate email account or relying on instant messaging that doesn't lead someone to your personal phone number or email. Then, if the love match is the real deal, you'll have plenty of time to give them your real contact info. 
Tips To Save You From Heartbreak and Bankruptcy 
If you feel like you're hearing stories that don't quite add up, here are some tips to help you make sure your new boo isn't an internet scammer:
Take your time: Just because you're talking to a hottie who knows how to compliment you doesn't mean you have to speed through the dating process. If the person in your DMs likes you for you, they should be more than willing to take time to get to know you. Going slower gives you more time to make sure you're not dealing with any ulterior motives.
Become a social media sleuth: One major perk of living in the 21st century is that you have the whole internet at your disposal. You're not waiting on a carrier pigeon, so use those thumbs to do some digging! Check out social media profiles, professional websites, and other helpful links to make sure your virtual bae is the real deal. 
Get a love reading from a Psychic: When it comes to love, you can never be too sure. Your PathForward support system is ready to provide you with the guidance you need. Consider connecting with a Love and Relationship Expert to help you navigate the complexities of online dating, and feel confident in your relationship and your choices before it's too late. 
We know that navigating the world of internet dating can seem scary — it's risky enough to put yourself out there for love without worrying about scammers taking advantage of you. It's important to look out for the red flags and warning signs before you get caught up in an online romance scam. If you feel like you need extra support or want someone to help you make crucial dating decisions, contact a Love and Relationship Psychic for intuitive advice. 
References:
https://www.snbsd.com/about/news/how-to-detect-and-avoid-an-online-romance-scammer
Share
Your

Thoughts

Drop a line, share your insight, and keep the convo going! Sign in or create an account to leave a comment on this content and more.
Comments