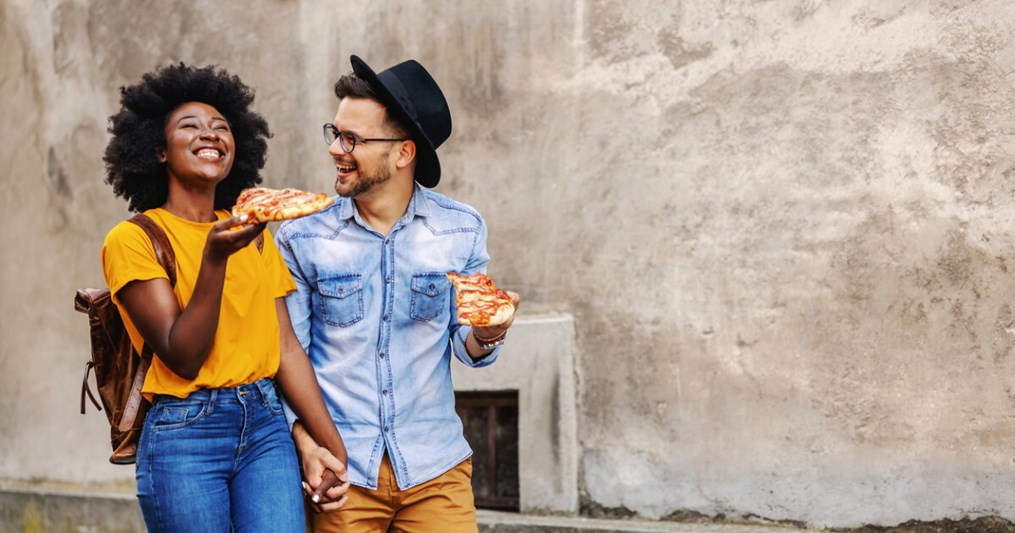 The single life can be fun, but do you know what you want when it's time to take the next step and go on a date?
So they asked you out ... now what? As excited as you may be for an upcoming first date, it's natural to feel nervous, too. When you think of first dates, does your stomach tighten at the thought of awkward silences and sweaty palms? Are you unsure what kind of outing to plan, or what to do with someone you have a huge crush on? 
With the right tools, you can prepare to go out with someone special for the first time, stay relaxed throughout the date, and feel confident following up. Here are some tips to help you before, during, and after a first date. 
Preparing for a First Date
Maybe you finally gave your number to the coworker you've been crushing on for months, or you swiped right on a hottie you're dying to get to know. Whatever the circumstances, first dates can be full of nerves and excitement. Here are some of our go-to first date tips that can help you prepare:
Put safety first: When you're getting ready for a first date, safety is key. We know it's easy to get swept up in romance, but the most important thing is to feel comfortable and stay safe, especially when meeting someone in person for the first time. Plan a first date in a public place and let your friends or a family member know where you'll be for extra security. 
Decide on a casual spot: A good first date isn't about finding the most unique activity or out-of-the-box idea. Instead, it's an opportunity to get to know someone a little better and show off what makes you, you! Choose a casual spot where you and your cutie can spend some quality time, preferably somewhere that's not too loud so you can focus on the conversation.
Wear what makes you feel confident: Feeling good can help you look your best, so pick out an outfit that makes you feel confident and comfortable. Consider the atmosphere of your first date (no need to break out the Balenciaga heels for a picnic!), and go with a look that makes sense for the ambiance. You know you're a babe already, so wear something that helps you shine from the inside out. 
Get a psychic reading: Feeling overwhelmed at the thought of a first date or unsure who and what you're looking for in a partner? Contact one of our Psychic Advisors at PathForward before you go out with someone new to uncover what's missing from your love life, and the kind of traits and characteristics to look for in a potential relationship. 
Tips To Help You Shine When Going Out With Someone New
While it's important to prepare, there's only so much you can consider in advance, and it's important that you feel comfortable while you get to know someone new. Here are some tips to help you feel your best and keep the conversation going while on a first date:
Try to relax: I know, easier said than done! Whether you're excited about meeting someone after chatting online or you're finally going out with that dreamy barista you've been ogling, it's normal to have some first-date jitters. Try to stay calm and remember that the point of a first date is to decide whether you want a second one, nothing more than that!
Stay positive and make a good first impression: Even if you're nervous, you can make a lasting first impression by staying positive, smiling, and laughing throughout the date. You can communicate a lot with your energy alone, and radiating positive vibes can help you showcase your attitude and may rub off on others, making your date feel good when they're with you.
Be present to build a connection: In this day and age, it's easy to get distracted when someone sends you a text, likes your photo, or forwards you the latest meme. If you want to build a connection and really learn about the person you're dating, it's important to pause your notifications and focus on who's in front of you.
What To Do After Making a Connection
So you've made it home from your date, and you're wondering what to do next. Here are some tips to help you understand your feelings and get clear about your desires after a first date:
Follow up: If you leave a first date confident in your feelings towards the other person, don't be afraid to follow up. It may seem daunting to sent the first text, but if the feelings are mutual, they'll be excited to hear from you and eager to plan a second date (plus, owning your feelings is a great way to show that you're confident and secure in yourself). 
Be patient: While you may have heard the saying, "if he wanted to, he would," it's important to be patient. If you follow up, try to prevent yourself from sending another text the next day, as this can may your date feel you're putting them on the spot. If they don't text or call you back within a few days, however, chalk it up as a learning experience and get back out there! 
Seek advice from a Psychic: Did you leave the date feeling like you make the same mistakes in finding or attracting potential partners? Or did you notice that you exhibit behaviors over and over again that seem to get in your way? Contact a Psychic for a reading to learn more about your energetic fields, aura, and how you can help yourself break draining dating patterns. 
Whether you feel overwhelmed by dating or excited to begin your quest for love, contacting a Love, Sex, and Romance Psychic at PathForward can help you figure out what you need in a partner and learn more about the potential for romance in your life. Learn more about how PathForward works and reach out to one of our empathetic and intuitive Psychics before and after your next first date so you're ready for what lies ahead. 
Resources:
https://www.bustle.com/p/9-first-date-tips-for-when-youre-going-out-with-someone-youve-never-met-before-10172814
https://www.blueoceanstrategy.com/blog/first-date-tips-how-to-have-successful-first-date-blue-ocean-way/
https://www.ramseysolutions.com/relationships/first-date-tips
Share
Your

Thoughts

Drop a line, share your insight, and keep the convo going! Sign in or create an account to leave a comment on this content and more.
Comments