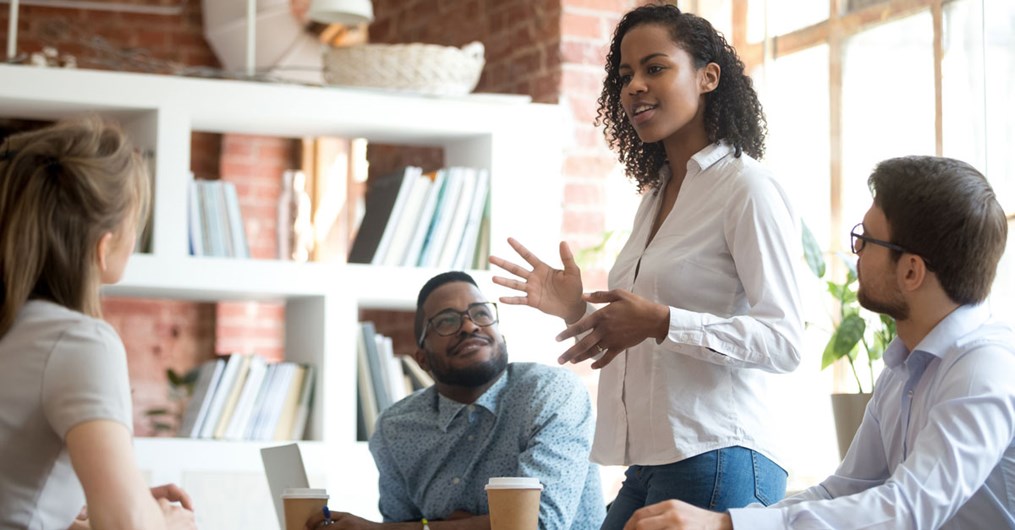 Be true to yourself! Your unique perspectives are a strength, not a liability.
A promising and satisfying career can nourish the soul for decades. It can lead to long-term mental health and primary care coverage, the freedom to explore hobbies, the opportunity to create deep friendships with colleagues, the safety net of homeownership and traveling, and the liberty to create a very enriched life as a whole. 
While that is the American dream we've all been socialized into believing, making that dream a reality, especially as a Black woman, can come with pitfalls and roadblocks. Our dreams are often dashed before we can even fully launch into the careers of our dreams. 
The COVID-19 pandemic has unfortunately pushed Black women back as a whole professionally. According to the Jobs Report by the Bureau of Labor in February 2021, Black women have endured the biggest job losses since the onset of the pandemic. 
It's easy to feel overwhelmed as much as it is to feel hopeless about carving out a thriving career as a Black woman during the current economic climate. 
Those woes coupled with the all too common anxiety of navigating office politics while doing your best to accelerate your trek up the corporate ladder in an equitable timeframe as a Black woman can also add to the daunting journey of enjoying a career you love. 
However, there is always a reason to hold onto hope while mindfully creating a path for success by any means necessary. It simply takes some savvy strategy matched with personal alchemy to manifest the career you authentically desire. 
To bring that call to action to life, I'm sharing five empowering career tips that Black women can take advantage of in 2021 and beyond. 
#1 - Identify allies and mentors early on
This includes at the start of your career and at the onset of every new job or position you accept. Having a small but mighty tribe of allies and mentors genuinely rooting for your success can send your career to new heights. Non-Black allies can help you build leverage if and when the moment comes for you to champion your professional advancement. It's unfortunate, but having the support and recommendation of a white ally on the job can convince leadership members to consider you for growth opportunities. The key is in fully vetting any allies you make in your career. Do your due diligence to discover if they have a track record of exercising fairness and equity towards Black women on the job. 
#2 - Minimize code-switching
The time has come for Black women to start setting a new vibration of tolerance and commanding acceptance on the job from colleagues. If you were qualified to be hired, then you are also worthy of having the liberty of being unapologetically yourself. This is one of the best ways we can move the diversity and inclusion dial. If you use AAVE (African American Vernacular and Ebonics) in conversations naturally, don't censor yourself on the job. If you desire to wear Senegalese twists versus straightening your hair, do so. Trying to assimilate into white culture just because you feel that is the only way to advance your career will ultimately harm your spirit. Nothing is worth paying that price. 
#3 - Continuously develop skills that compliment your niche and industry
Staying stagnant skill-wise will be a death knell to your career. Tap in spiritually with yourself periodically and unearth what interests you. Take those interests and use them to lead you towards new skills. Gaining new skills will keep you marketable and in demand. To get those skills in 2021, you don't have to get a graduate degree either. Online hubs such as Skillshare, Hubspot Academy, Coursera, and Udemy provide a wide array of affordable certificate offerings you can take advantage of to slay your career goals sooner than later. 
#4 - Find your tribe
To navigate the career seas as a Black woman takes a village. We benefit from kinship in profound ways. From improved self-confidence to emotional support, having a career tribe will keep you putting one corporate foot in front of the other, even when you want to give up. 
Finding your career tribe early on in your career is ideal, but it's never too late to make this a priority. It's all about intention. If you create the vibration and set the intention to attract a tribe that will nourish you along the way, then you will. Deepen your bonds with your tribe by offering to be a reference when they are seeking a new position, serve as support for interview preparation, stand by their side when they are mistreated on the job, recommend them for new opportunities, and connect with them outside of the corporate sphere. Truly become their biggest soul sister. 
#5 - Expand at your own pace
There is a considerable amount of pressure placed on Black women when it comes to our careers. Being the "first" in our family to get a degree and make six figures is all too common for many of us. With such demands placed on us, the drive to succeed can be overwhelming and lead to early career burn-out or ongoing mental health challenges. The antidote to that potential roadblock is to expand your career at your own pace. That may feel like a mighty mountain to climb mentally at first, but when you take a moment to measure the pay-offs, the benefits should outweigh any fears that arise. Expanding at your own pace will provide you with more work-life balance and more success in the long run. When you pursue work that you find fulfilling - and in ways that are more in alignment with your authentic desires - then the Universe will work in your favor. Trust the process and trust your dreams and your dreams only. 
All in all, finding career success as a Black woman takes gaining allies and new skills, being true to yourself, finding a tribe, and striving for greatness at your own pace. Of course, there will be moments filled with frustrations along the way, but as long as you nourish yourself with radical self-care while honoring your intuition, manifesting career success will be much easier than you ever imagined. 
To fully dive into how best to activate your alchemy so you can get a quantum leap into the career you've been holding close to your heart, book a session with one of our trusted psychic advisors. 
Our predominately women and women of color team of Advisors are 5-star rated and gifted intuitive healers who will connect with your energy to uncover any challenges holding you back from your Highest Self. 
Get three FREE minutes and book your session TODAY to activate your personal alchemy. 
I look forward to circling back to you next month. 
In the meantime, take DEEP care. 
Sincerely, 
CJ Johnson 

"I'm a writer with a fascination for plant medicine and a passion for social justice, spirituality, and holistic wellness. Tarot journaling and chocolate donuts keep me balanced. I'm based in Texas and dream of living near a salty ocean with my ancestors to keep me company."- CJ Johnson
Share
Your

Thoughts

Drop a line, share your insight, and keep the convo going! Sign in or create an account to leave a comment on this content and more.
Comments