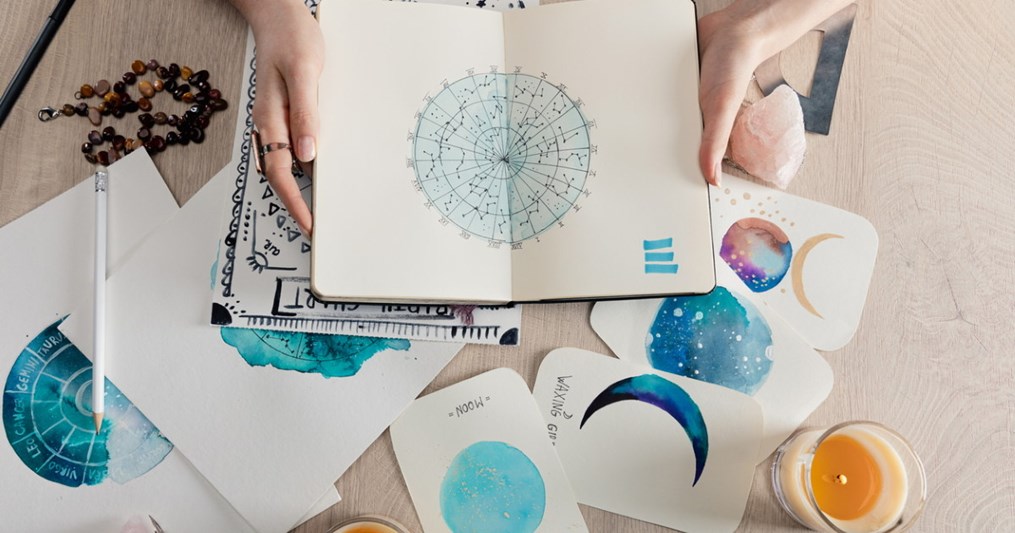 Insight into your birth chart, without leaving your couch? Count us in.
If talking to a Psychic online feels a little intimating, you're not alone. However, getting a reading online is actually a great way to get started. Online Psychics offer a range of benefits you just can't get from traditional in-person readings.
Online Psychics vs. In-Person Psychics: What's the Difference?
These days, it can feel like everything is moving online. From taking work meetings on Zoom to swiping on dating apps and everything in between, so much is possible without having to leave the comfort of your home. Meeting with a Psychic, though ?— that can't be possible online, or can it? The truth is, getting a psychic reading online is a totally legit and easy way to ask your questions and get intuitive coaching from a real, live Psychic.
When you get an in-person psychic reading, the reading is done with the reader and client meeting face-to-face. You choose the issue and method, like a tarot reading or a relationship reading, and find your preferred Psychic. Psychic hotlines and chats work in pretty much the same way. The one big difference is proximity.
If you go for an in-person reading, the reader and their client, aka you, are in close proximity. While getting up close and personal makes it easier for the reader to pick up on non-verbal cues, it doesn't make much of a difference for anything else if you're working with a great Psychic like the Psychic Advisors at PathForward. In fact, getting a psychic reading online comes with plenty of benefits you simply can't get from your typical in-person reading. Let's take a look at the benefits of talking to a psychic online:
Getting a Psychic Reading Online Is Convenient
Look, we get it. You are b-u-s-y! Between work or school, your love life, hanging out with your BFFs, making time for your family, and more, finding a way to indulge in a little self-care can sometimes feel like a monumental task. At the same time, when you're thinking about your spiritual life and those burning questions you'd bring to a Psychic, you need answers, like, yesterday.
The world is fast-paced, so getting a psychic reading online can be just what you need for peace of mind. When you're looking for direction for your future, who wants to waste precious time commuting somewhere to wait around for an appointment? Instead, you can get all the perks of in-person readings from the best Psychics online, all without leaving the comfort of your couch.
Getting a Psychic Reading Online Is Accessible
This brings us to the next benefit of the online Psychic world, unbeatable accessibility. Now that the world is set up to be able to do almost anything online, you seriously don't have to leave your home to get readings from the best Psychics. Real talk: You don't even have to leave your bedroom. As long as you have a reliable internet connection, you're ready to go. So, put on your favorite pair of cozy sweatpants, make a cup of soothing tea, and start chatting.
In fact, because online readings are so easy, these types of psychic readings are so much more accessible to so many more people. If you can't travel or you live in a rural area, you can still connect with the best Psychics. The range of options means you can always find a Psychic that's right for your needs.
Online Psychic Readings Mean Easy Scheduling
There's nothing worse than thinking you found just the right Psychic to address your questions, only to discover they're completely booked for several months. Who has time to wait for answers to tough questions? Getting a psychic reading online takes the guesswork out of scheduling appointments.
If you have a device and an internet connection, you can easily book an appointment with your fave Psychic at a time that works for you. Even better? You'll find various options for Psychics available for a phone call or chat, right here, right now. Some big decisions just can't wait, after all. At the same time, if you need to take a break, you can simply log off and start again when you're ready.
Online Psychic Readings Are Affordable
Getting a psychic reading online is often way less expensive than booking an appointment for a face-to-face reading. You'll also get to save on the cost of transportation since you don't have to figure out how to travel to your appointment. Not only are online psychic readings good for your budget, but they're also helpful if you feel uncomfortable venturing out in public or chatting with someone in-person about intimate, personal details.
Online Psychic Readings Maintain Your Privacy
If you value your privacy, or you're just not sure you want to run into that gossipy neighbor on the way to a psychic reading, you can't go wrong with a psychic reading online. Psychic sites will never reveal your personal information. Personal business stays personal, and folks you don't want to get into your business never have to know about your awesome astrology reading or Tarot session.
There's Something For Everyone
No matter your needs, you'll find the best Psychics online ready to help you out. Whether you're searching for an online psychic specializing in relationships and love, you need help making big decisions about your career, or just want a general reading to get some insight into your path and purpose in life, you'll find the exact right Psychic online.
That means you can choose a Psychic Reader that best meets your needs, even working with different Psychics on different days depending on what you want at a given time. Maybe one day you want someone with top-notch Tarot knowledge, and another day you want to find purpose with a deep dive into your birth chart. It's so easy when you get your psychic readings online.
You can look forward to the best Psychic readings online at PathForward. Ready to take control of your life? Speak with or chat with an intuitive Psychic online today!
References:
Share
Your

Thoughts

Drop a line, share your insight, and keep the convo going! Sign in or create an account to leave a comment on this content and more.
Comments