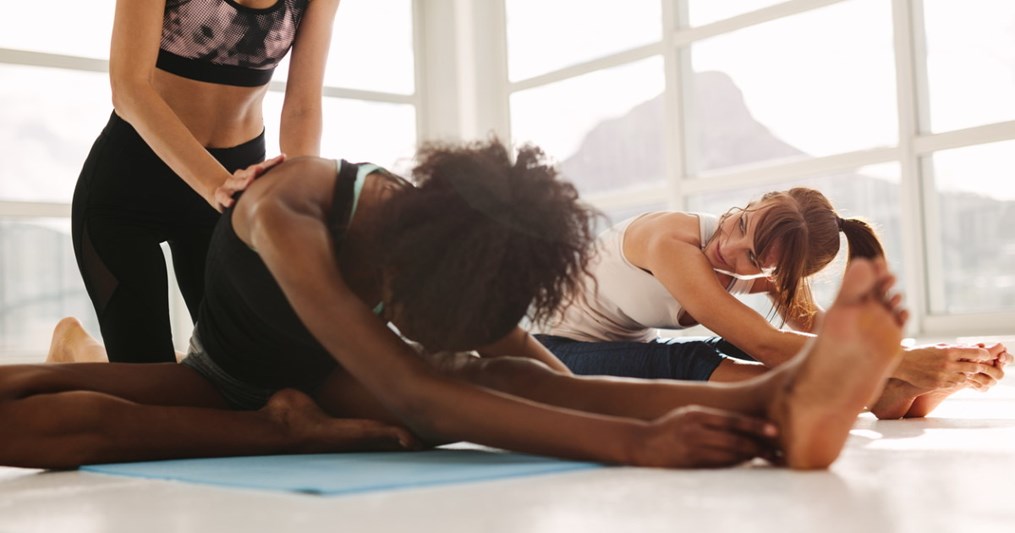 Looking to pursue a spiritual career? You can put your skills to good use as a yoga instructor.
Have you ever considered making a career of your spiritual gifts? A range of career paths exist that let you focus on the spiritual side of life, all while helping others around you. From work that focuses on physical wellness and healing roles to jobs that help others find their own right path, there's a spiritual-centric career suited to nearly any interests.
Whether you're not feeling your current career or you just know you should be working toward a greater purpose, a spiritual job could be just what you need to shake things up (in a good way!). Our Psychic Advisors can help when you're starting to seriously think about heading down the path toward a spiritual career. Here are a few spiritual careers to get you started.
Life Coaches and Spiritual Counselors
Are you the friend everyone calls when it comes time to make a big life decision? Maybe it's time to put your skills to good use and build a career as a life coach or spiritual counselor. If you're looking for a job that lets you share your journey with others so you can guide their awakening, this could very well be the right spiritual career for you.
There's no denying the need for life coaches. No matter where you turn, you're likely to run into someone who's lost their way. Turn the other way, and you'll find someone else weighed down by life's burdens. Your job as a life coach or spiritual counselor will be guiding them back to the right spiritual path. Sometimes, all it takes is a nudge from an expert to get someone back on the right path.
You do need a certification to become a life coach. Programs typically last around six weeks to ensure you gain the proper knowledge to help people in this way.
Yoga Instructors
Spiritual health doesn't stop with the mind. To fully center yourself spiritually, you'll want to train your body along with your mind to lead a healthier, happier life. There's no better way to do this than by practicing yoga, which can help your body reach its full potential. But you already know that, right? So, share your expertise and embark on a career path as a yoga instructor.
Yoga offers some amazing physical benefits — better flexibility, improved balance, and increased strength - to name only a few of the obvious perks. At the same time, yoga also helps strengthen the soul and mind through focused breathing, meditation, and more. Bonus points? If you're looking for a career that lets you build a flexible schedule, working as a yoga instructor often makes that possible.
If you're ready to make the leap from yoga practitioner to yoga instructor, you'll need to take a few steps first. Most studios will want you to be a registered instructor before you can start practicing your craft, so you'll likely want to enroll in a training program to become a yoga instructor. That said, not all studios require this, so you may be able to practice without a formal education!
Nutritionists
Nutrition takes on a spiritual aspect when you consider how the food you eat literally fuels the cycle of the mind-body connection. Eating well is essential to keeping your body happy and healthy, so intentional nutrition plays a huge role in encouraging healthy habits.
You can find nutritionists in a range of positions and settings, such as schools, hospitals, and beyond. Nutritionists may be highly specialized or work more broadly, such as working with specific patients or taking a role in a school to teach kids the importance of healthy eating habits. Those looking for a spiritual career can consider working as a holistic nutritionist, as you'll develop a fine-tuned focus on using food and diet to heal and maintain healthy bodies. Holistic nutritionists consider the person as a whole while helping them define goals and expectations.
Depending on the type of career path you want, your educational path will also vary. In general, though, you'll need to earn a bachelor's degree in dietetics or master's degree in clinical nutrition, then take part in supervised work and internships. You will also need to pass a certification exam, such as CNS (Certified Nutrition Specialist).
Crystal and Chakra Healers
You'll find plenty of folks grappling with blocked energy and the physical problems it causes, as blocked energy can lead to stress, anxiety, and physical symptoms. That's where crystal healers and chakra healers come in. If you're looking for a spiritual way to make a difference in people's lives, this is yet another path you might want to explore.
Crystal healing and chakra healing are energy-based forms of alternative medicine. As a crystal healer, you'll use various crystals and stones that can help unblock and balance energy. Chakra healing is similar, though these healers usually rely on light physical touch to identify energy imbalances. The goal of people taking part in these types of healing sessions? Achieving peace and calmness, all thanks to you, future healer!
So, where can you work as a crystal or chakra healer? And how can you become one if the path sounds interesting to you? Crystal healers typically work alone, visiting clients for each session, but you can also find some places like spas that will have healers on staff. While you won't find formal education associated with this type of spiritual career, you will find an abundance of healers willing to help you learn the craft.
If a spiritual career sounds appealing but you don't know where to start, speak with a PathForward Psychic. Our Psychics are ready to give personalized advice as you construct your unique roadmap to career success. Speaking with a Psychic is a great way to hone in on the best spiritual career choice for you.
Share
Your

Thoughts

Drop a line, share your insight, and keep the convo going! Sign in or create an account to leave a comment on this content and more.
Comments