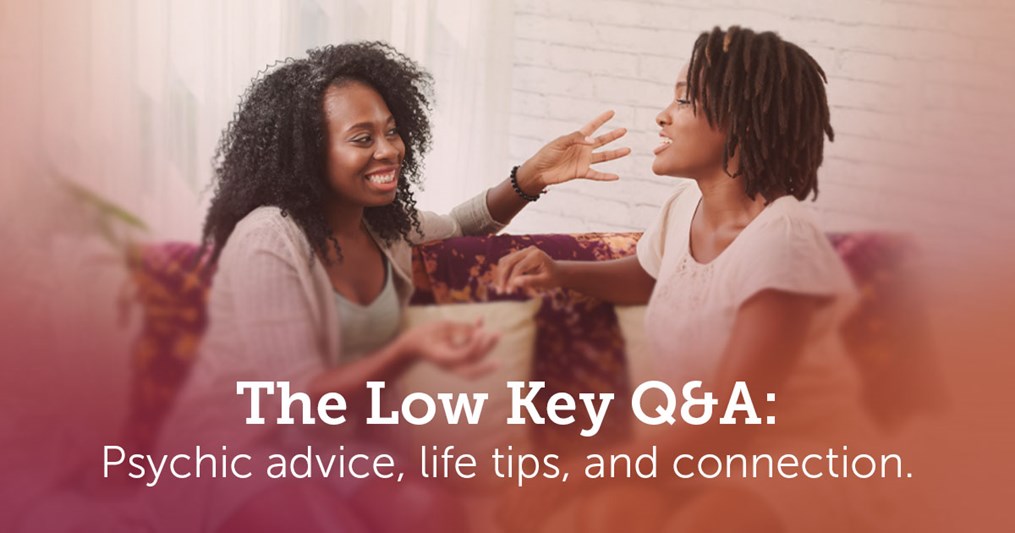 Another month, another round of YOUR questions answered by the one and only PathForward Psychic Dominique. This month, we're taking questions from people seeking new opportunities, evaluating old flames, and a getting ready to invite a new arrival to the family.
Do you have a question you'd like to have answered for FREE on a future edition of The Lowkey Q&A? Then we invite you to submit them to lowkey@vseinc.com.
Seeking Direction asks… 
"I've been wondering if now is the right time to consider a change in career, or if it's best to 'wait out' the current economic downturn. Should I chase my dreams now, or play it safe and appreciate what I have?" 
Dominique: Hi Seeking! Thanks for your question! Now is definitely a time to chase your dreams, but instead of thinking of it as "playing it safe," try "playing it smart." Hold on to the career you currently have and chase your dreams on the backend. Any free time you have at work, use it to do a little extra work on your dreams. This way, when you go home after your regular 9-5, you still have your "me-time" and you don't feel like you're exhausted from working two full-time jobs. *wink* Good luck and keep me posted! 
Complicated in Love asks… 
"I was dating a guy I met on an app for over four months. I knew that he had recently gotten out of a serious relationship, and it didn't end well. We tried to keep things casual, but we liked each other and started spending a lot of time together. He recently told me he isn't ready for a commitment and needs space. We still communicate on social media, but I think it's just causing heartbreak for me. Should I cut him off entirely or stay connected so there's potential for something in the future?" 
Dominique: Thank you for trusting me to answer such a vulnerable question, and I am sorry for the heartbreak you're feeling. So, I'm going to answer your question two ways. You shouldn't cut him off entirely, but you should take timeouts when you feel you're not getting the attention you want and deserve for self-care purposes. You shouldn't stay connected if you think there's potential for something in the future, but you should stay connected if you think/feel there's potential NOW. I hope this helps! 
Prepping for Baby asks… 
"I just found out that I am pregnant, but the father does not know yet. I know I need to tell him, but I'm just so terrified for how he'll react. Can you tell me anything about how he's going to take the news, and the best way to tell him. We've been together for about 2 years, live together but not married. He is a Cancer and I am a Leo." 
Dominique: Congratulations! I understand why you would be nervous to tell him because, as loving and protective as he is, you also know him to be a big worrywart who can worry himself into depression. Being open and warm about the news and your own fears will actually help ease his. Don't start with "We need to talk" because he will immediately freak out. Do say something along the lines of "I have some great news" or "Something special grew from our love" and then put his hand on your stomach and let the rest flow. Don't be surprised if you cry together, but it will be tears of joy and relief as you openly share your feelings and fears. All signs point to a beautiful bonding moment that will help move your relationship to a higher level. Please let us know how everything goes! 
That's it for this edition of The Lowkey Q&A. As always, we welcome your questions, just shoot us an email to lowkey@vseinc.com. Or, take it to the next level and talk one-on-one with one of our intuitive Psychics any time, any where.
Til next time, keep it Lowkey!

Psychic Dominique is a published writer and an Astrological and Spiritual Advisor who taps into her gifts to assist people on their personal journeys. She delivers insightful and motivating advice that is detailed, honest, and thoughtful.  -
Psychic Dominique x4278
Share
Your

Thoughts

Drop a line, share your insight, and keep the convo going! Sign in or create an account to leave a comment on this content and more.
Comments