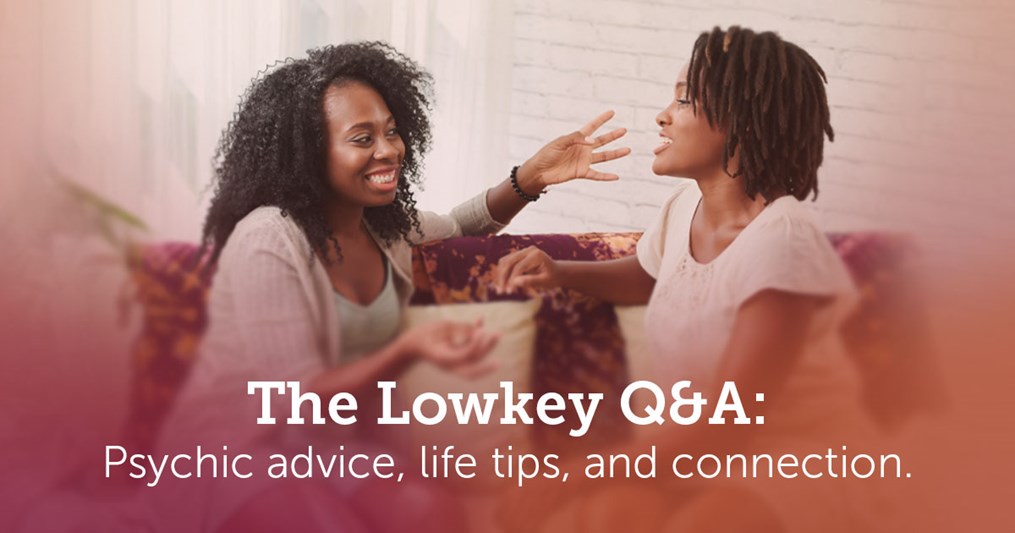 On the real, we've all got burning questions- it's no wonder PathForward is so popular! But as you know, life is busy, and other concerns take precedence, leaving many of your burning curiosities unanswered. And sometimes it might be uncomfortable bringing up these questions via live reading...that's exactly why we've created the Lowkey Q&A. In this monthly advice column, you can anonymously ask a Psychic your most pressing question and get a detailed answer for free!  
Our valued customers submitted the following questions, which were answered by the one and only PathForward Psychic Dominique. 
Money on my Mind asks… 
"I am 65 y/o and in financial trouble with a credit card company. It is very hard for me to find a job at my age. I just can't pay them back. Will this be settled soon, or will this go forward without a settlement? Also, will I find love?" 
Dominique: Hi, Money! First, I'm sorry to hear about your financial trouble. The issues with the pandemic and the economy have put many people in this position, so please don't feel like you are alone in this. Unburden yourself from the stress or paranoia as you have done all that you can do. Don't worry, but do research financial relief and assistance online for people in your age group, and your financial trouble will be resolved in due time. Regarding finding love, I hear that love is all around you, and a secret admirer will reveal themselves to you in the next few months. Let me know how it all works out! 
Troubled in Love asks… 
"Does 'Mr. K' still love me? His birthday is in the first week of June. We were together for four weeks. Does he still have feelings for me, and will I ever see him again?" 
Dominique: Hi, Troubled. I'm hearing that Ryan has some decisions to make that have delayed your reunion. One, if not both of you, is constantly being told to let it go, but you can't. Divine intervention is slowly pushing you two back together. I'm seeing a reunion in the winter months. Keep me posted! 
Just Curious asks… 
"Does everyone have a soulmate and a twin flame? What are the chances of meeting, and what are some signs to look out for?" 
Dominique: Hi! I love this question, and I actually wrote about it in one of my books, so I'm glad you asked this! Yes, everyone has a soulmate and twin flame, but what most people don't know (and tend to get confused by) is that we can have multiple soulmates but only one twin flame. To simplify, soul mates are souls that have made a pact to meet again and share time together. Some signs of such a bond or "soul contract" are feeling an immediate connection you can't explain and using phrases like "ILYAS" or "brother from another mother" or even a father figure or second mom. Twin Flame bonds feel similar, but the intent is more intense, and as Drake said, "This is not to get confused; this one's for you." Though soulmates are souls you are meant to share time and space with, twin flames are souls whom you are meant to share a purpose with. Some soul bonds could also be karmic ones, but that's a conversation for another day. 
That's a wrap for this month's Lowkey Q&A! Do you have any burning questions that you'd like our Psychics to answer?  We invite you to submit them to lowkey@vseinc.com. Or, if you're looking for a more personal way to seek clarity, you can always talk to one of our intuitive Psychics any time of the day or night! 

Psychic Dominique is a published writer and an Astrological and Spiritual Advisor who taps into her gifts to assist people on their personal journeys. She delivers insightful and motivating advice that is detailed, honest, and thoughtful.  -
Psychic Dominique x4278
Share
Your

Thoughts

Drop a line, share your insight, and keep the convo going! Sign in or create an account to leave a comment on this content and more.
Comments