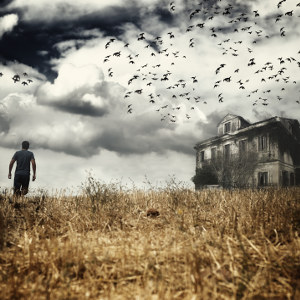 Would you visit a haunted celebrity home?
There's no certain reason that spirits decide to haunt places, but there is typically a connection between tragedy and hauntings. Several celebrities have actually reported paranormal activity in their residences. Take a look at these six famous haunted celebrity homes.
Lucille Ball's Beverly Hills Home
Lucille Ball was buried in Jamestown, New York, but the actress' spirit is still believed to haunt her home in Beverly Hills. Ball purchased the house in 1954, and she lived there until she died in 1989. The current owners of the home have reported lots of mysterious behavior, such as moving furniture, broken windows, and weird noises. The acress is also believed to haunt the Hart Building at Paramount Studios where her show I Love Lucy was filmed.
The Pickfair Estate
Silent film actress Mary Pickford and partner Douglas Fairbanks purchased a piece of property in Beverly Hills where an eerie old cabin once stood. The couple then constructed a mansion to entertain their Hollywood friends. They reported seeing the ghost of a former servant, and the subsequent owner claimed to see the ghost of Pickfair. Real psychics have reported several other paranormal activities.
Anne Rice's Rosegate Residence
Originally built in 1857 by merchant Albert Hamilton Brevard, Rosegate remains a spooky home in New Orleans. In 1989, author Anne Rice purchased the home, which became the setting for her 1990s novel The Witching Hour. Today, people say the porch is haunted by Brevard, who committed suicide in the mansion.
Nicolas Cage's LaLaurie Mansion
From 2006 to 2009, Nicolas Cage owned this haunted house in New Orleans. Legend says that in the 1830s, the home's owners abused their slaves. After the family fled the home, it remained unoccupied for several years. People reported hearing mysterious noises, such as screams, coming from the house. It's widely believed that some of the slaves still haunt the home today.
The Brentwood Home in Hollywood
Marilyn Monroe supposedly haunts several places in Hollywood and the Brentwood home is one of them. In 1962, Monroe died from a drug overdose of sleeping tablets while living in this home. It's believed that she haunts this Spanish-style residence, and her ghost occasionally appears in the exact place where the actress died.
Loretta Lynn's Hurricane Mills Home
Music star Loretta Lynn purchased her Tennessee plantation home in 1966. After living in the home for a little while, Loretta reported several eerie incidents, such as a misty figure pacing the balcony and an encounter in which a spirit attempted to forcibly remove her son's boots. The Travel Channel's Ghost Adventures even visited this Hurricane Mills home and confirmed with audio evidence that paranormal activity is present in the home.
These are just some of the most famous haunted celebrity homes, but it's not a complete list. Any place can be haunted, even your own home. If you want to learn more about paranormal activity that you've experienced, contact a psychic medium. He or she can help you communicate with distressed spirits that come in contact with you.
Share
Your

Thoughts

Drop a line, share your insight, and keep the convo going! Sign in or create an account to leave a comment on this content and more.
Comments