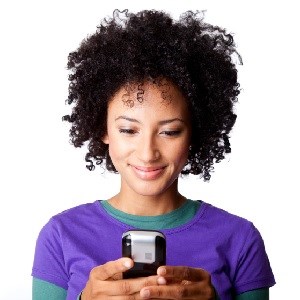 Is she meditating or playing Candy Crush? Could be either!
You may never have to see your therapist again. Sick on a Sunday morning? Don't worry about dragging yourself to church. Yoga class was cancelled? That's of no concern either. It's funny how technology has a way of fixing everything. Now, it can even assist with your spiritual and emotional well-being.

Are you familiar with Apple's catch slogan, "There's an app for that?" In this case, it's true. There are hundreds of well-received apps out there to soothe your soul and lift your spirits.

1. Insight Timer For Meditation
Insight Timer is the world's most popular meditation timer. Not only timing your meditation session, it also has authentic Tibetan bell sounds recorded from a famous meditation center. Furthermore, the app boasts a social community of mediators. This app would make for a perfect extension to your at-home daily yoga practices.

2. Eckhart Tolle Quotes For Daily Inspiration
This is an app that simply focuses on an extensive array of quotes from the Indian philosopher, Krishnamurti. With quick inspirational thoughts to live by or to guide you through your day, this app is necessary for those seeking quick spiritual uplifts.

3. Pranayama For Breathing
You'll need this if you're new to meditation practices or wishing to switch up your routine. Based on breathing patterns, it allows one to practice various breathing durations as well as difficulty levels. An aid to the most crucial aspect of meditation, this app would be an awesome breathing practice run before Insight Timer.

4. iYoga For The Essential Yoga
iYoga is a phenomenal app for yoga beginners as it features full length videos versus small clips seen in most yoga applications. One can see transitions from poses with a real life person instead of a cartoon, and each pose is standard and frequently used in the art of yoga.

5. Bible for Constant Practice
Created by LifeChurch.tv, this app allows users to download their favorite bible versions. Loaded with useful study features like reading plans, reading history, notes, bookmarks, and more, it's excellent for those practicing Christianity away from church or those who are involved in bible study groups.

6. Prayer for Support
Prayer is an app for organization of your prayers. With a prayer list, prayer wall, common prayers, inspirational quotes and more, users will find that this app is an amazing community for those who pray.

7. Psychic For Answers
Though seeing professional,
real psychics
allows for an up close and personal meeting, this app is the next best thing. With over 50 experts to choose from in topics like love, work, and family, you can get instant answers so that you may change your life around for the better.

8. iblessing for Hebrew Prayers
iblessing allows those of the Jewish religion to locate a prayer and/or blessing for any circumstance. By quickly tapping "Say a Blessing" button, a prayer is recited in both Hebrew and English.
Share
Your

Thoughts

Drop a line, share your insight, and keep the convo going! Sign in or create an account to leave a comment on this content and more.
Comments