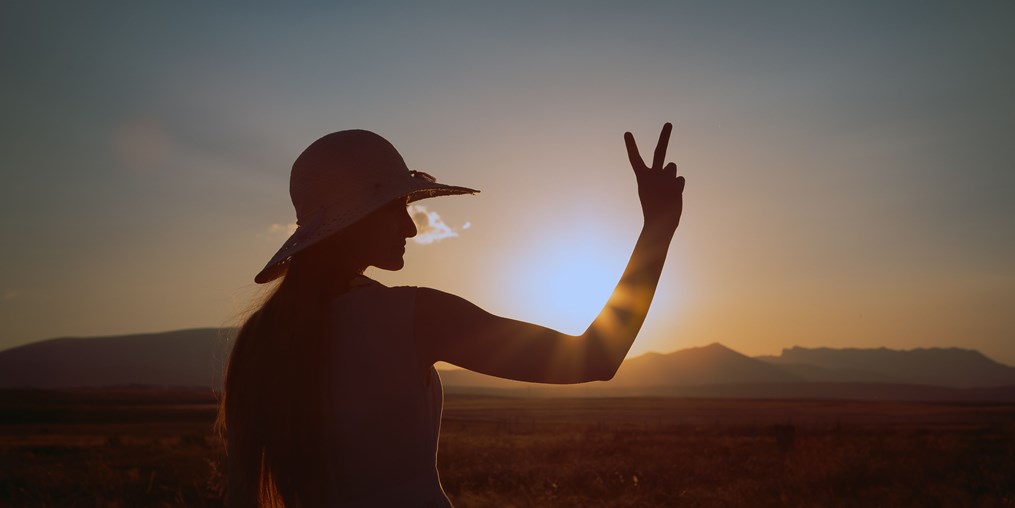 If your situation isn't serving your happiness, then change it!
Happy Women's History Month! The energy is ripe for manifesting empowerment and strength, ESPECIALLY if you're feeling stuck.  So, let's talk about life chapters. Life is like a book; when one chapter ends, another one begins. But what happens when you're stuck rereading the same pages over and over again? From toxic relationships to dead-end jobs and patterns, if you've been rehearsing limiting beliefs that prevent you from moving on, this one is for you! In proud honor of Women's History month and all the badass ladies who are ready to take a stand, here are some motivating tips for closing life chapters that no longer serve, entertain, or support your highest good. Let's start with breakups….
How to Get Over a Bad Breakup
So, you're on the other side of a breakup but having difficulty moving on. It's nothing to be ashamed of, btw! We've all been there.  Letting go of the "what ifs" is not easy, especially when you still love this person and question, "Should I leave him?" After a breakup, we often walk around with rose-colored shades on and block out all the negatives of the relationship. Take a step back and reflect. Instead of harboring guilt, anger, or regret, use this breakup experience as a lesson. It's helpful to write down your reflections so you can refer back anytime you feel insecure. For instance:
Why did the breakup happen?
What issues led up to the breakup?
What made me unhappy in this relationship?
What are the pros and cons of staying with this person?
What are the pros and cons of moving on?
Chances are, once you've made a list, you'll find that the relationship really wasn't serving you, and moving forward is, in fact, the best thing you can do for your future. This is the first step you can take to close out this chapter in your life! And don't forget, our Love, Sex, and Romance Psychics are always here to guide you forward and help you navigate your love life with confidence.
Leaving a Toxic Work Environment
Leaving a toxic work environment is undoubtedly one of the more stressful obstacles we face. Being unhappy at work, unfortunately, filters into our personal lives in so many ways. But repeat after Queen Bee and me, "This job will not break my soul!" Whether it be toxic coworkers, crappy benefits, unequal pay, or an emotional disconnect from the work, choosing to move on to new ventures is scary (but so worth it!). For women, it can be even more stressful to take a risk on a new job, especially if you have children and have previously dealt with discrimination or unequal pay. Take a deep breath! Closing a career chapter takes effort. But by taking the right steps, you can make a change! Here are some ways to get past the quiet quitting stage and get both feet out the door.
Update your LinkedIn and Open to Work status. This is such an easy win for getting noticed by recruiters and potential employers. Your LinkedIn is your resume. Showcase your work and your personality, and be upfront with what you're looking for in a role. 
Be selective with your applications. Do you know what you like and dislike in a job? Don't sell yourself short. Apply and put energy into those roles that truly interest you. Is the pay better? Does the job align with your purpose? Are the benefits to your benefit? Take all of this into consideration.
Manifest. You wouldn't be here at PathForward if you didn't believe in the power of spirituality. Manifest your dream job by journaling or speaking out exactly what you want into the universe. Be detailed as if this job is already yours.
Talk to a Career Psychic. If you are looking for guidance to leave your current work environment or want insight into a future job, contact a career Psychic here at PathForward.
Breaking Free of Limiting Beliefs
We are our own worst critics. Research says that our brains process up to 70,000 thoughts per day, and of those thoughts, 80% are negative. INSANE! Breaking through limiting beliefs is not easy when we are constantly in a mindset of "I can't" or "I'm not good enough." Look, I'm guilty of this myself. As a woman, I feel like I need to prove myself all the time in the workplace and my personal life as a mother. Sometimes we keep ourselves trapped in cycles because of these negative thoughts. Here are some ways to break free of limiting beliefs:
Recognize, Question, and Rephrase. When you're feeling doubtful, take a pause and recognize your thoughts. Are these thoughts valid? Or is it just in your own head? Rephrase your thought out loud. For instance, when you think, "I can't do this," switch up your narrative, "I am capable and worthy."
Mantras and Affirmations. Start your day by choosing a positive statement or word and stick with it whenever you feel insecure. For example, "I am powerful, strong, and getting better every day." For more on mantras and positive affirmations, check out our 8-Week Positive Intentions series for boosting self-love and care.
Self-Care and Love. Just remember to love yourself, especially when you're navigating through stress. Don't stop doing the things that make you feel good. Reading a book and exercising is how I destress; it helps clear my mind.
Get a Psychic Reading
If you're feeling stuck and need help closing out a never-ending chapter, contact a pro Psychic here at PathForward. Sometimes a little life advice from an intuitive point of view is the confidence boost you need to walk away from people, places, or things that no longer serve your highest good.
I hope you continue reading, writing, and editing your life story. Don't let anyone or anything hold you back from achieving your goals. You got this.
Girl Power! Xo.
Read more articles by Your PathForward Blogger Samantha.

"If you're feeling inspired, I recommend chatting with a Psychic who specializes in this area of expertise. And remember, YOU are smart, strong, and capable of anything you set your mind to!" –
Your PathForward Blogger Samantha
Share
Your

Thoughts

Drop a line, share your insight, and keep the convo going! Sign in or create an account to leave a comment on this content and more.
Comments