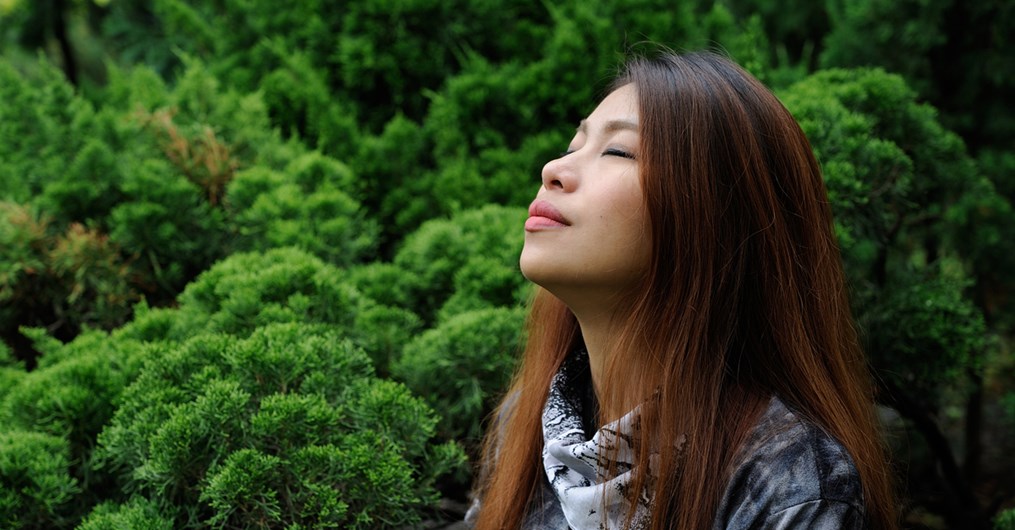 Spring calls us to renew our souls as it renews our world.
The Spring Equinox has blessed us with an ideal time for release and renewal. If you're a spiritually-driven woman like me, then you also walk into this new season full of excitement and curiosity. Spring intuitively feels like an opportunity to clean out what is weighing us down mentally, emotionally, and even physically. With the days getting warmer and the nights being longer, why not use this time to get intentional about some soul cleansing? 
Soul cleansing may sound very hippie-dippy and slightly intimidating to dive into, but it can be as simple as your spirit yearns for it to be. Soul cleansing is about releasing what your soul no longer needs with intention. From time to time, it's important to get spiritually lighter because everything is a vibration. That includes what we eat, listen to, read, touch, and even what we feel. 
As BIPOC (Black Indigenous People of Color) women, it's important to remember just how much our souls can be overburdened with the level of racism via microaggressions and overtly, which we experience constantly. Naturally, we can only handle so much before reaching a breaking point, even if it's just spiritually, as we continue to go through the motions and be the "strong one" for our family, friends, and colleagues. Mindful cleansing lightens your soul's load, and doing so periodically will keep your chakras (the energy centers of your body), authentic desires, and mind in alignment. 
Navigating 2021 as a woman of color with instances of continued acts of violence, both emotional and physical, against us has proven challenging. We are not living in a stable society any more than we were a year ago as the pandemic became our new normal. As a collective, we are still in pain while trying to be activists, career women, caretakers, and informed citizens. We give new meaning to being multi-dimensional because we have to. The entire global village is counting on us for survival. 
In thinking of our own survival, we are faced with mounting setbacks. The Bureau of Labor recently cited that Black women and Latinas have been impacted by the pandemic the most socially and economically. Fighting to stay above water in an all too often uncompassionate world can leave us feeling depleted. 
Even as of late, with the recent rise of anti-Asian hate crimes, most notably the Atlanta murders on March 16th of 6 Asian women targeted by a white supremacist, can leave all women of color feeling unprotected, full of anxiety, and in deep need of soul cleansing. 
While Women's History Month is designed to highlight the power of pioneering women and everyday heroines, we are still battling extreme financial inequities compared to men and gendered violence at rising levels. The pandemic has seen a spike in women seeking refuge from abusive partners, and Black women and Latinas make on average 35% less than White men and roughly $15,000 less than White Women per annual income. Granted, women of color, particularly Black women, are accustomed to making do with far less, which doesn't excuse the need to practice radical self-care. When we pour into ourselves, we nourish our soul and create the energetic space for more healing and abundance, even in the smallest of ways. Essentially, we have to become more comfortable being the heroines in our own lives to best meet the demands that are unfairly put upon us. 
According to Black psychologist Gail Parker Ph.D., who specializes in yoga therapy for race-based trauma, "racial stress is a cumulative experience that is often magnified by the lack of opportunity to recover before the next experience, causing it to become chronic." With that in mind, from a leading researcher, it truly puts into perspective just how crucial and nourishing soul-cleansing can be for women of color. 
To chart the soul-cleansing waters this Spring, read on for six ideas that may resonate with your spirit.
 
1. DIGITALLY DISCONNECT
Do a social media and electronic devices detox for a set period of time, such as for a long weekend or even during a seven-day challenge. Keep your phone out of the bedroom before bed, and be mindful of what you watch and listen to. If you feel that it harms your soul, then eliminate it from your daily intake and make note of how much lighter you feel spiritually afterward. 
2. WASH YOUR FLOORS WITH FLORIDA WATER
Spring is ideal for cleaning your environment down to the roots. Spiritualists have used herbal Florida water for generations to clean out any harmful energies that may be lingering in the home. 
3. TAKE WEEKLY DETOX BATHS
The skin is your largest organ and deserves to be nourished as often as possible. Detox baths are immensely soul-cleansing because they detox your skin with a purpose. We hold so much tension and trauma in our bodies. Baths full of sea salts, organic florals, and essential oils can help release the trauma we have stored up in our spirit. 
4. START A NEW JOURNALISM PRACTICE
Try tarot journaling, bullet journaling, morning pages, freewriting, or scripting. Writing is cathartic, kinetic, and full of energetic magic. It's a quick way to start cleansing your soul after the Spring Equinox. Writing to release leads to writing that heals. 
5. MAKE NATURE A PRIORITY
With warmer climates becoming a mainstay, stepping outside daily to connect to nature can be a therapeutic way to cleanse your soul. That can look like daily walks after a long day, making your way to a beach to allow ocean water to wash over your body, doing yoga by moonlight, or meditating under trees. Spending time in nature has been proven to ease stress and anxiety while providing vital for the soul natural vitamin D. 
6. BOOK A SESSION WITH A SPIRITUAL PSYCHIC ADVISOR
Spring is about new beginnings and gaining clarity around the journey ahead. When we have clarity on our desires and path, our own intuition strengthens over time. At PathForward, our dedicated team of primarily women and women of color, spiritual Psychic Advisors, pride themselves on being able to hold space for you emotionally and spiritually during your time together. The 5-star reviews that they receive are an authentic snapshot of the care they put into each connection they make. 

In closing, Spring is here, and your soul is more likely craving intentional cleansing. The world is chaotic and often unsupportive of our needs as Black women and other women of color. 
However, there is no reason that we shouldn't be nourishing our souls with intention and radical self-care. Use the ideas above to inspire you to take spirited action this month because you deserve spiritual TLC. 
To book a session with one of our spiritual psychic advisors where the first three minutes are free, CLICK HERE. Your soul will thank you for it :-)  
Until next month, take deep care! 
Sincerely, 
CJ Johnson

"I'm a writer with a fascination for plant medicine and a passion for social justice, spirituality, and holistic wellness. Tarot journaling and chocolate donuts keep me balanced. I'm based in Texas and dream of living near a salty ocean with my ancestors to keep me company."- CJ Johnson
Share
Your

Thoughts

Drop a line, share your insight, and keep the convo going! Sign in or create an account to leave a comment on this content and more.
Comments