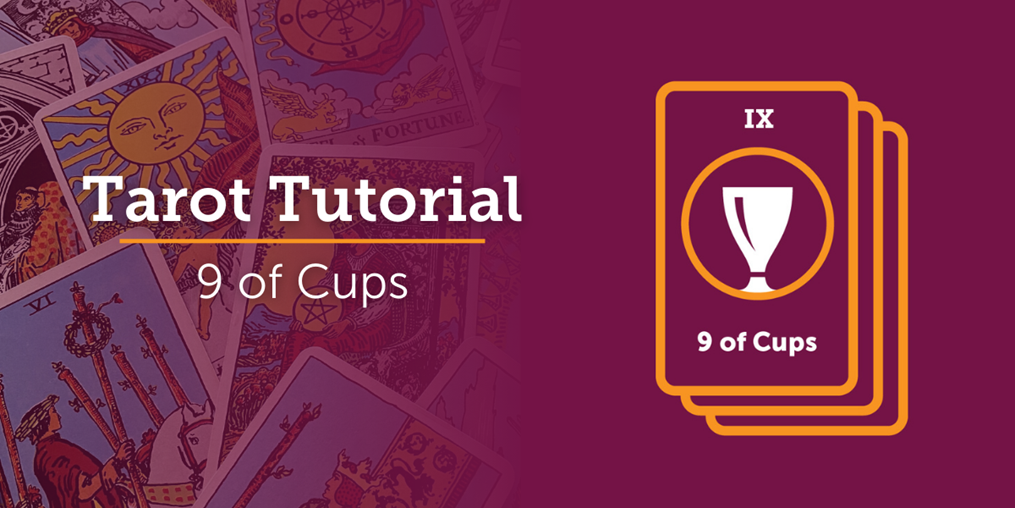 What is the meaning of the 9 of Cups? Read on to find out...
This is one minor arcana card that can mean major good news for you! Sometimes known as the "wish card", the Nine of Cups is one of those cards that you pretty much always love to see turn up in a reading. With a vibe similar to another super-positive card, The Star, the classic meaning of this card can usually be summed up as "your wish is granted". Who doesn't love that? Of course, we've all heard warnings to be careful what you wish for, but if this card is upright, and all the surrounding cards look good, then expect wonderful things to come your way.
What is the Meaning of the Nine of Cups in a Love Reading?
Single and looking for Mr./Ms. Right? Seeing the Nine of Cups show up in a love reading means that your dream meet-cute is about to be a reality. This new relationship will be everything you always wanted. You'll be in-synch with your boo right from the start. If you are already in a relationship, expect a change that has you and your partner understanding each other better, especially if you've been feeling disconnected. Your partner may have an epiphany that helps them see things your way too.
The outlook for your love life still looks good when the Nine of Cups turns up in a position representing you. Though you may find that you get a hand from someone playing fairy godmother to get you to find the prince/ princess of your dreams. Accept the help that comes your way—your love life will thank you for it!
When the Nine of Cups turns up reversed in a love reading, you may be involved in a relationship that is too good to be true. Watch out for signs that you may be a victim of love bombing or other behavior straight out of the "Oh No! I'm Dating a Narcissist!" handbook. Picking out the truth from the lies will be a challenge. It's a good idea to take a step back from the relationship to get your head clear. Don't be surprised if that temporary break turns into a permanent one depending on what you learn about yourself and/or the relationship.
What is the Meaning of the Nine of Cups in a Future Reading?
Congrats! If the Nine of Cups appears in a future reading, you'll be getting something you've been hoping for very soon. It can also point to the achievement of a long-term goal. There could be an actual party or other sort of celebration to mark the occasion too. Additionally, the Nine of Cups could represent the idea of something luxurious coming into your life. When it happens, don't forget to thank the Universe for your blessings. Gratitude helps prime the pump for more good things to manifest into your life.
When the Nine of Cups comes into a position repping you in a future reading it could be a sign to treat yourself a little. Indulging in a little luxury doesn't have to break the bank and might be just what you need to lift your spirit and be able to manifest something amazing. Gratitude is important here too.
If the Nine of Cups came up reversed in a future reading it could mean that someone needs to rope in their hedonistic tendencies. If you see the Devil card showing up in the same reading, the person may have zoomed past over-indulging and gone straight up to addiction. Either way, it's time for some serious soul searching and see if all this extra behavior isn't a cover up for some deeper issue. And yeah bestie, if you know you're the one who has been throwing themselves into partying/ over-spending/ over-drinking/ etc. you need to figure your -ish out before you do something you'll seriously regret later.
What is the Meaning of the Nine of Cups in a Career Reading?
Did someone say dream job? When the Nine of Cups turns up in a career reading that perfect job is open for you to waltz right in and claim it. Even though the suit of cups is mostly linked to emotions, the Nine of Cups is strongly linked to material pleasures and rewards. Don't be surprised if this new job comes with some extra Benjamins and some sweet perks.
It's not too much different if the Nine of Cups shows up in a position specifically representing you in a career reading. But it could indicate that you need to do your part to land that dream job. After all, you aren't going to get a job you never applied for. Know your worth and aim high for that dream job. Yes, even if you think it's a long shot. You might be surprised by the good things the Universe has in store for you.
The energy of the Nine of Cups reversed in a career reading usually feels smug and entitled. This could describe a coworker, boss—or maybe even the whole work environment. While it's not the most toxic situation, being around that kind of energy regularly can be draining. Make sure to leave the low vibe ick at the office (maybe keep some black tourmaline on your desk). Alternatively, it could also mean that you are your biggest obstacle to getting your dream job. Check out the surrounding cards and see what you can do to get out of your own way.
Still wondering what blessings might manifest themselves when the Nine of Cups shows up in a reading? We gotchu! Our tarot experts have got the skills to go deep when you need answers about love, career, or any thing else that's been weighing on your mind. See how their insight can have you moving in the right direction to manifest the life of your dreams.
Share
Your

Thoughts

Drop a line, share your insight, and keep the convo going! Sign in or create an account to leave a comment on this content and more.
Comments