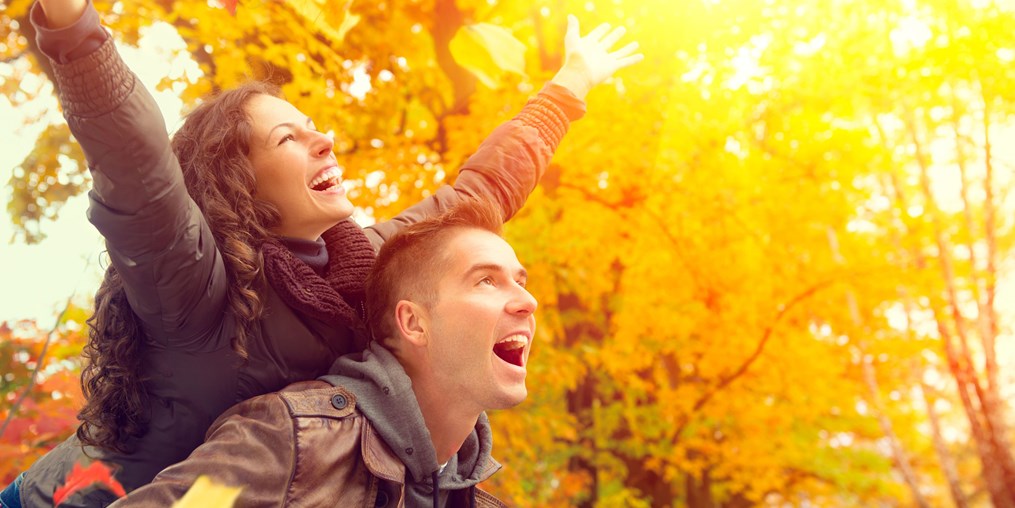 Get out and get active with these fall activities for each Zodiac sign.
Cool, crisp nights, pumpkin spice, and the aroma of fireplaces fill the air. It's fall! Sweater weather is my absolute favorite season of all. Like the fallen leaves, autumn symbolizes the death of old grievances and rebirth. Not only that, but it's such a cozy, feel-good time of year where you can partake in all kinds of fall activities and fall crafts to warm your soul. And you can even keep the stars in mind and choose fall festivities or cute date ideas according to your zodiac sign. Ready to have some fun?
Aries Fall Activities
Aries, you've probably already googled festive fall ideas and likely had a go at the corn maze at your local farm. You like doing things and going places. Have you ever been to Salem, Massachusetts? With a rich history of witches and haunts, Halloween is a spectacular time to visit this hot spot! Not only will you get your travel fix in, but you'll also learn a new thing or two. Sleepy Hollow in New York is also worth exploring and is gorgeous in the fall.
If you're dating an Aries, they'll love a little physical activity…hey, now! A Halloween or fall-themed outdoor 5k or organized walk would be a blast. After your sweat sesh, follow up with a boozy pumpkin pancake brunch or a nice meal outdoors.
Taurus Fall Activities
You like the finer things in life, Taurus. If I had to guess, your home decorating game is on point! Aside from decking out your home with the cutest fall décor, a fun fall craft you need to try is painting your own gourds. Visit your local farmers market and pick out a few gourds for a DIY table centerpiece. Grab some paint and get inspo online for artistic ideas.
If you can invigorate the senses of a Taurus, you can bet on a second date! Take your boo to a custom scent and candle-making workshop. This fall craft is super fun, thoughtful, and a great way to bond with your love.
Gemini Fall Activites
Do you like to read? Take a trip to a vintage bookshop and explore away. Pick out a new book or explore the spooky section and see what pops out - AH! Afterward, hit up a coffee shop and order a pumpkin spice latte or a warm festive drink. Cozy up in your fave corner or a spot with a scenic view and get lost in your book. Self-care for fall is calling!
Sights, smells, and delish food is a perfect fall date for a Gemini. Is there a fall farm festival or harvest event nearby? From wagon rides to haunted attractions and apple cider donuts by a warm fire, take your date on a festive outing and enjoy the feel-good vibes and company.
Cancer Fall Activities
Are you a passionate foodie? Cancers can't resist a yummy homecooked meal or a homemade pie. How about an apple pie? Yum! Skip the grocery store and hit up a beautiful apple orchard. Bring your bestie, enjoy a day of apple picking, and then bake your family (or yourself!) a fresh farm-to-table apple pie. *Chef's kiss*  
Charm the pants off your Cancer date with a guided horseback riding excursion. Being in nature, the fall foliage, and the thrill of riding horseback will bring you and your Cancer boo closer together. Not to mention, it's just so romantic!
Leo Fall Activities
Cheers, Leo! Have some zodiac fun at Oktoberfest! Eat, drink, and be merry among friends and folks who are just looking for a good time and enjoy the celebration of Bavarian culture. You won't regret dressing the part and participating in all the singing, dancing, and fairs.
Does your Leo boo love football? Or maybe they'd prefer a tailgate. There's nothing more fun than game day. If it's accessible to you, take your Leo date to a game and enjoy a tailgate before kickoff. You can DIY or find a group that offers a tailgate party. And if going out isn't in the cards, create a fun game day ambiance in your living room with yummy apps and games to break the ice.
Virgo Fall Activities
You love nature, Virgo. So, get outside! Plan a hike or a walk with your loved ones and enjoy the beautiful weather and colors of the changing leaves. If you have the space, you could start planting seeds for a winter garden. Go online for ideas and winter garden inspiration!
A cozy and romantic date idea for your Virgo boo would be taking a trip to a botanical garden. If you're on the east coast, check out Longwood Gardens. You can take your Virgo anyplace that's mentally stimulating as they love to let their intellectual side shine.
Libra Fall Activities
You want to be where the beautiful things and people are, Libra! Is there a quaint little town in the area that fully embraces the fall ambiance? Take a stroll and window shop. Or partake in a fun fall activity such as a festival.
Does your Libra lover like a little thrill? Take your date to a scary drive-in movie for a night of Halloween screams. They'll love the thought and the old-school romantic date night vibe.
Scorpio Fall Activities
You enjoy keeping it chill, Scorpio. Do you also enjoy wine? Yum. A bottle of white, a bottle of red! Visit a winery with your friends and relax outdoors with some good drinks, company, and conversation.
You know your Scorpio has a little naughty dark side, right? Meow! This sign thrives in the fall and loves a good Halloween theme. Check out a haunted house or stay in with some popcorn and a horror flick.
Sagittarius Fall Activities
Bonfires, pumpkin patches, wagon rides, and farm visits…anywhere outdoors will do your soul good in the fall season. You love to explore and be a little spontaneous. You also can't resist a road trip! Take a drive somewhere new and take the scenic route.
A Sagittarius loves a little thrill and entertainment! Take your date on an adventure, like a biking excursion or to see a play. Your date doesn't have to be extravagant, have some fun and enjoy quality bonding time engaging in activities you'd enjoy together.
Capricorn Fall Activities
Love a challenge? Of course, you do! You're a Capricorn. And you got mad skills. That's why a corn maze would be a ton of fun. Bring your crew and have a friendly competition to see who can exit the maze first. Loser buys a round of spiked apple cider – cheers!
Want to woo your Capricorn boo? An escape room would be a blast! You can even find a spooky themed room to compliment the fall vibe. Have fun working together to escape the room, and maybe add a little competitive element to the thrill. Who found the most clues? The winner gets a kiss (or two).
Aquarius Fall Activities
You have a cute nerdy side to you, Aquarius! Are you into science? There are some fantastic exhibits that open in the fall. From art shows to museum specials and spooky science halls, grab some tickets, take your bestie, and live your best life! Oh, and don't forget to take a few selfies as you go!
Need a date idea for your Aquarian? Take your babe to a costume party! Their eccentric and outgoing side will love dressing up and being among the party people. You can even challenge your Aquarius to make their own costume – guarantee their costume will win the prize!
Pisces Fall Activities
You thrive outdoors, especially around the water, and now is one of the most beautiful and enchanting times of year to get out there! Take a nature hike to a waterfall or a trip to the coast. It doesn't have to be summertime to enjoy the water.
What's more romantic than a canoe or kayak ride on a lake? How about a lake surrounded by fall foliage? Take your water-loving Pisces on a water excursion and enjoy nature's beautiful sights and sounds.
Get an Astrology Reading
So much zodiac fun! Did you enjoy this read? I hope so! Have you ever had a zodiac reading before? Get connected with an Expert Astrologer here at PathForward and see what the new season has in store for you.
Happy Fall, Y'all!
Samantha
Read more articles by Your PathForward Blogger Samantha.

"If you're feeling inspired, I recommend chatting with a Psychic who specializes in this area of expertise. And remember, YOU are smart, strong, and capable of anything you set your mind to!" – Your PathForward Blogger Samantha
Share
Your

Thoughts

Drop a line, share your insight, and keep the convo going! Sign in or create an account to leave a comment on this content and more.
Comments