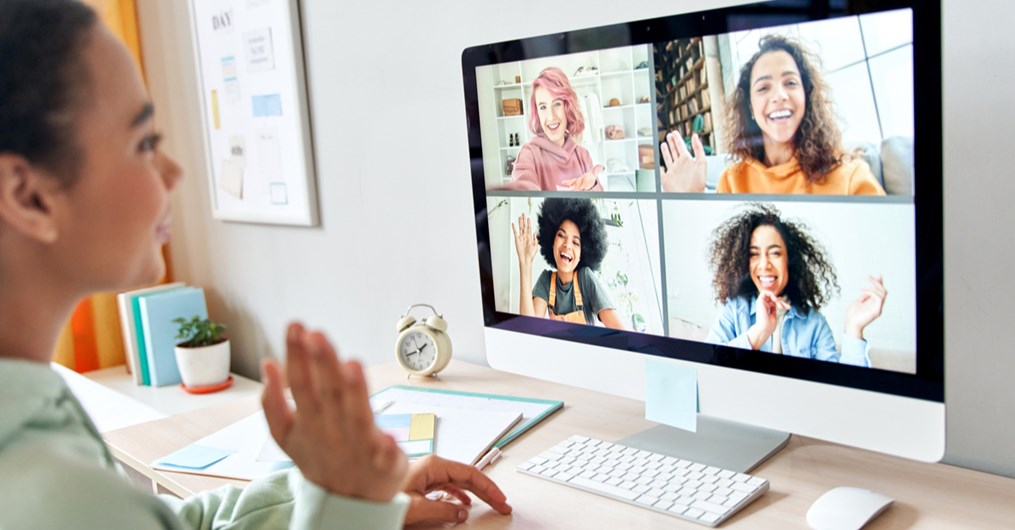 Nothing beats a face-to-face, but a virtual hangout is a great alternative!
Let's toast to our fave girls this Galentine's Day! What's Galentine's Day, you ask? Well, allow me to fill you in. Every year, on February 13th, the calendar has a special day for just us gals to come together and celebrate our love and appreciation for one another regardless of your relationship status. So, whether you're single AF or committed, you can still celebrate the season of love with your besties!
This year, thanks to COVID, our social lives have taken a hit, making getting together with our friends straight-up complicated. But you can still celebrate Galentine's Day at a distance with your crew with my top 3 COVID safe gathering ideas. So, kick back, fill up a glass of wine and let's drink up, I mean, dive in.
Virtual Happy Hour
We've all been in quarantine long enough to know what a virtual happy hour is. I get it. But there are ways to level up your virtual sip sesh with your girls! First, you'll need to pick a platform to connect. Zoom, Google Duo, and FaceTime are all great, but there are other apps out, such as HouseParty, that offer games and entertainment to boost your virtual experience vibe. Second, why not get dressed up (GASP!) for the occasion? IDK about you, but as much as I love my yoga pants, I long for the days when I wore makeup and actually dressed like a 32-year-old woman. Putting on an outfit other than the pair of sweats you've been rocking for the past 11+ months will boost your confidence and have you feeling oh-so-good!
And last but def not least, if you are living in a blended family environment or have children, schedule your virtual happy hour in a quiet space free from distraction. We all need social interaction outside of the household, so don't feel bad sending the kids to bed early or asking your boo to watch a movie alone while you enjoy your much-needed girl time!
Party in the Driveway
Are the ladies local? Save yourself the screen time and get together with your crew while keeping 6-feet apart. I love a good driveway hangout because it gets me out of the house and provides face-to-face interaction that feels somewhat normal. If you live in a colder climate, I suggest turning your car into a cozy hangout space by bringing your fave snacks, non-alcoholic drinks, and a killer playlist. Otherwise, grab a beach chair and all the essentials you need to kick-back and make memories on the pavement with your girls for a few hours.
Take a Hike 
If you could use a little exercise, fresh air, and activity other than Netflix, mask up and take a hike or walk with your girl gang! One of the plus sides of COVID is that I've been able to get outdoors more and appreciate the beautiful parks and trails that are practically in my backyard that I never knew existed. If you've got a smaller group of girlfriends, hiking is a fabulous option for seeing one another this Galentine's Day. You can even pack up your own lunch and have a picnic with your girls along the way.
Final Thoughts
Times are tough, but we don't have to hit the pause button completely on our social lives. With a little extra effort and planning, you can still safely celebrate Galentine's Day with your fave girls and make lasting memories! If you need a little more guidance or have questions about your friendships, I suggest talking to an intuitive Psychic for even more inspiration and insight. And to all the ladies out there, have a Happy Galentine's Day!
Read more articles by Your PathForward Blogger Samantha.

"If you're feeling inspired, I recommend chatting with a Psychic who specializes in this area of expertise. And remember, YOU are smart, strong, and capable of anything you set your mind to!" – Your PathForward Blogger Samantha
Share
Your

Thoughts

Drop a line, share your insight, and keep the convo going! Sign in or create an account to leave a comment on this content and more.
Comments