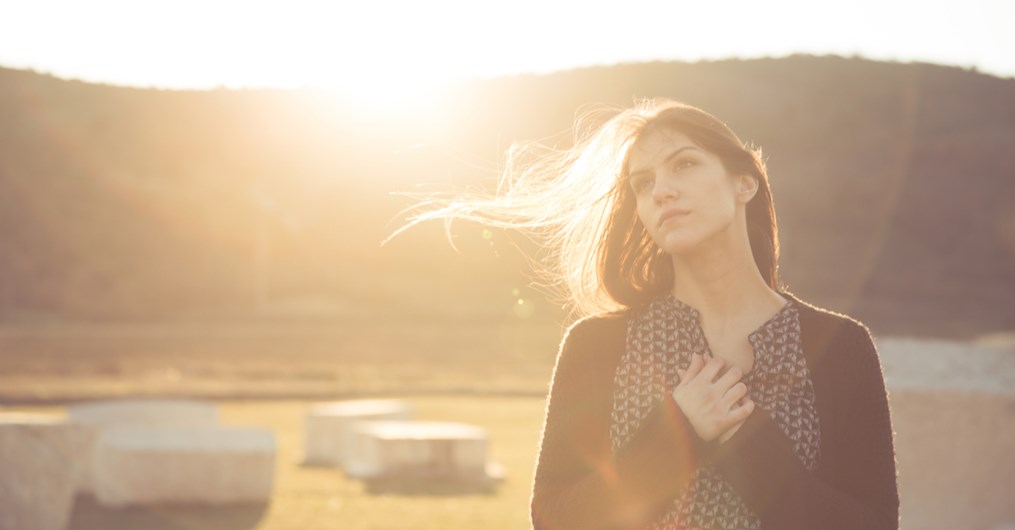 Not all spirits mean us harm! In fact many just wish to offer comfort and guidance.
Disclaimer: this is not a scary ghost story – it's a happy one!
I was mourning the loss of my grandfather. We were super close. He was a badass Korean War Vet, Purple Heart Marine that was hit in the head with a grenade on the line of duty that left permanent shrapnel in his brain. As he grew older, his injury impacted his sense of balance, so he decided to get a doctor recommended brain surgery to correct his equilibrium. Sadly, the surgery failed, his condition deteriorated, and he passed away.
When my grandfather crossed over, I was in my junior year of college and had just broken up with my boyfriend of 4+ years. Mentally, I was not in a good place. Between grieving the loss of my pa, the failure of my relationship, and feeling overwhelmed at school, I was at an all-time low. During this dark time, I was isolated in my grief. I was living 3-hours away from home and surrounded by people who were focused on college parties and having fun. I didn't have the support of a Psychic Medium to help me find peace with my loss – I wish I knew then what I know now!
My Contact with Spirit
Yep, it's true. A spirit legitimately hugged/spooned me. At the time, I was living in a historic apartment in downtown Bloomsburg, PA with three roommates. Two of the girls went home for the weekend, and the other, who's one of my best friends, went out to party - as college kids do on a Friday night. I was home alone, deep in my grief, and laid down to cry myself to sleep.
The next thing I remember, I was woken up to someone getting in bed and wrapping their arms around me. It was deeply comforting, peaceful, and I had the thought in my head that everything was going to be ok. It reminded me of my childhood and how my mother would soothe me back to sleep after a scary dream. At the time, I assumed that it was my friend coming in to comfort me after her night out – because who else would it have been? I didn't bother to ask questions or turn around to see who it was. I felt safe in their arms and fell back asleep.
The following day, I thanked my friend for being there for me. Except she had no idea what I was talking about. She looked at me like I was cray. She told me she had spent the night out at her boyfriend's. Turns out I was alone all night - or was I? This experience was not a dream. It was real physical touch and I'll never forget it.
Grieving Opens the Door to The Spirit World
I'm not sure who came to visit me that night. Was it an angel, a spirit guide, or a real ghost? Or perhaps it was my grandfather. Either way, a spirit from the other side helped me through my pain. And over the years, I've found that contact with spirit occurs when I'm going through tough times. So, when I'm feeling down, I ask my guardian angels to look after me and send love to nurture my heart and soul.
Just recently, my Bubby passed away. I was in bed (the bedroom really is where the magic happens!) thinking about her as I was doing my nightly social media scroll. I was going through my FB memories and clicked on a random, uninteresting status update I had posted 6 years ago. And within the comments, there was a comment left by my Bubby that read – "Samantha, love you, your Bub." Coincidence or validation she was there with me? I'm going with the latter.
If you're mourning the loss of a loved one or interested in connecting with a spirit who crossed over, there is an excellent (and feel good!) blog post written by PathForward Psychic Medium Christine about safely communicating with our past loved ones  - check it out!
Meet Your Angels Through Mediumship
Do you have a real ghost story to tell? Or maybe you've had a similar experience? I suggest getting in contact with a Psychic Medium. They can dive into your experience and help you find the answers you've been looking for.
I believe that our departed loved ones want us to be happy, and if you're open to receive, you too can connect to the other side as I did. 
With love, 
Samantha  
Read more articles by Your PathForward Blogger Samantha.

"If you're feeling inspired, I recommend chatting with a Psychic who specializes in this area of expertise. And remember, YOU are smart, strong, and capable of anything you set your mind to!" – Your PathForward Blogger Samantha
Share
Your

Thoughts

Drop a line, share your insight, and keep the convo going! Sign in or create an account to leave a comment on this content and more.
Comments