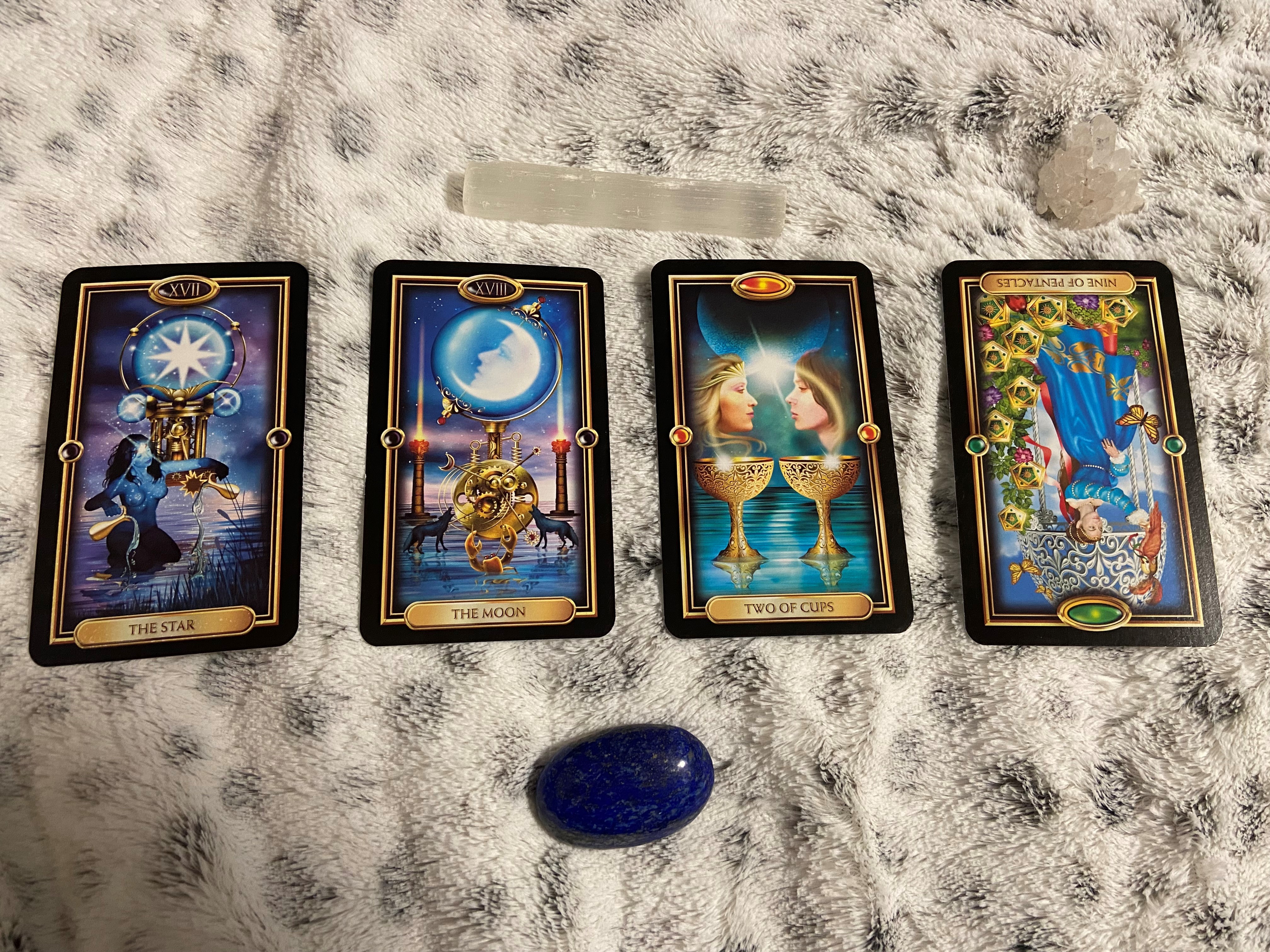 Happy New Year, my friends! I know it sounds cliché, but if there ever was a time to do some deep self-reflection, it's now. What did you achieve in 2022? Give yourself some space to think about your accomplishments (big or small) and the events that shaped your growth (good or bad) over the past year. You can gain so much learning about your life just by taking notice. Bad breakup? Maybe you feel lighter and realize this person was actually holding you back. New job? You might notice patterns in your career path. And moments that made you question everything might start to make sense for you.
Are you curious about what 2023 holds? Although I'm no PathForward Psychic, I do know how to pull and interpret the meaning of tarot cards. So, with you in mind, I pulled a 4 card spread for the new year. Let's see what the cards have to say…
The Star
First of all, wow. The first card I pulled was The Star which is soo spot on for a new year's reading. It's interesting because, in last year's blog post that I wrote, The Star was one of the cards I had pulled. Hmmm. Is this a sign from the universe? I'll take it! The Star tarot is like the calm after a big storm. Maybe 2022 wasn't your best year. This card signifies that things will improve, but you need to have faith.  It's an excellent time to release and ride the wave of forward momentum. New year, new you? Or maybe you are just a more experienced and wiser version of yourself.
The Moon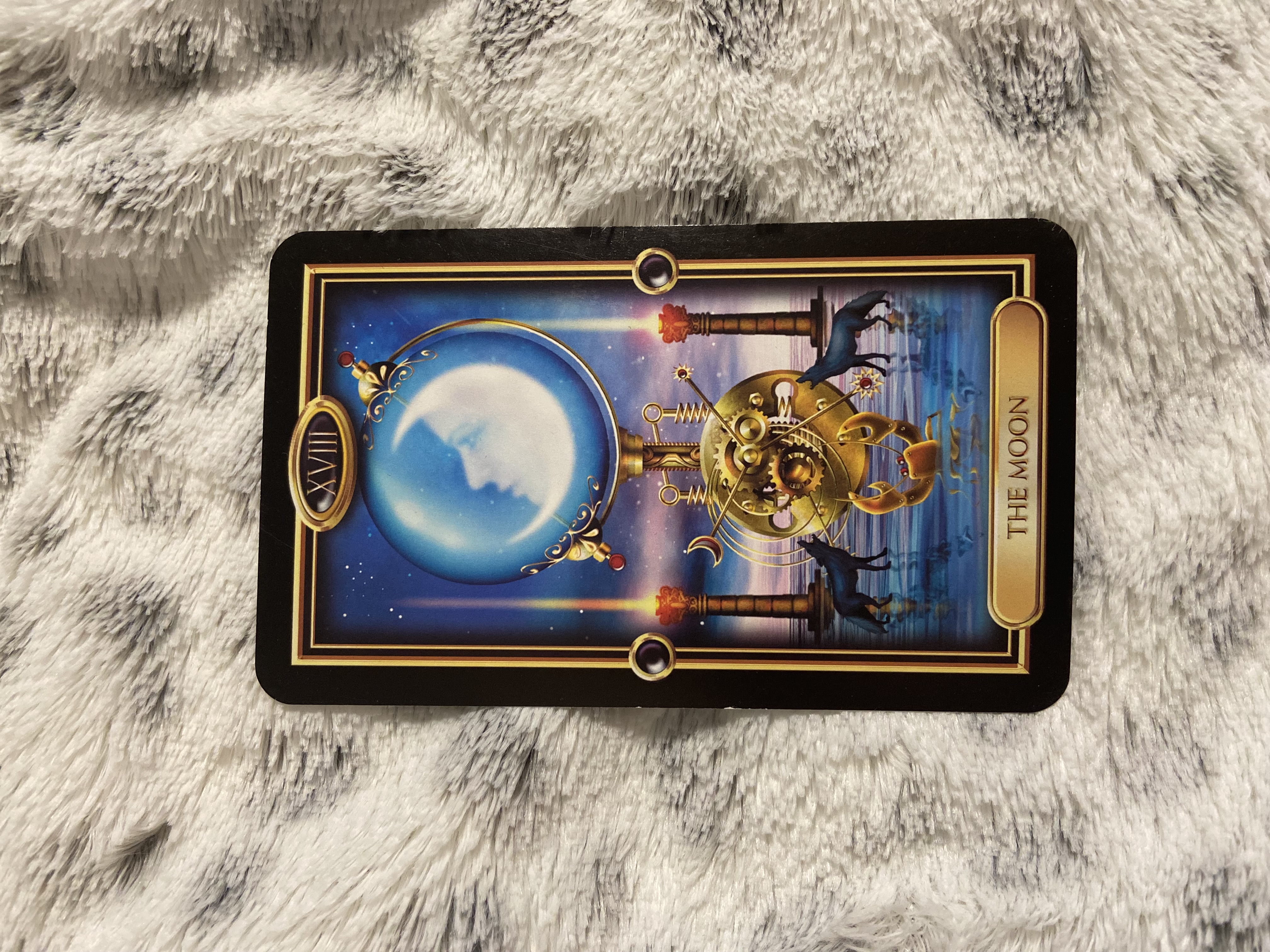 We've got an astrological theme going on here, and I'm not mad about it. I'm loving the vibe of The Moon for this 4 card tarot reading! There are many different interpretations of The Moon tarot card. For one, The Moon casts light on secrets and mysteries in your life. Maybe you feel as if someone in your life is keeping something from you. This card represents the unveiling of the truth. And this truth will set you free, so you can enter 2023 without the worry of uncertainty that has held you back. If this doesn't resonate, The Moon also speaks to your spiritual side. If opening your psychic gifts is something you wish to explore in the new year, pay close attention to your intuition and your dreams. I suggest keeping a dream journal at your bedside and jotting down anything that makes you say, "hmm???" Your higher self is calling out. It's up to you to listen and take action.
2 of Cups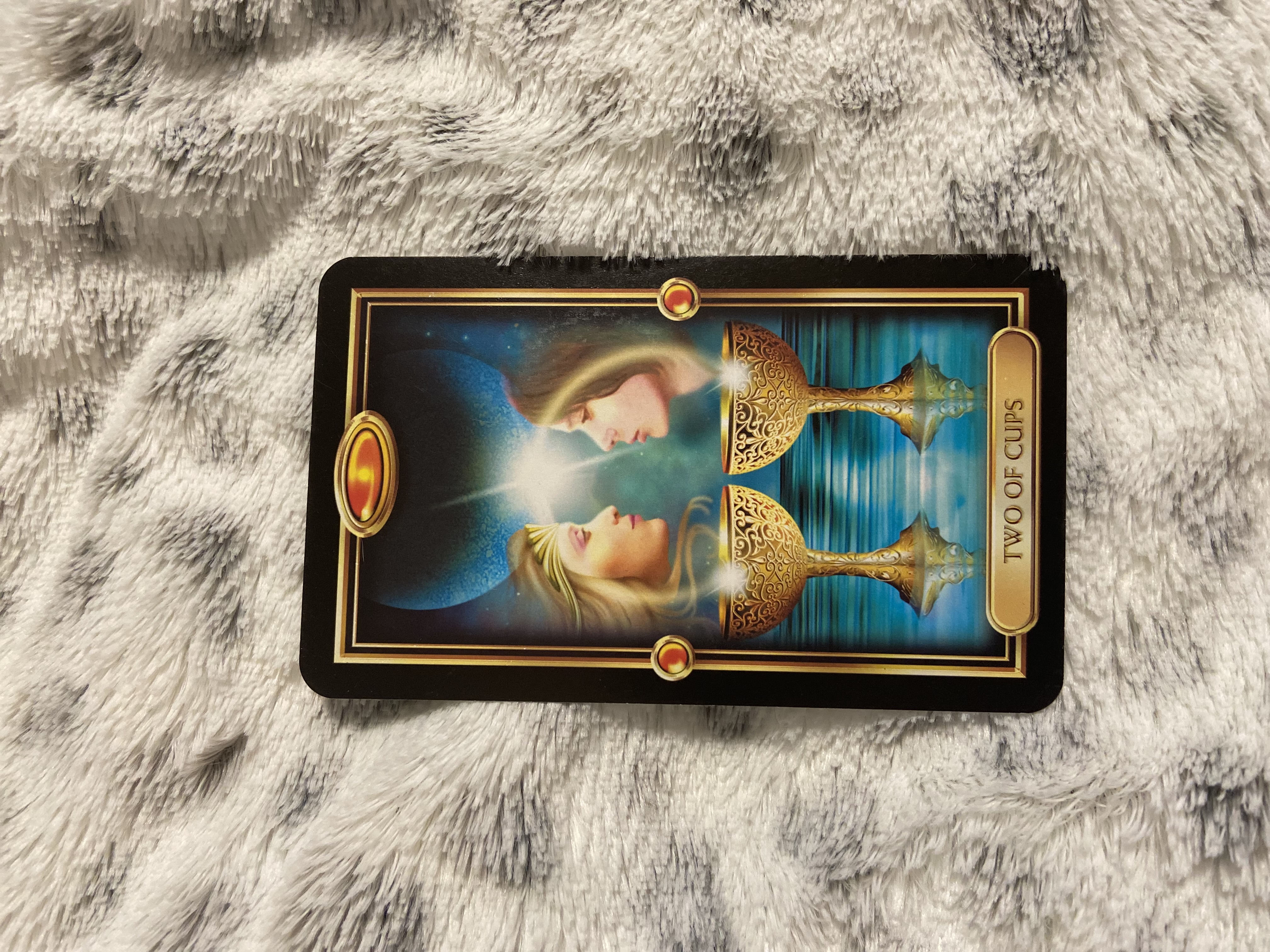 Ooh la, la! If love is on the brain, the 2 of Cups is literally one of the best cards you can have in a 4 card tarot reading spread! The keywords accompanying this card include partnership, love, reconciliation, and joy. Sounds romantic, huh? If you're single and one of your new year's resolutions includes finding "the one," the 2 of Cups is a very promising sign that sparks will fly in 2023. If you've been closed off to love, it's a perfect time to revisit and visualize yourself in a loving relationship and take steps to create healthier patterns. You have the power to manifest your desires!
The 2 of Cups is also favorable for work and money. If finding a new job is on the to-do list, keep an eye out for opportunities and let things unfold organically. No need to force anything – what's meant to be will be.
Nine of Pentacles Reversed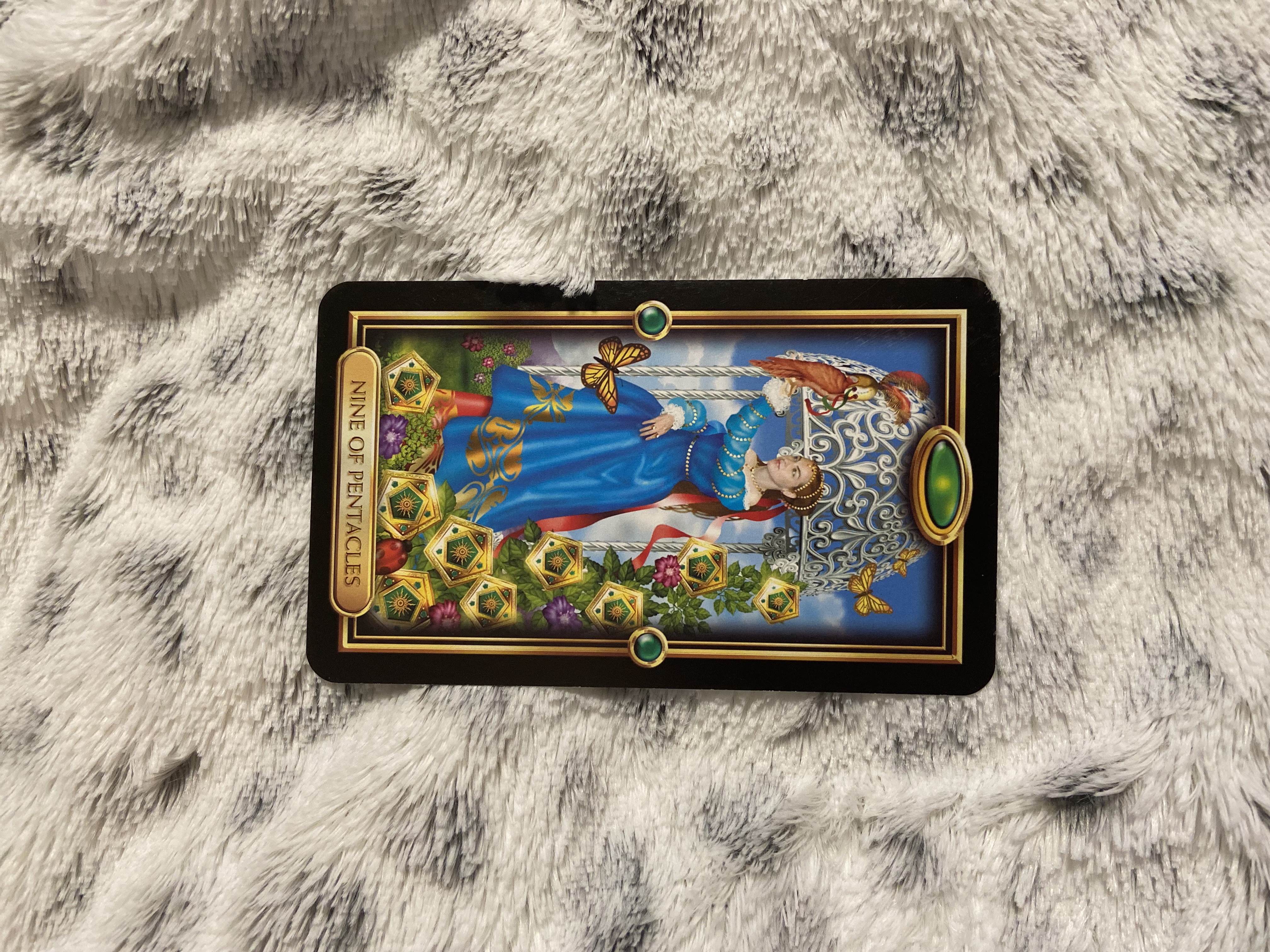 Ok, so when a reversed tarot card pops up, we immediately think it means something negative. Take a breath. The Nine of Pentacles reversed is like a nudge from the universe to take a step back and reflect on your self-worth. And for a new year's 4 card spread, I feel this card is an important reminder for everyone. If you've been doubting yourself or feeling like you're not good enough for your job or a relationship, or you don't deserve a raise or a commitment from a loved one, etc., it's time to check yourself, boo. The Nine of Pentacles is telling you to Let. It. Go! You are worthy and deserve all the goodness life has to offer.
The Nine of Pentacles tarot card also signifies the importance of self-care. If you've been putting in long hours, not getting enough sleep, or overindulging beyond just the decadence of the holidays, it's prob a sign that you've hit your limit, and it's time to cut back. What is truly important to you? If health and wellness matter, committing to taking better care of yourself will set you up for success in other areas of life. The reversed card can also indicate that it's been a hot minute since you did something nice for yourself. If you can, set an OOO and go on that much-needed vacay or treat yourself to a luxurious massage. The wintertime is perfect for a warm getaway and a Piña Colada. Wheels up!
Read Your Own Tarot
Want to try your own 4 card tarot spread for the new year? Set your intentions, grab your card deck, and think about your goals and questions for the year ahead as you shuffle your cards. You can take many different approaches as you lay your card spread down, like past, present, future, and obstacles. I kept it super simple and laid four cards per life area – career, self, love, and spirituality. There are no rules. Just go with what feels right as you read your own tarot cards.
Ask a Psychic for a 4 Card Tarot Reading
One of the best professional psychic readings you can get to kick off the new year is a tarot reading. Our Tarot Readers here at PathForward would love to read your cards and offer insights into your path. You can even ask your Psychic to pull a 4 card spread for any specific questions you're seeking answers to.
The new year is like a chapter that has yet to be written in your book. Make it a good one! Sending you so much love and good energy as we step into a new year together.
Xo. Samantha
Read more articles by Your PathForward Blogger Samantha.

"If you're feeling inspired, I recommend chatting with a Psychic who specializes in this area of expertise. And remember, YOU are smart, strong, and capable of anything you set your mind to!" – Your PathForward Blogger Samantha
Share
Your

Thoughts

Drop a line, share your insight, and keep the convo going! Sign in or create an account to leave a comment on this content and more.
Comments