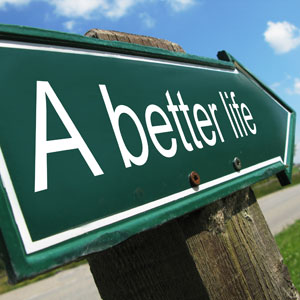 This way to a better life.
Everyone experiences uncertainty at some point or other. Life doesn't come with a handy guide or a step-by-step instruction pamphlet. If you're worried about money, your career, or your relationship, there are a few signs you're on the right path (even if it looks wrong).
1. You're on the Right Track Financially
Make a spreadsheet of your earnings and expenses. List your fixed expenses, such as rent, loans, and entertainment. Then compare your income with your expenses. Many people live beyond their means. If you're living within your means, you're on the right track. But if you're not, consider consulting a real psychic for guidance on how to adjust your lifestyle to compliment your budget.
2. You Don't Give Up on Finances
With the numbers down on paper, the situation can look impossible. Adapt to a way of living you're not used to, like cooking every night and getting take-out rarely. In the long run, the effort will pay off in money saved, and you'll have developed an important skill as well: discipline.
3. You're on the Right Career Path
Your career should align with your interests. Do you find that work never really seems like "work?" If so, you're on the right path--even if your finances say otherwise. If it seems like none of your interests add up and you don't enjoy any aspect of your work, consider a career change.
4. You Don't Aim for Someone Else's Dream
Even if your mom wants you to become a doctor or your dad says you should go to law school, it doesn't matter. You're the one who has to spend the rest of your life making enough money to support yourself, and you have to do the work that will earn that money. Choose a profession that will not only support the lifestyle you want but will also allow you to have joy and pride in your work.
5. You're on the Right Path to Love
Many people confuse struggle with failure, especially in relationships. If you find yourself fighting to keep a relationship alive, stop asking yourself if the relationship is worth fighting for. If it wasn't, you wouldn't have bothered to fight to keep it in the first place. Take a step back and try to look at it from an outside perspective. Call a trusted, neutral friend or close family member who will give you an honest opinion. If the situation calls for tact and discretion, talk with a psychic advisor who doesn't know either of you and can give you the clear, unbiased advice you need.
6. You Don't Assume a Fight is the End
Identify what the fight was about. Then look deeper past the minor issues that can sometimes get under your skin and cause a fight. People fight about mundane matters because they're scared to face real issues. Remember, facing your fears will almost always show you that they were never as big or bad as you thought they were.
No matter what type of uncertainty you're facing, there's always a way through to the brighter side of life. Sometimes you just have to take a deep breath, a step back, and make a new plan.
Share
Your

Thoughts

Drop a line, share your insight, and keep the convo going! Sign in or create an account to leave a comment on this content and more.
Comments