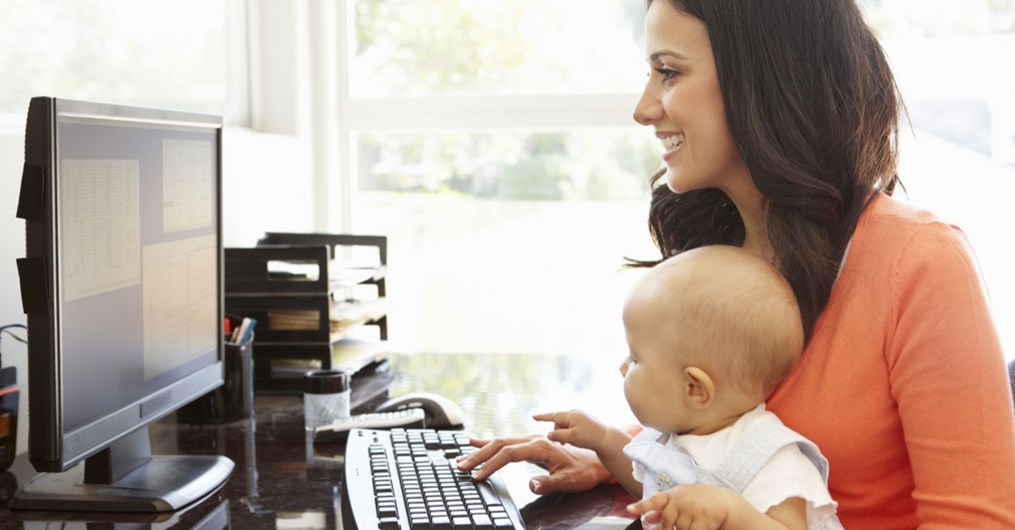 Life changes have a way of shaking things up. Keep your balance!
If you've recently gone through a life-changing event, your new reality may have shaken your world. For me, I recently gave birth to my first child. And while this was one of the most incredible experiences of my life, I wasn't fully prepared for life after baby. And even more so, life as a new working mom. Before my son, I had my s%*t together. My workout and sleep schedule were on point – btw, "sleep like a baby" has a whole new meaning to me. I cooked healthy meals, enjoyed weekend date nights with hubby, and indulged in self-care/vanity regularly. I worked without distraction and kicked back in the evenings with a glass of vino and reality TV. And then I had my son.
My world as I knew it was completely different. My identity took a hit. My routine no longer existed. I'm not complaining, I'm just being honest. Learning how to be a mom, taking care of myself, and working are the things nobody prepared me for. My sense of balance was tipped, so I did something about it. I found ways to reconnect with myself. If you're a new mama too (I see you girl, I see you) or have recently experienced a life-altering event, here are some things you can do on the daily to keep your balance in check:
Ask for and accept help 
If you're feeling overwhelmed, do take care of your mental health and ask for help. It could be small tasks such as cooking dinner or bathing the kids. If someone else in your household can pick up a few of your responsibilities so you can relax, then do it! I learned this the hard way. I felt like I needed to be everything to everyone and found that I wasn't showing up as my best self in times that mattered. So, I took a step back and delegated. Instead of waking up early every morning to walk and feed my dogs, my husband took it on so I could rest a little bit longer – much needed after long nights with a newborn!
Find time for exercise
Every bit of exercise counts, even if it's just a 10-minute walk. There were many (if not most) days during my maternity leave where I literally did not move off the couch. I had become the epitome of a couch potato, and I felt like one too. Although my body wasn't ready for vigorous exercise – sorry, not sorry burpees – I would go to bed feeling incomplete if I didn't move all day. So, I picked myself up and dedicated 30 minutes of intentional movement. Not only did I feel better about myself, but it gave my brain a break. If you can squeeze it in, do it. Your mind and body will thank you for it. Here's a few workout ideas featured in Self Magazine that I really like. If yoga's your thing, try adding this in too.   
One thing at a time
If you've got things going on at home or, like me, are recently back at work after maternity leave, you're probably feeling the heat. Projects and tasks have a way of piling up pretty quickly during the times when you could really use a break – such is life, right? Remember, you are one person. Do not permit yourself to feel like you have to get it all done at once. Take it one thing at a time, and if you can, set expectations for those around you. And if your job isn't as flexible, just do your best - that's all you can do, and it's ok.
Take a bath
Sounds silly, but seriously take a bath or a long hot shower every single day. Bathing not only feels good, but it helps declutter and destress the mind and body. Also, it's the easiest way to get in some much-needed alone time. I promise you'll feel so much better. And if you wanna kick it up a notch, use essential oils, flowers, candles and crystals for a spiritual bath experience – oh yes, this is a real thing! Check out spiritual bath recipes by Refinery29 for ideas. 
Give yourself grace
If you're going through a major change in your life and are feeling out of sorts, give yourself grace. It's ok not to be ok sometimes. All we can do is take proactive steps to better ourselves. And remember, you can always turn to a Psychic for spiritual guidance after a life change. A psychic reading is a wonderful way to get grounded in your thoughts and see the bigger picture. I hope my tips were helpful - you got this. I believe in you. 
With love, 
Samantha  
Read more articles by Your PathForward Blogger Samantha.

"If you're feeling inspired, I recommend chatting with a Psychic who specializes in this area of expertise. And remember, YOU are smart, strong, and capable of anything you set your mind to!" –
Your PathForward Blogger Samantha
Share
Your

Thoughts

Drop a line, share your insight, and keep the convo going! Sign in or create an account to leave a comment on this content and more.
Comments